Sayulita SUP Classic March 8-10
It's that time if year again and the Sayulita Longboard SUP Classic is here for the 4th annual competition on the Riviera Nayarit in Sayulita Mexico. Sayulita is a world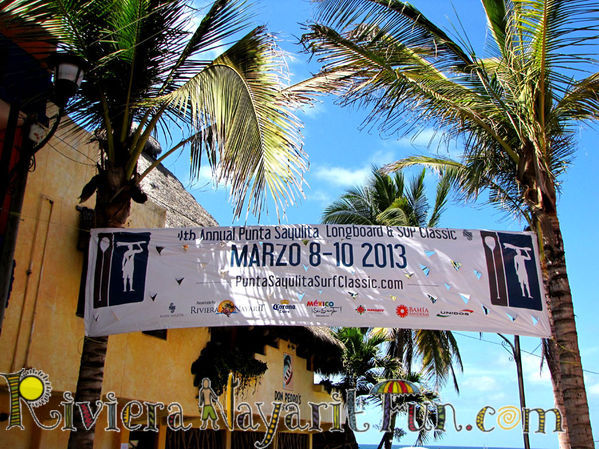 renown for its long wave breaks, making the perfect place for the Sayulita SUP Classic competition. The Tourism board of Nayarit,  Punta Sayulita and the Sayulita SUP community are sponsoring the event. Sayulita is located about 40 minutes north of Puerto Vallarta international airport, which makes this destination very easy to get to. See details below under the Sponsor section for air/flight discounts!
SUP (Stand Up Paddle) has become a world wide sport on rivers and oceans, and the Sayulita SUP Classic event has become known as one of the premier SUP events in the North Americas with professional and amateur athletes coming to compete. Thousands of spectators will be there making it a very fun occasion for everyone with several offshore SUP distance races and the Sayulita SUP surfing competitions.
Raising Our ECO Global Awareness
The focus for the Sayulita SUP Classic is not for the prize monies. Winners of the event will be going for the draw for the international events. Also, the primary cause for this event is for raising the awareness and consciousness in people for the environmental protection for oceans and wildlife, and raising funds for the Reef Check Foundation's area (reefcheck.org.), Eco-Diver Program and the Punta Say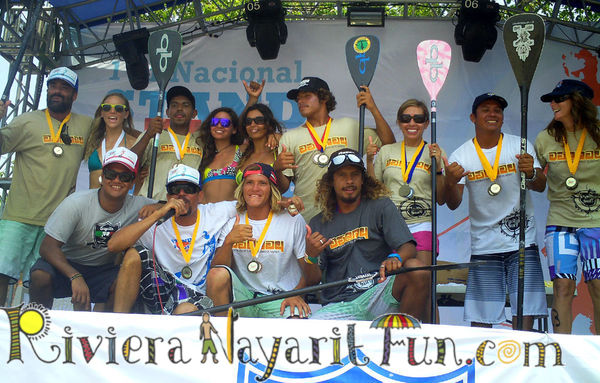 ulita Foundation's children's sports development programs. This event is made possible by the very generous sponsors, the professional athletes, and the Sayulita community event volunteers. Thank you so much!
This years event is the biggest yet, drawing some big time SUP longboard and surfing athletes like the, Men's Elite and Distance Champion Connor Baxter, defending SUP Zane Schweitzer, 2-time defending women's SUP elite race champion Candice Appleby and Distance Champion Jenny Kalmbach, Mens Longborad Champion Darren Eudaly and women's defending longboard Champion Karina Ozunka.
Other champions will also b
e competing this year including Chuck Patterson, Sean poynter, Mary Osborne, Patricfio Ganzalez and 2 time SUP surfing world Champion Kai Lenny! Along with some top SUP'ers, Jen Smith, Mo Freitas, Vanian Walsh and Anthony Vella.
Our own local Sayulita boys Ryan Helm and Mexican SUP National Champion Fernando Stalla will be competing as well.
This shows a huge support for the fundraising and the importance of raising of awareness for the Reef Check and Punta Sayulita Foundation.
Friday Events and Activities
The weekend kickoff starts of Friday, March 8th with a surfing clinic for the special needs and underprivileged children under the guidance and supervision of Jimmy Gamboa, a well known Malibu longboard surfer, along with the members of his organization TheraSURF, as well as the Sayulita professionals and instructors from the local Sayulita Surfing Schools.
There will also be a Sayulita community-wide beach cleanup scheduled on Friday along with  an interactive-educational program given by honorary ambassador, James Pribram of the ECO-Warrior Foundation and members from "Project Save Our Surf." Lets all try to keep our Sayulita beach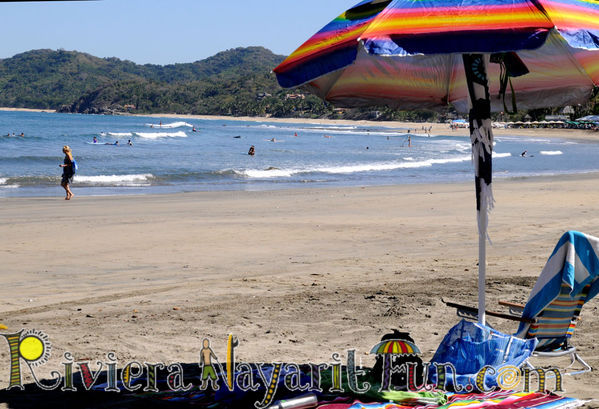 clean!
A fun children's interactive Reef Day art camp with Sayulita Art Camps and  local artist Treva Dea will follow.
The participating surfers will also be there for a "meet the pros" autograph session!
The folks from the Olukai footwear company, who is the official giveback partner of this years Punta Sayulita Classic, will be participating on Friday and all weekend with prizes and donations for children through its "Ohana Giveback Program."
Reggae Recording Artist Mishka
Everyone is excited that "Mishka" will be returning this year to perform the free beachfront Punta SUP Sayulita Classic concert on Saturday night, March 9th. 
Mishka and his band have a fabulous sound with reggae roots and attract thousands of people to events like this. He also has as an appreciation for the ocean and our environment. Everyone is grateful for Mishk'a very generous support for this Sayulita SUP Classic event.
"I am inspired to return to Sayulita for the 4th Annual Punta Sayulita Classic – to feel the good vibes and play some music in one of my favorite places. The last time we played there in 2011 stands out in my memory; wonderful people in a beautiful place who know how to have a good time. This year we will be playing a whole lot of new tunes as I am releasing a new mini album on Jimmy Buffett's Mailboat Records, so this will be a release party for the new music. I'm stoked! See you there!"

Sponsors
All of the sponsors have been very generous. Alaska Airlines is the official airlines of the 4th Annual Punta Sayulita SUP Classic and is offering a special airfare discount code for anyone traveling to Sayulita to compete or take part in the weekend fun! Alaska Airlines has expanded their surfboard length for flying, so competitors can travel with a SUP board up to 12'6″ in length.
The Punta Sayulita Classic is pleased to welcome back the generous of support Alaska Airlines as the official airlines of the 4th Annual Punta Sayulita Classic. Alaska Airlines is offering a special airfare discount code ECMU117 to anyone traveling to Sayulita to compete or to simply take part in the weekend festivities. For years Alaska Airlines has been one of the most active airlines flying to Mexico offering nonstop flights to Puerto Vallarta from numerous west coast cities including Los Angeles, Portland, San Diego, San Francisco and Seattle. Alaska Airlines is also expanding their surfboard length dimensions so competitors can travel with a SUP stock race board up to 12'6″ in length.
If your looking for a private air transportation,XOJET, also a sponsor for the Sayulita SUP Classic, are offering specials on their private charters on any of their super mid-sized jets.
For more information about he events, or if you would like to become a sponsor, please contact or visit: puntasayulitasurfclassic.com ; contact Kevin Roberts or Jose Luis Caselin at US Toll Free (866) 947-6017 or +52 (329) 291-3957.
For information regarding the Reef Check Foundation visit reefcheck.org.

The 4th Annual Punta Sayulita SUP Classic Sponsors
Pesenting Sponsors:
The Riviera Nayarit Tourism Board
Punta Sayulita
Sayulita SUP Community Volunteers

Platinum Level Sponsor:
Corona
Gold Level Sponsors:
Jack Daniels
New Mix
ROXY
Silver Level Sponsors:
Don Pedro's Restaurant
St. Regis Resort Punta Mita
Hotel Kupuri
Bronze Level Sponsors:
Body Glove
Alaska Airlines
Olukai
Starboard
Quickblade Paddles
Palmasola

La Mision de Mita Industry Level Sponsors:
Toes on the Nose
Victory Wetsuits
XOJET
Stand-Up Paddle Mexico
de Reus Architects
Stone Contractors
Villa Amor
Sayulita Central Hotel
Ruben's Deli
Vallarta Lifestyles
Skiver Advertising
Grupo Chalita
Its going to be an amazing SUP Sayulita weekend, so come and enjoy the fun competitions and Reggae music by Mishka!Its a weekend not to be missed!
If you are are looking for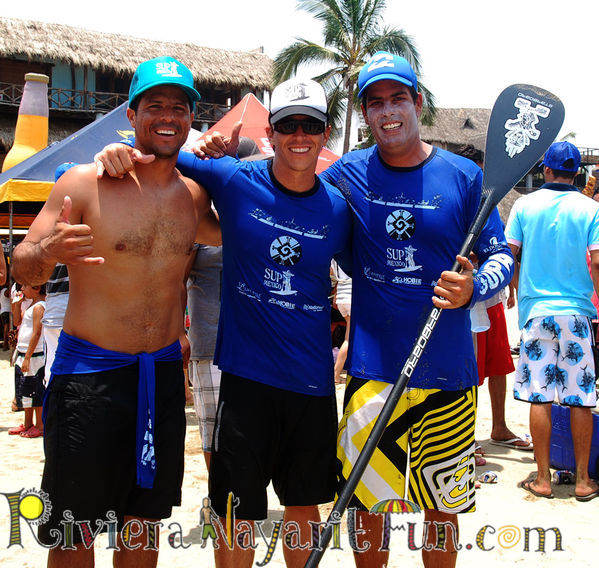 a inexpensive rental click here that will house your boards too click here! 
Come and enjoy the weekend, get autographs by top surfers and enjoy the 4th Annual Sayulit SUP Classic.  If your looking for affordable housing click here.
This is a Sayulita event for the entire family.
See you on the beach!
For more great photos of   last years Sayulita SUP contest click here!
For more information on the event and to see lasts years music video by "Mishka" click here!