Sup'ing, Massaging, n'Partying on the Riviera Nayarit
Hey gang, just had a pretty cool week out and about down here on the Riviera Nayarit  in Mexico with my kool brother-in-law, and I can't
wait to tell you about it! With Eric just getting into town, our week of fun started on Thursday…and what a long and fun Riviera Nayarit community weekend it was!
Living life on the Riviera Nayarit is simply beautiful with many Riviera Nayarit attractions; as it is no surprise why more and more folks come here for a vacation or to relocate, like I did over two years ago.
We started out our days hanging out in the villa, chillin' out, and enjoying the sunrise over the Banderas Bay, cupp-a-joe in our hands, and giving thanks and that we can be and live in such an amazing place called the Riviera Nayarit.

An Equinox Blessing at Los Arroyos Verdes Retreat
It all started on Thursday with a lovely blessing for the lunar equinox at Los Arroyos Verdes Eco Retreat in Bucerias.
At Los Arroyos Verdes Retreat, every item is ecologically relevant – every reused, recycled, reinvented, recreated marvelous piece of art that even an old fire hydrant can become. Everything is also for sale at this Eco green retreat.  Fall in love and take it home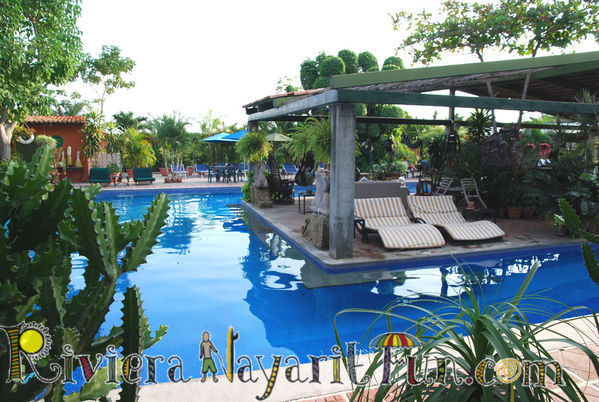 with you!
Los Arroyos Verdes Eco Retreat  is special on so many levels, not just the pragmatic idea of recycling, but the spiritual, the physical body, and the intellect – all your senses are engaged when you walk the grounds at Arroyos Verde, slumber in a chair in a quiet corner, or enjoy the pool and veranda area.  There is a corner, a spiritual haven for nearly everyone at Los Arroyos Verdes Eco Retreat, my friends and I found ours just off the pool area, in a quiet spot not far from the peacock walk.
We were there to join together in a celebration of a lunar equinox – asking a blessing and thanking mother earth and all the powers and elements for their healing presence in our lives, and releasing all of the old ideas and energies that can prevent one from moving  forward in life.  Marielana Capdevila, who was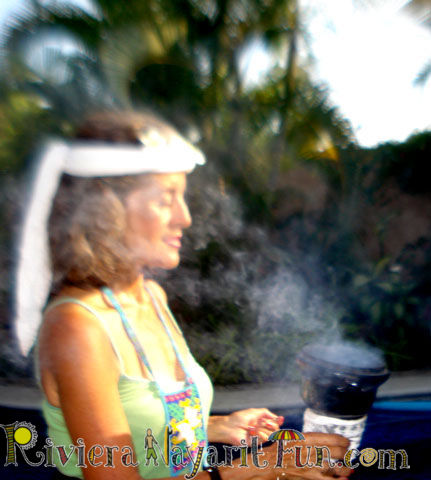 born in Mexico City, led us in a spiritual walk, an acceptance with gratitude for all that we are given, and the weaknesses we all have – a walk that culminated in shedding our chrysalis of old, un-useful thoughts and habits – a spiritual and intellectual spring cleaning. Marielena also is an amazing artist, and specializes in portraits and personal mandalas.
We ate at the restaurant enjoying delicious limonada con agua mineral – a delight – while Julio, our waiter at Los Arroyos Verdes, prepared chicken nachos and shrimp salads.  Oh, my goodness!  Another bite never to be forgotten in this life time!  Julio is amazing, Los Arroyos Verdes is amazing.  Dine, live in peace, or a short drive from Puerto Vallarta, visit Arroyos Verdes in  Bucerias this summer for a romantic weekend get-away in one of their comfortable Bucerias rentals, or for a relaxing day by the gorgeous pool.  Plan your wedding or special occasion with them. There is something always going on at Los Arroyos Verdes Eco Retreat in Bucerias!
Sayulita SUPing
Friday, I took my visiting brother over to the SUP Club on the north end of the beach in Sayulita for his first SUPing adventure. Here is a
note from my brother-in-law about his experience!
"A great bunch of guys led by Antonio, who is a SUP instructor extraordinaire!  In just a few minutes of really excellent instruction, Antonio had explained the SUPing fundamentals, and we were wading out for my first ever, really, no kidding, I am NOT putting you on, SUP effort.  How I've missed out on the SUP phenomena is beyond me – I've spent the last 35 years sailing on and living along the coasts of the world.  But here I am living large on the Riviera Nayarit, and Antonio of the SUP Club Sayulita has – no kidding, in about 2 minutes of on water instruction – got me up and SUPing….and I MEAN SUPing!  None of this paddling around on a mill pond crap, I am up really SUPing, I am bending my knees and digging in.  Very cool sensation by the way, and a very neat way to get about on mother ocean.  If you love her like I do, you will love SUPing ans SUPing in Sayulita, Riviera
Nayarit, with the SUP Club Sayulita is absolutely the way to go.  Very impressive!   You want to SUP, to see Antonio at SUP Club Sayulita.  Now, don't put to the test, I was no means keeping up with the aces that zip around in the surf zone in Sayulita, Riviera Nayarit sporting their thongs and fancy moves – but I paddled out to the anchored sailboat in a reasonable amount of time — and I only fell off about 20 times — but you know what I had a blast – and for a guy like me that icing on the cake!"
SUP camps are abundant in Sayulita. SUPing is really for everyone, and Sayulita is the perfect place to learn! . Especially now that the currents have shifted…and Sayulita is often known as "Lake Sayulita" in the summer months!
Sayulita Mercado
Friday was also the  last day for the Sayulita Mercado, or the Sayulita Farmer's Market.  We went over to get in some last of the season purchases.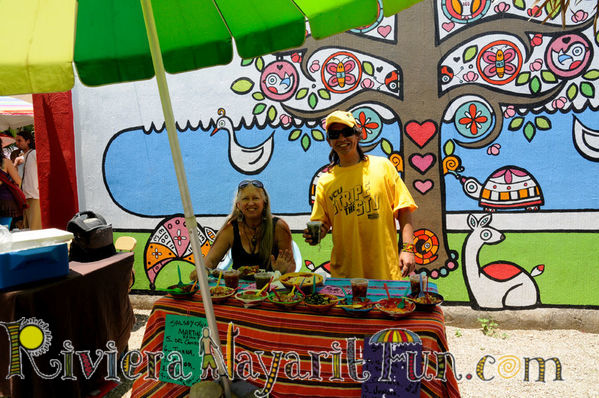 It's refreshing to see organic products, crafts, produce, local wares and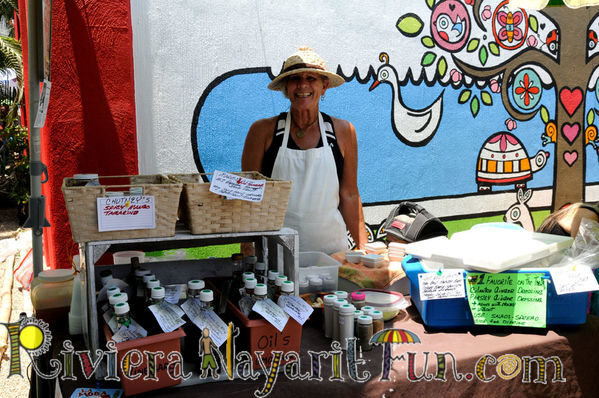 organically prepared food, much of it hand made by locals, of all races and nationalities coming together in such a wonderful community event.  Live music was fun while we shopped and ate. Adios until next season mi compadres!  For everyone who is staying for the spring and summer, about ten or so of the vendors from the Sayulita  Mercado are moving their gig to "Tacos on the Street" (owned by Sandrita) every Saturday morning – at least until they get a feel for affordability. They are located on Revolution on the right corner just before the bridge as you come into town.
Sayulita Massage on the Playa
I wanted to treat my brother-in-law for an experience with a massage with David Chavas, who does the Benzonite clay massage on the playa
in Sayulita, located just north of Costenos Surf shop. I can say from my own experience that David and his clay work magic…especially on my face wrinkles…almost better than a facial!
David is a nice looking guy, but he wears his clay all over his face and body to protect him from the sun all day. Some folks are a bit put off by that at first. But, once you get on the table all of that fades away.  Here is what my borther-in-law said about his massage experience.
"Well, at 56 you just can't jump up and "git'er'dun" like you used to, at least I can't!  How does the old song go…"I'm as good as I once was, once…" so off I went to get a massage.  SONRISA GRANDE!!  I was very fortunate that my sister turned me on to David Chavez of Therapeutic Massage with Benzonite Clay (or "Con arcilla o barro" if you prefer).  MARVELOUS!! Oh, the aches and pains that I no longer have are legion.  He worked on me, smearing us both liberally with the arcilla o barro for 90 minutes – he found aches I didn't even know I had, YET!  Cripes…he has the strongest fingers I've encountered on 7 continents!  An ex-boxer, David Chaves understands muscles, recovery, stimulus, nerve endings….and after years and years of study, both formal and informal he possesses encyclopedic knowledge of anatomy and various forms of massage – Thai, Swedish, Deep Tissue, the list is long, and exhaustive.  Extraordinary strength, knowledge, talent and a passion for healing is a rare, beautiful thing – visit a David Chavez of Therapeutic Massage in Sayulita, Riviera Nayarit – do something for yourself today! …and you have an masseuse of rare skill and ability…a rare mixture indeed.
A brisk swim in the beautifully warm water off Sayulita, Riviera Nayarit and a shower back at David's washed off the clay, and I was a new man.
When your Hungry Try Km 5 Surf Bar!
Km5 Surf Bar and Restaurant, located along the back way out of Sayulita, en-route to Punta de Mita Road.  A late lunch, and a head start.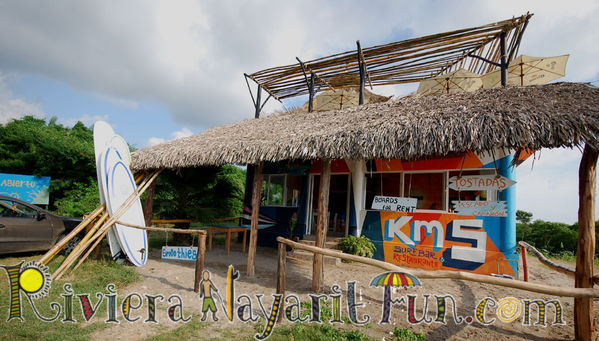 A head start to get a meal and a good seat, because on Friday nights Km5 Surf Bar and Restaurant has live music and there is no place else to get a groove on like the intimate dance floor at Km5 Surf Bar and Restaurant.  The band I was delighted to see perform played a pleasing mix of some original riffs, cooler than cool oldies, and some current themes – carrying them pretty ably – with some really cool vibes coming off the bass.  Buon hecho compadres!  Food is really center stage! The food is all freshly made on site by Chef Rodo using all fresh produce, fish and meat and organic lettuce and produce.  I was honored to meet Chef Rodo during my visit to Km5 Surf Bar and Restaurant – we chatted while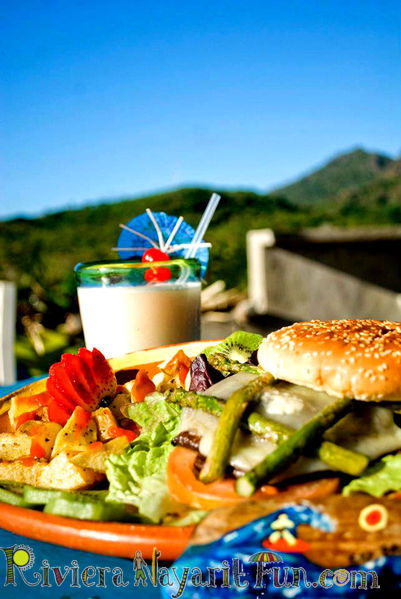 he made, from scratch, his special pizza dough.  Chef Rodo, and his trained staff, create every plate and pizza from scratch that comes out of the kitchen at Km5 Surf Bar and Restaurant and he gets it!  He proudly puts his name behind everything that comes out of the Km5 Surf Bar kitchen.
Try the Portobello and asparagus burger with cheese – I nearly died – what a delicious sandwich!  The asparagus was simply perfect….grills marks, a tang – not a singe, if you know what I mean…the Portobello was another technical triumph, just on the dry side of wet, the juices were still there but not dominant…Ha!Listen to me, can you tell I enjoyed
that sandwich.
Km5 Surf Bar and Restaurant is a special place, totally original painting – the galley is made to be the inside of an old VW combi van – the ground floor is six inches deep in sand – the action is upstairs where the breeze blows, and the sun glows.   It is the only authentic Surf Bar on the Riviera Nayarit that I know of with the "surf shack" building and the sand floors downstairs, and amazing views of the ocean and jungle. Surfboard rentals are available as well.  Check them out, you'll be glad you did.
The Perfect Ending for a Lovely Weekend!
We ended the our Sunday the way all days were meant to be spent – with family and friends.  We made a little camp down on Destilidaras Beach,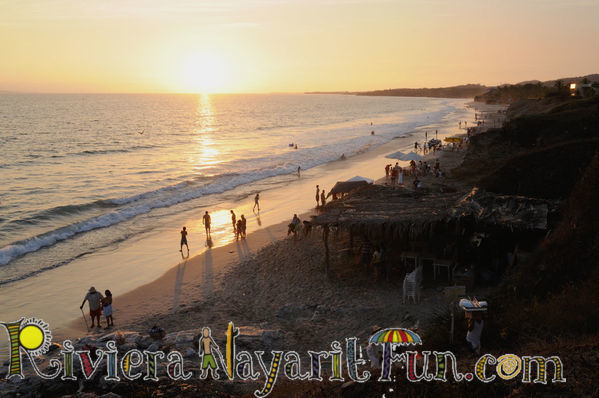 and had fun swimming and chillin' before heading up to dinner at the house.   It was a day filled with blessings of the amazing Riviera Nayarit!
Our bones loosened up in the warm sun as we walked and swam, then we ate and dr
ank. The Riviera Nayarit beaches are why most folks are here.. ..where the jungle meets the Pacific ocean.
We left there and came home to our villa overlooking Banderas Bay -  Having taken in the view with appropriate vigor, given a nod for another perfect sunset – all accompanied by an adequate, but so far, not overwhelming, amount of eating and drinking, we repaired to the living room/swimming pool area and began to eat and drink in earnest.
Eating and drinking is a very, very important pastime here on the Riviera Nayarit – and we spent an awful lot of time eating and drinking!
And so this wonderful weekend ended as it began, looking out over Banderas Bay, surrounded by my friends and family of drifters, misfits, and retired bums – all of us adrift on the never ending adventure that is life here on the Riviera Nayarit in Mexico!