Dia de los Muertos / Day of the Dead Riviera Nayarit
Dia de los Muertos on the Riviera Nayarit
On Dia de los Muertos, or Day of the Dead, Mexicans celebrate every year on November 1st, and 2nd, on the Riviera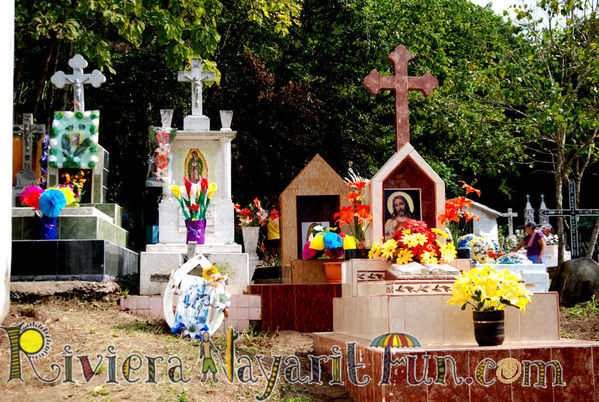 Nayarit and all throughout Mexico. Mexican peoples start preparing for this event months in advance, creating elaborate altars that honor their deceased loved ones. This holiday is greatly celebrated and is a large part of the Mexican heritage and culture, and is passed down from generation to generation.
If you enjoy Mexico, and would like to see true Mexican culture, Dia de los Muertos is a holiday not to be missed on the Riviera Nayarit.
This 3000 year old ritual initially began in August, the 9th month of the Aztec Solar Cale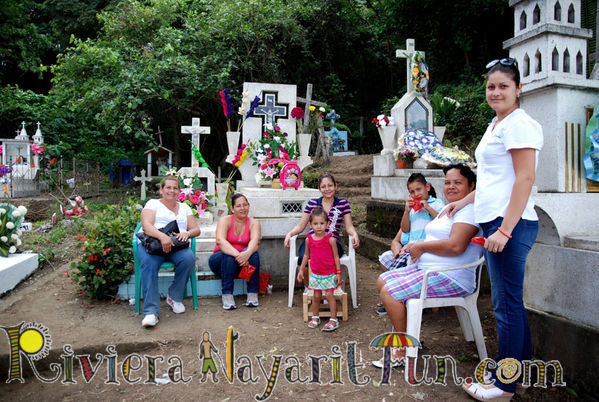 ndar, and was celebrated for the entire month honoring the dead.  This tradition continues today on the Riviera Nayarit and all of Mexico as families make altars in honor of a family member or loved one, or an outstanding community member that has benefited society that has passed away the previous year, and all loved ones. The Day of the dead  begins November 1st, and is the day that celebrates those who died as children and is called the "Day of the Little Angels" or All Saints Day, and November second is to celebrate the adults, and is also known as All Souls Day.
A Mexican View of the Afterlife
Many Mexicans in Mexico have a different view of the afterlife, as some of their beliefs include keeping your identity
when you die, and then return for this day, the Dia de los Muertos. Many elaborate alters are created with  painted skeletons and skulls that are dressed up to honor their loved ones. This shows respect and that th
ey are not forgotten. The alters are a way to guide the spirits home. People also dress up like Catrina or skeletons as part of the celebration with amazing make-up and lavish costumes.
Mexican folk art of the skeletons or calacas, which are very popular and sold all over the Riviera Nayarit and Mexico are made out of chocolate and sugar (for the kids) and paper mache.  Some well known Mexican Folk Artists create very elaborate altars, often signing their artwork.
The elements are important in an altar, which are water, earth and salt. Alters are constructed in several layers. On one side of the altar clothing from the deceased is laid  out, and in the center of the first level a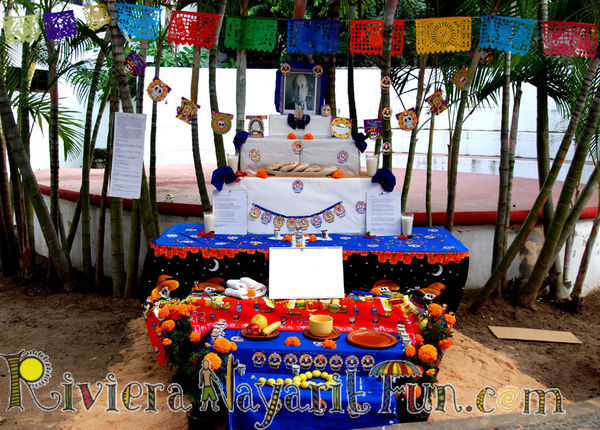 photograph with a path to the earth, incense and colored paper that symbolize the life and death aspects. Skulls, candles and marigolds are placed at the altar, along with water, fruit, bread and corn for the offering and the feast along with music. The main colors are purple, black and orange. Families gather at the gravesides and have a fiesta and visit as a time of honoring their loved ones, and celebrating their lives. There is a lot of creativity, time and energy put into the making of a Dia de los Muertos altar, and often contests are held. There are alters at all of the pueblo cemeteries, some of the churches, and there are usually altars in the town plazas.
Who is Catrina?
La Catrina, or also known as la Flaca, la Huesuda, la Pelona are a fixture on Dia de los Muertos, and all 
throughout
the Riviera Nayarit and all of Mexico. You will find these fun skeletons everywhere for Dia de los Muertos, and all year long in stores and art shops dressed up in many different elaborate costumes, making beautiful collectors items, or a fun gift for a friend, as you will be sure to find one that is dressed up
Catrina  is not a fancy model…this lady is la Muerte….and that is a lady of death!
Discover Dia de los Muertos; Day of the Dead on the Riviera Nayarit, Mexico!