La Cruz Marina Fish Market
The Riviera Nayarit is lined with small fishing villages, one being La Cruz de Huanacaxtle, where the La Cruz Marina Fish Market is located.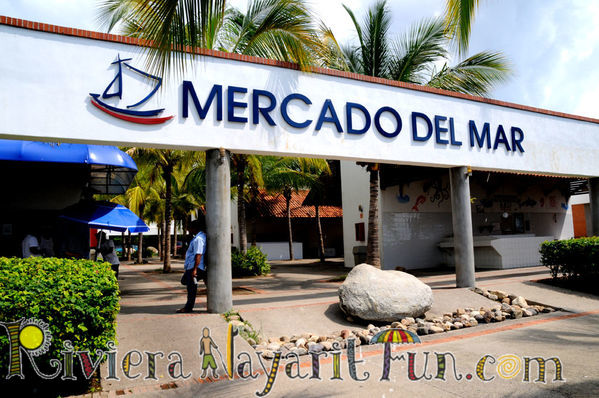 Every beach town has a fish market, and some have several fresh fish shops, bringing to you the fresh catches of the day.
We are lucky to live on the Banderas Bay.  The Banderas Bay is the largest natural Bay in Mexico, among the 10th largest worldwide, and one of the deepest bays in the world reaching depths of over 3,000 feet.  Extending across 68 kilometers (42 miles) of the Pacific Coast, the bay begins in the south at Puerto Vallarta, flows northwest into the Riviera Nayarit at Bucerias,  La Cruz de Huanacaxtle and Punta de Mita, continues north beyond Sayulita and through Lo de Marcos where it joins Bahia Jaltemba Bay. The trade of fishing has supported the local fishermen and their families since the beginning of the pueblos.
When buying fish, what is better than being able to go a fish market, like the La Cruz Marina Fish Market, and purchase a freshly caught fish, shrimp, lobsters, oysters or other ocean favorites?  It really doesn't get fresher than that, unless you are out fishing yourself!
Although the summer time means less tourists and part time residents, the La Cruz Marina Fish Market is a place that always has customers. The fishermen are there every day of the week selling their fresh catch. Not all of the bays are full right now. There were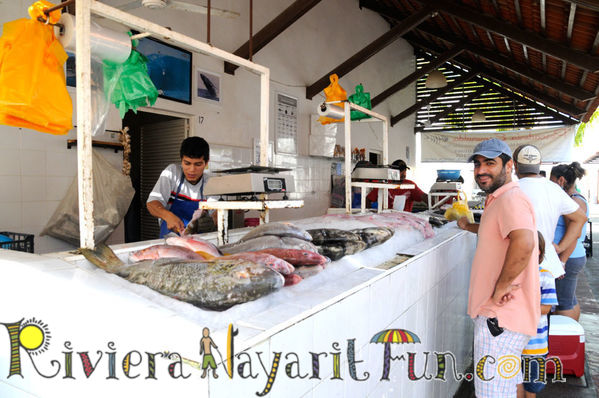 4 of the bays open last Sunday. Many local restaurants come to purchase their fresh catch of the day. Every time I go, I learn a little bit more about purchasing fish from one of the locals.
It can be overwhelming with the many different types of fish at the market, and they don't always have the same kind of fish. It depends on what is "running" that day, and their luck I suppose!
I went to the La Cruz Marina Fish Market to purchase some Tuna, but no one had any. They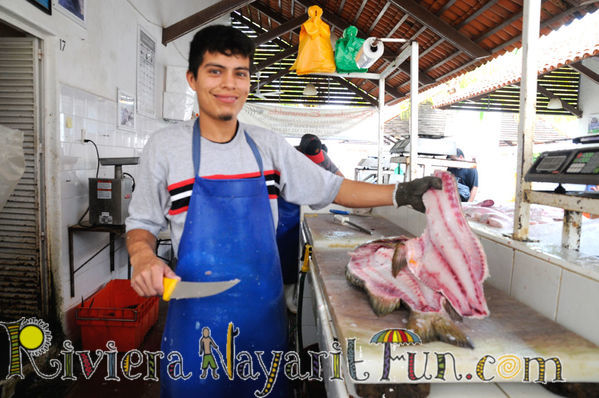 all told me "tomorrow", which really means, "When we catch some!"
The fishermen don't speak English very well. It's good to know a few words of Spanish that will get you by. Take a Spanish dictionary with you if you need to. If you want to fry, bake, grill, or poach, or make ceviche, these fish mongers know what fish cooks the best way. Sometimes you can get lucky and meet a fellow shopper that is bilingual.  Most folks here are quite nice, and do not mind helping with translation when needed.
Asking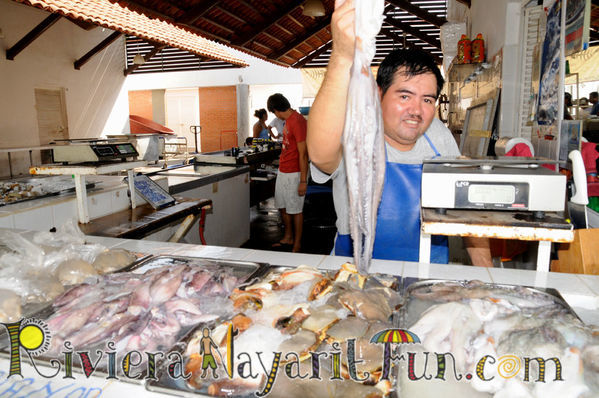 what kind of fish it is helps as well Que es esto?  (what is it?)
Also, do you want a whole fish, or a filet? Purchasing a whole fish is not as expensive as having them filet one for you. I prefer them to filet the fish for me. They expertly cut the fish, and clean the small bones and cut out the blood line, which is the deep red strip inside. This can make your fish taste "fishy".  I have also read that leaving your fish directly on ice will suck the flavor out of your fish into the ice as the ice melts, so proper wrapping is important.  These guys will also devein and peel your shrimp! You can also ask for the trimmings to make your own fish stock for delicious soups.
I was having friends over for supper and wanted to have a little variety.  I chose a Pargo, and also some Mahi Mahi. The Pargo was a big guy,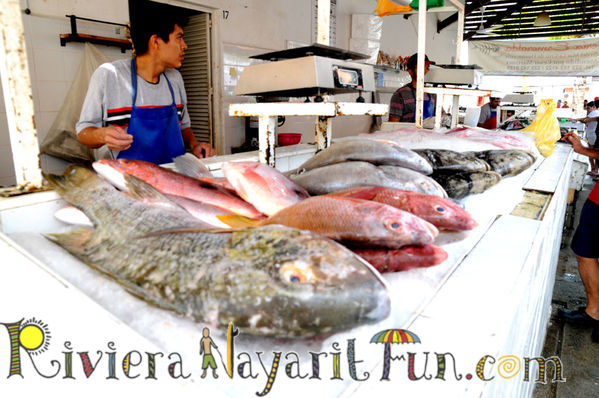 whole, and is much like a Red Snapper. Since I love Red Snapper, I thought I would give it a try.  (The large fish (Pargo)  on the end in photo to the left)
The Mahi-Mahi was already filleted.  A local man standing next to me with his young daughter suggested me to choose the more "red" looking piece as it would have more flavor, than a totally white filet.  Both were delicious, and we all enjoyed flavorful and spicy pan fried fish that Sunday evening.
Visit your local fish market. You won't be disappointed. Whether you're in PV, Bucerias, or the wonderful La Cruz Marina Fish Market , you can't go wrong with the Fresh Catch of the Day!