Bucerias  Airstream / Parked RV Rentals
Bucerias Rentals can vary on the Riviera Nayarit in Mexico.
At Los Arroyos Verdes, we have all kinds of Bucerias rentals, one being a  airstream (Bucerias RV rentals) for staying.  If you want to stay in our space, in something different, try the airstream. We also have full amenities at our RV park. If you want to bring your own house on wheels, you can do that too and stay here with us.
I love the Airstreams, their dynamic design, their ability to travel and they last a lifetime due to the fact that they are made of aluminum. When I began to build Los Arroyos Verdes, I always wanted to have an airstream in the gardens on site, for the visitors. And it turns out it is my most sold room, at $80USD a night; something different for your stay at Los Arroyos Verde
s for  Bucerias rentals
One day, as I was driving around Bucerias on the main road, I saw the airstream parked next to a taco stand. I stopped to look at it, in its perfect condition from 1967. I asked the owner of the taco stand who it belonged to and he said "it is mine". I said "yours??" and I asked him if he was interested in selling it. He responded "why not!"
I walked up to check it out and entered it. It wasn't in the best conditions inside, but as the good architect that I am, a thousand ideas started coming to my mind about how to fix it up to make a nice Bucerias rentals addition.

"It's Christmas" said the owner, "My daughter lives in i
t, can it wait until after Christmas?" I told him "Of course not, I want to take it home today!" In the end, we made a deal and I helped the daughter pack all of her stuff in boxes and I left with my shiny airstream on the way to Los Arroyos Verdes, which at the time was still completely under construction. We polished it, cleaned it, straightened it up, connected the bathrooms, water, gas, electricity, television and now we have another room at Los Arroyos Verdes, creating another fun  Bucerias rentals.
The airstream is surrounded by gardens and has access to all of the amenities if you stay in it.  Ou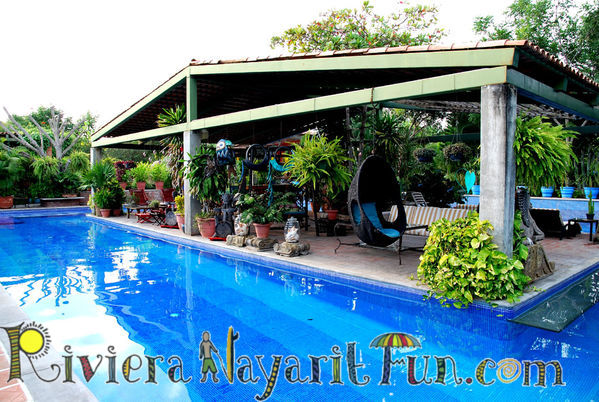 r amazing pool, gym, Bamboo Restaurante, Temezcal (sweat lodge) and spa. We also have a area specifically for pets! with their own dunking pool… So, come and stay with us, come and get to know our space, come and visit! Check out all of our Bucerias rentals, one and two bedroom casitas,  and our One Bedroom Villas  and Two Bedroom Villas, lofts and of course, the airstream!
Los Arroyos Verdes has also recently added their Two  Bedroom Villas for Sale.  Located 5 minutes from the Bucerias Beach and Bucerias Centro makes a perfect location for short or long term stays.
We are Mexico, Los Arroyos Verdes Bucerias.