Riviera Nayarit Paradise
Vacation & Relocation in Mexico
Hola!
  Thank you for coming to
RivieraNayaritFun.com
.
RivieraNayaritFun is our "Mother" site filled with information on vacation and relocation to the Riviera Nayarit, making it easy to use to find out where you want to go for your Riviera Nayarit vacation or to
relocate on the Riviera Nayarit.
  Browse through the menu on the top bar to discover the different bays, beaches and the Pacific Coast of Mexico called the Mexican Riviera. Stroll through the different
town page
s for information on the towns of the Riviera Nayarit, from San Blas to Nuevo Vallarta to find what town suits you best. We also have 7 town websites  stemming from her for advertising local Riviera Nayarit businesses from
Chacala to
allLaCruz.com
and 
AllBucerias.com.

The links to the town websites are on a pull-down menu on the top menu bar under Town Websites,  as well as lots of interesting articles about the Riviera Nayarit and the towns,  listed below on the right, linking to many interesting photos and business, as well as all kinds of different things happening around the Riviera Nayarit from surfing, golfing and events, restaurants and more!  Check out our facebook page down on the right and LIKE us and write us a note! If you like pictures click above on the picture tab, and click on the photos themselves.
Thanks for visiting RivieraNayaritFun.com! as well as the town websites, and many blessings for your stay in beautiful Mexico on the amazing Riviera Nayarit.
The Riviera Nayarit is a magical place – a natural land of enchantment on the Pacific Coast of Mexico stretching across 200 miles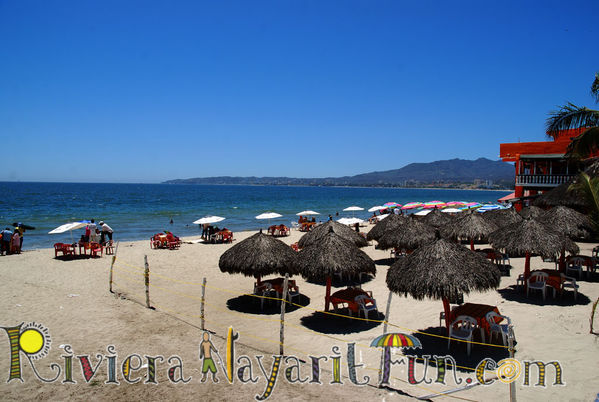 (322 kilometers) of rolling jungle hills interspersed with quaint beach towns lining the deep blue sea.  Although the region is not that well-known yet, you may have already heard of some of the more popular towns, such as
La Cruz de Huanacaxtle
, Sayulita,
San Pancho
,
Lo de Marcos
, Rincon de Guayabitos, La Penita, Chacala, 
Bucerias
, as well as
Punta de Mita
,
Nuevo Vallarta
, and
San Blas
. Check out the articles to the right to find out more! Click on the links and the pictures that take you to the photo galleries.
The region is growing in recognition across the world as a leading tourist destination for its many cultural attractions, natural wonders, land activities, and water sports.  Recent figures reveal there are more than 12,840 hotel rooms in the region with 60% being rated 4-star and higher.  Additional vacation rentals are being built but are smaller, traditional villa or bungalow styles that complement the area's traditional architecture instead of monstrous high-rise resorts.
Tours & Attractions
One of the primary attractions of a Riviera Nayarit vacation is this section of the Pacific Ocean. Extending 42 miles (68 kilometers) from
the state of Jalisco into Nayarit is Bahia Banderas Bay, the largest natural bay in Mexico, flourishing with tropical fish and sea life, and is the principal breeding place for Humpback whales.  Water sports activities include sport fishing year round, whale watching (mid-December through mid-March), swimming with dolphins, plus boating, sailing, surfing, kiteboarding, diving, and snorkeling.
For those who would rather stay on terra firma, there are plenty of activities on land, such as nature tours and sightseeing trips, offering horseback riding, hiking, four wheeling, mountain biking, and zip lining through the jungle.  The surrounding tropical rainforests, lush jungles and valleys of the Sierra Madre Occidental mountain range and the burgeoning wetlands and mangroves have earned Nayarit recognition as a significant ecological reserve.
Nature & Eco-tourism
With its emphasis on nature conservation, this is the perfect place for sustainable tourism (also known as ecotourism, environmentally friendly tourism, and responsible tourism) with tour options that contribute to the preservation of the world's ecosystems and support the region's natural wonders and cultural heritage.  Nayarit is part of the historic empire of the Aztec Indians, primarily the Cora and Huichol tribes, and features several cultural
attractions
like the archaeological sites of the
Altavista Petroglyphs
and Los Toriles (Ixtlán del Rio) Ruins, or tours like the Huichol Indian Encounter.
Home to the Olive Ridley, Leatherback, Hawksbill, and Green sea turtles that nest on its gold beaches various times of the year, Riviera Nayarit also supports endangered sea turtle conservation programs.  The turtles' fragile eggs and vulnerable hatchlings need protection from predators, which has resulted in the establishment of sea turtle camps, farms, and sanctuaries with rescue programs that welcome travelers to learn about and observe them in their natural habitat, and participate in young turtle releases into the sea.
The Pacific Ocean at Bahia Banderas Bay is not the only area flourishing with life, but Nayarit's rainforests, mangroves, and marshes
are also thriving with wildlife, including 200 plant species and 500 animal species.  Extending north beyond Bahia Jaltemba Bay, the region's nearby wetlands and beaches are a natural habitat for native and migratory birds, which results in spectacular birding and bird watching.  Notably, 80% of the Pacific Coast's migratory birds take refuge in the towns of Singaita, La Tovara, Isla Isabel, and San Blas, the latter of which is home to 300 bird species.
When you begin your vacation planning process, consider adding one of the lovely Riviera Nayarit beach towns to your list:  Flamingos, Nuevo Vallarta, Bucerias, La Cruz de Huanacaxtle, Destiladeras, Litibu, Punta de Mita, Sayulita, San Francisco (San Pancho), Lo de Marcos, Punta Raza, Los Ayala, Rincon de Guayabitos, La Penita de Jaltemba, La Colonia, El Capomo, Chacala, Boca de Chila, Punta Custodia, Matanchen, and San Blas, although there are more.
Travel to Bucerias, La Cruz, Sayulita, Punta de Mita, San Pancho,  or any of the many charming beach towns in the tropical paradise called the Riviera Nayarit, Mexico.