Banderas Bay & Riviera Nayarit Markets
Riviera Nayarit markets are gearing up for their opening day.  Every town around the Banderas Bay and along the Riviera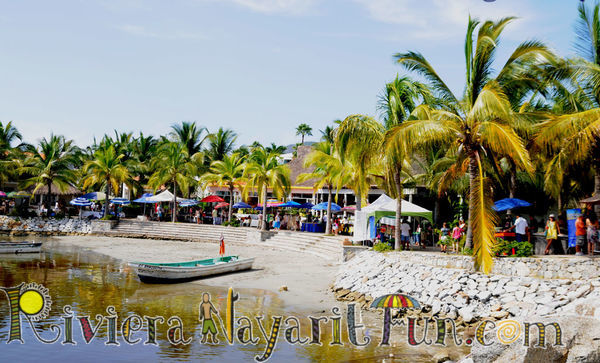 Nayarit has their own Tianguis, Mercado, or farmers market; some of which run all year around, and some only during the high season.  As we move into the high season local farmers markets and tianguis's are beginning with all kinds of goodies available! Check out all of the Riviera Nayarit markets below.
Every year local vendors and businesses come and sell their goods at the Riviera Nayarit markets which range from local grown organic fruits and vegetables, homemade yogurt and cheeses, jams, local honey, soaps and lotions, fresh cut flowers, all kinds of custom jewelry, shoes and clothes, different types of art creations and local artist displaying their paintings.  Different foods are always a bit hit, as its fun to browse about whilst eating an empanada, slice of pizza, homemade tamales, BBQ , salads, steak sandwiches hot off the grill, smoked fish and all sorts of cakes  breads and pastries and just about everything in-between. Most food vendors have a taste set out for you to sample. Okay..I'm hungry now!
Another quick note:  Seasonal Time Change is coming our way….October 26th move your clocks back one hour. In the United States, the time change does not occur until November 2nd, so mark your calendars. Also, remember when traveling along the Riviera Nayarit, the PV time changes once you pass Lo de Marcos by one hour earlier!
Kicking off the season is one of my favorite Riviera Nayarit market; the  La Cruz Sunday Mercado, which is beginning on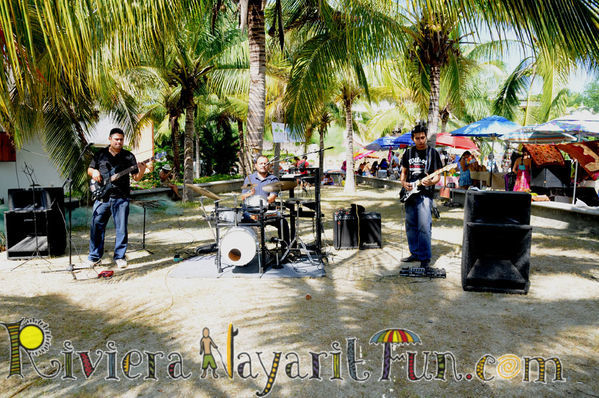 Sunday, November 2nd, which is also the "Day of the Dead "or "Dia de los Muertos".  The celebration begins and runs through November 3rd.  Dia de los Muertos is a highly celebrated and honored Mexican holiday, as they take the time to honor their loved ones who has passed on.  It will be fun to see the different painted skeletons, faces and sugar skulls at the Mercado. This Mercado has it ALL!  Including the best peanut vendor around, Cacahuate Carlos and amazing sandals and jewelry made by Begonia.  It's one of the largest Riviera Nayarit markets.
The La Cruz Sunday Mercado is located at the La Cruz Marina with plenty of room to walk about amongst the 200 vendors. Listen to live music and enjoy the beautiful view of the La Cruz Marina and the bay whilst shopping. To get to the market, take the 200 road north. Not long after the Terralta light you will see the turnoff on the right heading to La Cruz.  After getting past the Oxxo's, look for a sign saying La Cruz Marina and go left there. Go down to the last street and go left, then right to the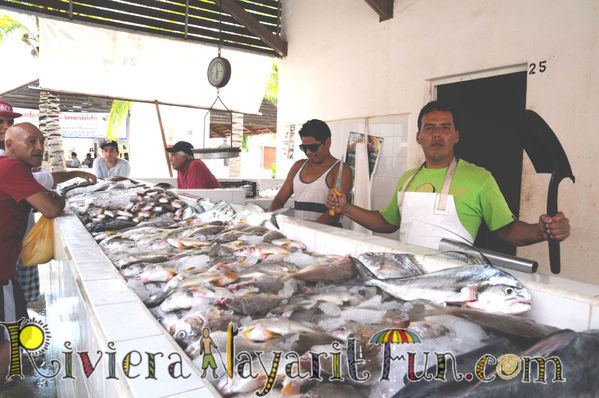 La Cruz Marina, which is also where the La Cruz fish market is as well.  If you get to the light (the only light) you have gone too far, and will need to go back.
The fish market is open daily with the fresh catch with plenty of choices of fish mongers.   If you want to purchase fresh fish to go with all your goodies, bring a small ice chest to keep your fish cool.   Come early for a good parking space. The La Cruz Mercado,  opens at 9 and closes at 2pm.
In La Cruz you can also find the weekly La Cruz Tianguis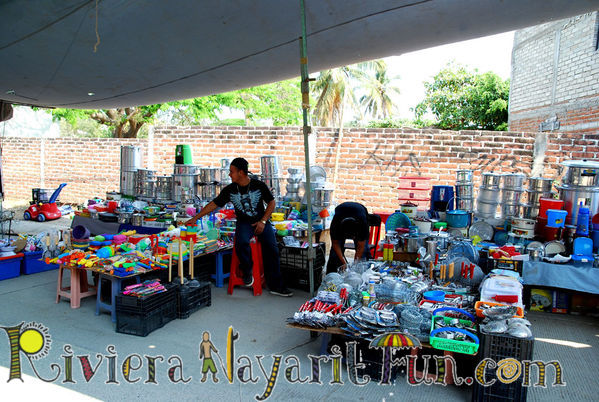 every Wednesday all year around. They have fruit and veggies, movies, clothes, kitchen  and other items. With the same directions as above to La Cruz, go to the light and make a left down the main street. The Tianguis is just past the round-about (Glorieta.)
Bucerias Tianguis is also year around every Sunday and it is located in the dry river bed. It gets larger, as most of the year around markets  during the high season. They have everything from making keys and electronic cords for phones and computers to fresh fruits and veggies and all sorts of clothes, tools, cleaning supplies, laundry soaps, cakes and pastries and juices and elote..LOVE elote with lime and chili!….all kinds of crazy stuff at this tianguis!
The Bucerias Monday Market at the Art Walk Plaza is beginning on November 3rd.  This year Christy B. has offered the space FREE to vendors! What a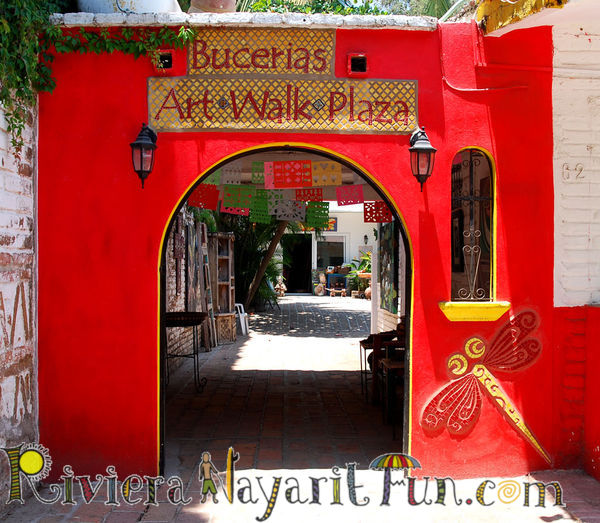 wonderful thing for local people! Sometime, when vendors only sell a few items, and then they have to give that money to the organizer of the market.  Way to go Christy! The Bucerias Monday Market will have all sorts of vendors with different foods, breads, jewelry and everything in-between. Stop by the Art Walk Plaza….just down the street from Mark's Bar and Grill and right by Flyodilou and Mikes  place, the Bucerias Art Gallery and Studio, located on the south side of the Kissing Bridge.
Let's support the Bucerias local community!
The Bucerias Art Walk begins on Thursday, November 6th this season and is every Thursday during high season.  Enjoy walking around the north side of the kissing bridge and visit the art galleries.  Talk to the art gallery owners, like Flyodilou and her artist husband Mike at the Bucerias Art Gallery and Studio and see Mike's new exhibit. Swing on by Jan Marie next door to Mark's and taste a Mexican wine while you check out the amazing Talavera table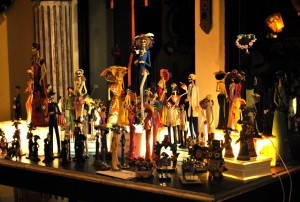 ware and hand blown glasses, a great collection of hearts and other unique items.
The larger Jan Marie Boutique across the street from Mark's has an amazing collection of Katrina's this season, as well as a great selection of home furnishings.  with Dia de los Muertos coming up November 2nd, (Day of the Dead) you may want to stop by and see their nice collection. An amazing boutique  filled with beautiful lighting, statues and very original art pieces.
The Art Walk Plaza, who hosts the Bucerias Art Walk has delicious tamales and Sangria. Stop in and take a look around the different artists and art located inside the plaza.
There is also a Bucerias Farmers Market on Wednesday down towards the Decameron at Rosa Mexicana Restaurant.  Its jammed packed with vendors and offers a nice variety of fresh foods, art and jewelry. The Bucerias Senior Center Tercera Edad gals will also be there selling their beautiful creations. Please help to support them!  They are getting started sometime in November.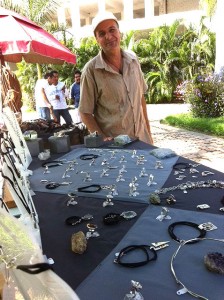 Tianguis  Artesanal Nuevo Vallarta is a local producer´s market on Saturday from 9-2 and they open on November  8th.  "We strive that all
our vendors are producers of what they sell. We have unique, original and inexpensive products and art pieces." Along with all of the wonderful items at this local Nuveo Vallart market, such as Huichol Art, handmade cigars and finger painted pieces, they also have recycled art in metal and wood, glass blown pieces, watercolors, as well as an interesting collection of handmade wood furniture and fiber glass furniture as well as fiber glass sculptures!
This two year old Riviera Nayarit market is located behind the OXXO that is across from Mayan Palace´s Sea Garden (by Villa Varadero, Near the dolphin adventure of Vallarta Adventures). Coming from Bucerias, you take the 2nd entrance to Nuevo Vallarta, go straight towards Villa Varadero. You will see an OXXO before Villa Varadero. They are located at the plaza that is behind that OXXO.
Mercado del Pueblo, Sayulita's Farmer's begis Friday, November 7th this season. The Sayulita market is located near the entrance of town, on Calle Revolucion, just north of the main bridge with about 80 vendors who provide a wide variety of products and organic foods.  Enjoy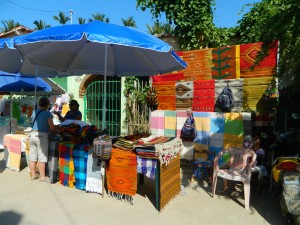 the live music every week with the opening band" Son 3 y un Violin", previously Dos Betos y las Musas.El Mercado del Pueblo started in 2009
and focuses on bringing local, sustainable, and organic products to the community and for the people of Sayulita and surrounding area to discover the seasonal, fresh foods of the region. The vendors at El Mercado are committed to high quality organic and natural growing practices and enjoy teaching locals and visitor alike about the benefits of healthy eating. To add to the diversity of the Mercado, local artists were added to the vendor list in 2012, making the Mercado an even more interesting experience. Although many markets have organic products, the Sayulita Mercado not only focuses on the organic culture, but also features a wonderful venue for cross cultural sharing of food preparations, growing techniques and healing practices. In partnership with the Sayulita community, this market brings local food knowledge, international cuisine, community gardening and care for the planet. Visit with friends and meet a lot of new ones…I hear there will be some surprises this season!
Lo de Marcos Tianguis is held each Saturday from November 1st to March 28th from 9:30am until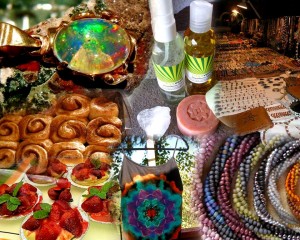 2:30pm and is a new Riviera Nayarit market this season. This new weekly market expects to draw many visitors from around the Riviera Nayarit bringing new revenue to Lo de Marcos.  A brand new market owned by Armando Contreras, and coordinated by Claudia Curtis  will support local residents, farmers and organic growers, and feature the works of over 40 talented Artisans Many of the vendors live and work along the Riviera Nayarit pueblos.
Lo de Marcos has needed a tianguis, and I am happy to see this finally happening. Lo de Marcos is located about 30 minutes north of Sayulita, (just beyond San Pancho). Take a left into Lo de Marcos and the tianguis iis down on the right…you can't miss it!
Guayabitos tianguis has a t every Monday and located in the town square. The easiest way to get there is to take a left at the Pemex and go left. You will see the town square on the left. A small yet fun tiantuis includes all of the fun items and delicious foods at super pricing. This authentic Mexican pueblo is made for shopping!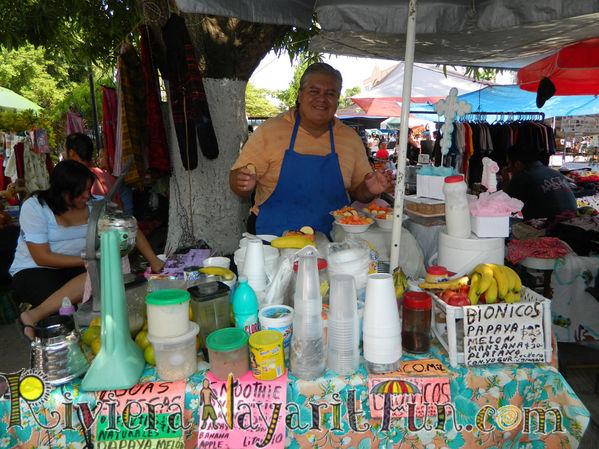 La Penita Tianguis is one of the largest tianguis on the Riviera Nayarit, and is open all year. It sizes down during the summer months, but come high season, this tianguis becomes huge, filling the entire town square as well as a very, very long path of vendors with everything you
can think of!  To find the La Penita Tianguis, take the 200 road to La Penita. Go to the last light, (the second light after entering La Penita). You will need to get in the right lateral to make a left there. Take a left and go down the main ave. to the end. The town square is on the left.
Another Bit of Fundraising News / THE 4th ANNUAL WHALE WATCHING FUND RAISER for THE JOHN OZZELLO MEMORIAL FOOD BANK
Lets help feed people!  This Tour makes that possible…Totally Win Win!


The John Ozzello Memorial Food Bank is hosting a major fund raiser again this year to help get us through the low season. For only $650 peso, you can enjoy a day of Whale Watching as well as helping to support the local food bank. The boat will be leaving the Paradise Village Marina in Nuevo Vallarta at9:00am and will be returning at around 4:00pm on WEDNESDAY FEBRUARY THE 4TH, 2015. Get your tiickets befoe they sell out! To purchase tickets you can call Sandi or Randy Nystrom at: cell phone 322-103-2828 or email us at: rsnystrom@hotmail.com 
Thanks for tuning in! If you're looking for a Banderas Bay rental, tours, fishing boats or Marietta Island fun, or information around the Riviera Nayarit contact Cat at Cat@Catmorgan.me   Click on the link to LIKE our FaceBook page packed with all kinds of Mexico news and current specials and events, gracias!  Have a wonderful 2015 season everyone..and Happy Shopping!