Riviera Nayarit Tacos are "Cheap Tacos"
If you have ever been to the Riviera Nayarit in Mexico, then you know what I am mean when I write about Riviera Nayarit  Tacos, or "Cheap Tacos".  The price ranges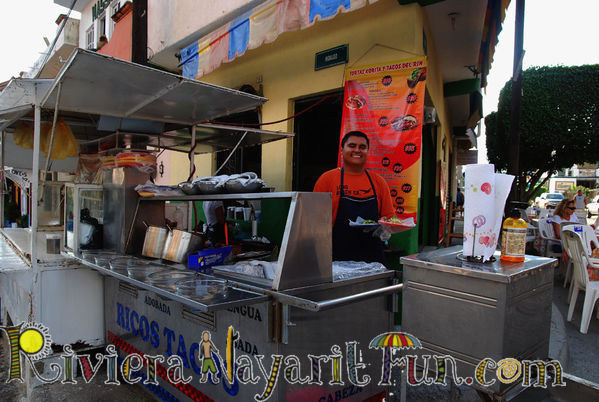 from 8 pesos to about 12 pesos. Some Riviera Nayarit taco restaurants charge more for shrimp and other meats. No matter what Riviera Nayarit pueblo your staying at, from Bucerias to Chacala with San Pancho and La Cruz  in between, you are going to find some of the best Riviera Nayarit Tacos you have ever tasted!
The vendors are everywhere selling Mexican tacos, and just about anything that can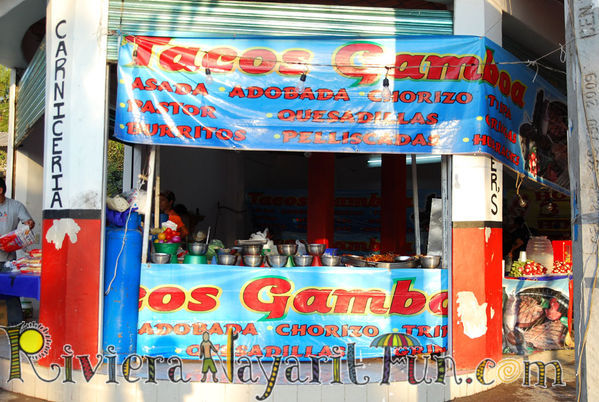 be created in a  tortilla! Vendors with carts roam the Riviera Nayarit Mexican Pueblos, or the Taco Carts find their corners and put a few tables around them so you can sit down to eat.  There are also the Taco restaurants, which are much larger with many tables for sitting and eating, and serving all kinds of delicious Mexican drinks, like Orcheta, (a rice and milk drink)  Jamica (a red flowered plant ) and Atole (a hot corn drink), all which have a lot of added sugar.  I enjoy making my own Jamica with a lot less sugar right at home!    The folks that live here seem to have their favorite Taco eateries…I know I do!
Fresh Tortillas
I love watching the women in the Riviera Nayarit restaurants and stands making their own tortillas. Tortilla after Tortilla. I like to go and t
ip them personally. What a labor of love!  Tortillas, made from corn are still a big part of the mainstay in the Mexico diet. Kernels are cooked with lime to remove the husk, and ground down. They then form the corn in to little round balls, and either pat out by hand, or put in a tortilla press, known as a tortilladora, and are used only for Corn. You can also hand roll them, but I have heard its not that easy! You can also purchase the Masa mix to make tortillas as well.
The options of what you can put in a tortilla is endless! Every town also has a shop that only makes tortillas called a tortilleria. There are also guys riding around on mopeds and bicycles selling freshly made tortillas. Find one of these guys and he will deliver directly to your house. Purchasing freshly made tortillas is wonderful!
A Wide Variety of  Riviera Nayarit  Tacos in Mexico

There is a lot of different tacos on the Riviera Nayarit.  It took me awhile to figure out what the vendors were selling when I first moved to the Riviera Nayarit in Lo de Marcos. For me, I really enjoy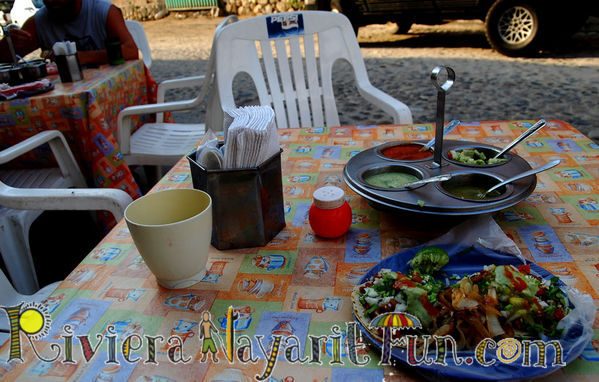 the Adobada style. The Asada, or steak tacos have finely chopped beef.  If you have ever ordered a regular beef steak here in Mexico, you know then why they cut their meet into very tiny pieces.
Tacos de Asador ("spit" or "grill" tacos) may be composed of any of the following: Carne Asada (beef)  tacos; tacos de tripita, (Tripe tacos), grilled until crisp; and, Chorizo Asado (traditional Spanish style sausage). Each type is served on two overlapped small tortillas.  and sometimes garnishes can include guacamole, variety of salsass, onions and cilantro.
Tacos de Cabeza or head tacos, in which there is a flat punctured metal plate from which steam emerges to cook the head of the cow. These include: Cabeza, a serving of the muscles of the head; Sesos, ("brains");  Legua, ("tongue") which I have seen a lot;  Cachete ("cheeks"); Trompa  ("lips"); and, Ojo  ("eye").
Tacos de Cazo for which a metal bowl filled with lard is typically used as a deep-fryer. Meats for these types of tacos typically include: Tripa  ("tripe", usually from a pig instead of a cow); Suadero  (tender beef cuts), Carnitas and Buche (Literally, "crop", as in bird's crop; or it is fried pig's esophagus
Tacos de suadero (grey) and chorizo (red)
Tacos Al Pastor de Adobada are made of thin pork steaks seasoned with adobo  seasoning, then skewered and overlapped on one another on a vertical rotisserie cooked and flame-broiled as it spins.
Tacos dorados (fried tacos, literally, "golden tacos") called flautas ("flute", because of the shape), or taquitos, for which the tortillas are filled with pre-cooked shredded chicken, beef , rolled into an elongated cylinder and deep-fried until crisp.
Tacos de pescado ("fish tacos") originated in Baja, where they consist of grilled or fried fish, lettuce or cabbage, pico de gallo, and a sour cream or a spicy mayonnaise sauce, all placed on top of a corn or flour tortilla.
Most Riviera Nayarit taco places have a variety of toppings available with whole or sliced red radishes, limes,  salt, pickled or grilled chili's and  jalapenos, cucumber slices, and sometimes they also serve delicious small whole grilled onions on your plate.
For me, I love going out for Riviera Nayarit Cheap Tacos every week. They are tasty, and the people are always friendly.  Dining out for 50 pesos is right in my budget! Minus the Coronas with lime !!