Bucerias Rentals Green Living at Los Arroyos Verdes
The Riviera Nayarit is the perfect place for a Mexico vacation, and Los Arroyos Verdes Retreat has green living at its best for your Bucerias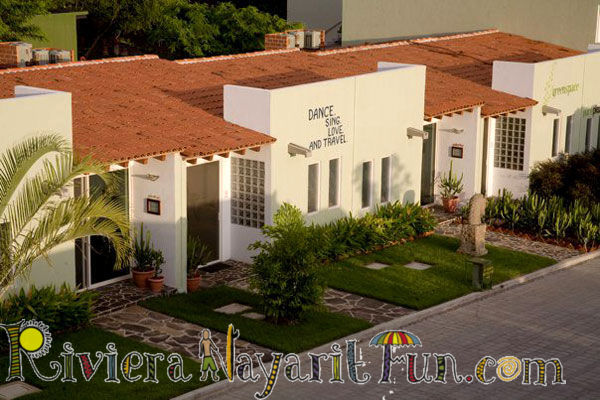 Rentals needs. The Riviera Nayarit is a magical place where the jungle meets the beach. This area of Mexico is known for its safety,  and Los Arroyos Verdes Retreat is your green haven while here in Mexico. Whether it be for a one or two week  Bucerias vacation, or something long term, Los Arroyos Verdes Retreat and their Bucerias Bungalows rentals can accommodate with luxury at affordable pricing.
Los Arroyos Verdes green living retreat is about 5 minutes form Bucerias Centro and the Bucerias beaches. This makes it perfect for discovering the Riviera Nayarit and Puerto Vallarta and Old Town Vallarta, while being able to retreat back to your beautiful Bucerias rentals in the glorious setting that Los Arroyos Verdes Retreat offers to refresh for the next outing. Los Arroyos Verdes retreat has the Bucerias rentals you looking for!
The Los Arroyos Verdes Bungalows and Suites
Los Arroyos Verdes Bungalows and Suites are stylish and comfortable. Comfort is a way of living at Los Arroyos Ve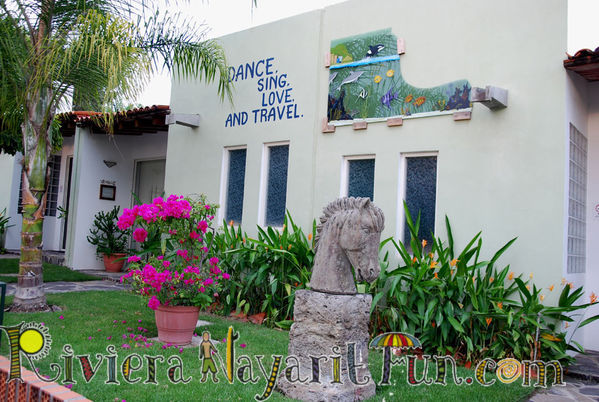 rdes, and you will be extremely satisfied with their one bedroom and two bedroom Bucerias bungalow rentals furnishings. The Bungalows and Suites are surrounded by a green garden delight. Everywhere you look your eyes will find beauty, whether it be the flowering plants, organic herb and vegetable gardens, or the sculptures and paintings that bring a life confirming energy into your being.  All of the art and plants are for purchase as well. So, if you happen to fall in love with a special piece, you may take it home with you.
The Bucerias Rentals One Bedroom Bungalow and Suites
These Bucerias rentals and Bungalows, or One Bedroom studios have all been created with your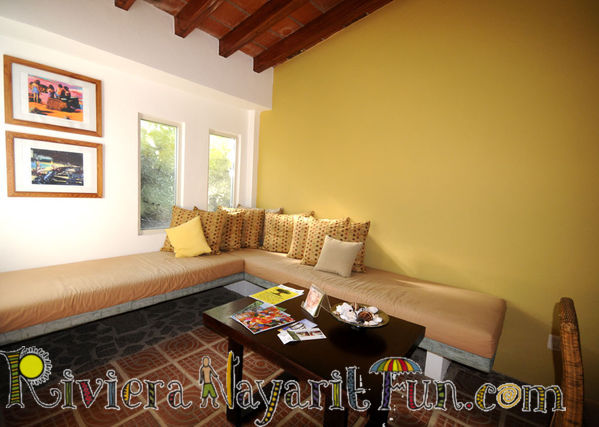 comfort in mind.  King sized beds with large flat screen T.V's in the bedroom. The kitchens are fully stocked, and a nice sized refrigerator and kitchen appliances are at your fingertips. Your own personal patio surrounded in green with comfortable loungers await. A private dressing room is also a nice touch.
Owner Guadalupe Dipp is one amazing architect with an unmeasured creativity and style. She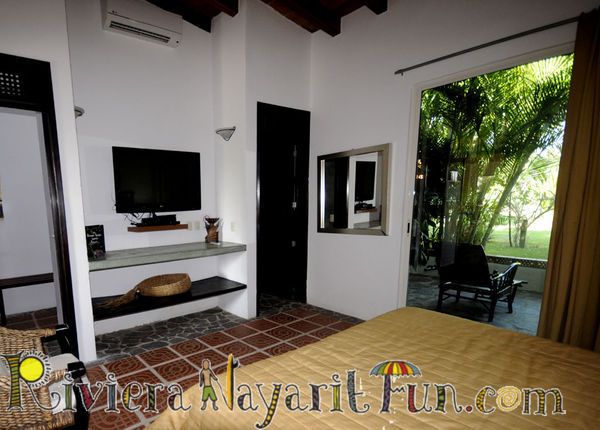 has created the Eco green living in this beautiful paradise, and the Bucerias rentals here compliment this green lifestyle of simple, yet upgraded luxury.  She would be honored to meet you! Spacious and decorated with art and love, these one bedroom Bucerias rentals are here waiting for you.

Bucerias Rentals Two Bedroom Bungalow and Suites
The Los Arroyos Verdes Retreat Two Bedroom Bungalow and Suite rentals are perfect for a family of 4. Needing a little extra room for guests, or more room for yourself? The spacious upgraded style of li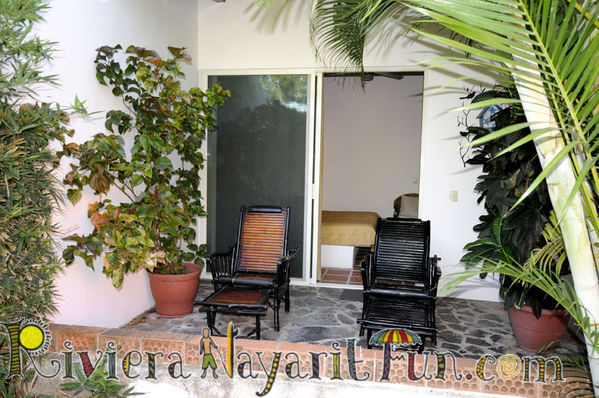 ving you will surely appreciate. Like their one bedroom Bucerias  rentals, these bungalows have fully stocked kitchens. If there is something you desire, you only need to ask. A king size bed in the master bedroom and two twins in the second bedroom, along with plenty of closet space. There is also a separate dressing room, and a safe for your passport and other valuables. Not that you would need one at Los Arroyos Verdes, as their is 24 hour security, and this green community is fully gated as well, with someone at the gate at all times.
Discover the beauty of these Bucerias rentals, one or two bedrooms!
Los Arroyos Verdes Retreat Amenities
Surround yourself with the beauty you deserve, and all of the perks too! Los Arroyos Verdes has everything your heart could want. Their pool is quite large that wraps around a covered area with all different kinds of chairs and loungers, some made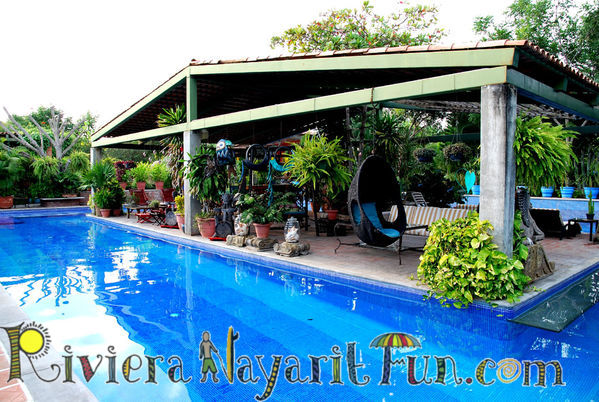 for two!
Its a nice place to enjoy friends, be romantic, or to relax and read a book.  Around the outside of the pool are lots of umbrellas and sun loungers. Every Sunday, there is live music at the pool. This is a favorite of the Bucerias locals and long term Los Arroyos Verdes renters, and is a wonderful time to enjoy meeting new people and making lifetime friends.
The Los Arroyos Bamboo restaurant faces the pool, and their service is impeccable.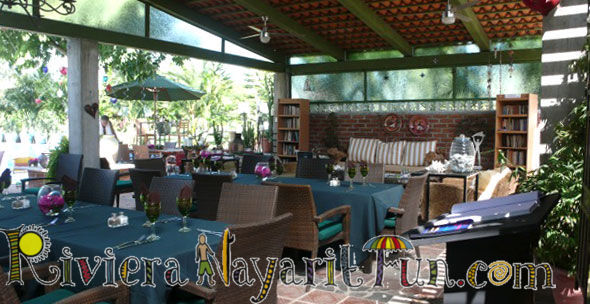 Lunch and drinks by the pool is delightful, and their menu will have what your looking for, be it vegan, vegetarian or a meat and fish lover.Dinner is wonderful…try their fresh catch of the day.  All of the ingredients are fresh, and many from their own gardens.  After dining, enjoy the comfortable living area just off of the restaurant. Sit and relax with a cup of coffee or after dinner drink.
Ahhhh..It's Spa Day!
Just down the walkway from the pool is the Los Arroyos Verdes Day Spa. Receive a wonderful massage and get a manicure and pedicure.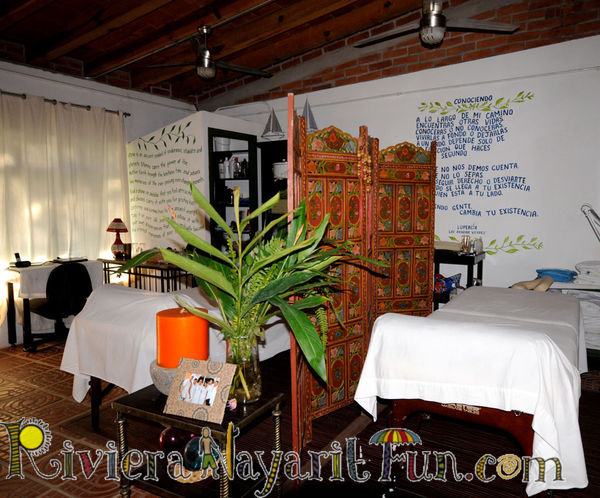 You should always treat yourself throughout  your life on a regular basis. However, sometimes we get too busy and forget! When your on vacation, help your mind and body relax and forget about the daily tasks we normally have to go through. Get those toes and nails painted a pretty color. Breathe deeply during your massage to release toxins. Ahhh…the spa! Specializing in Deep Tissue and Swedish, your choice.
Los Arroyos Verdes Retreat also has a Sweat Lodge. Guided by professionals, you can release toxic emotions and thoughts, while cleansing your body of toxins as well. If you have never tried a sweat lodge, this may be your chance.
La Tienda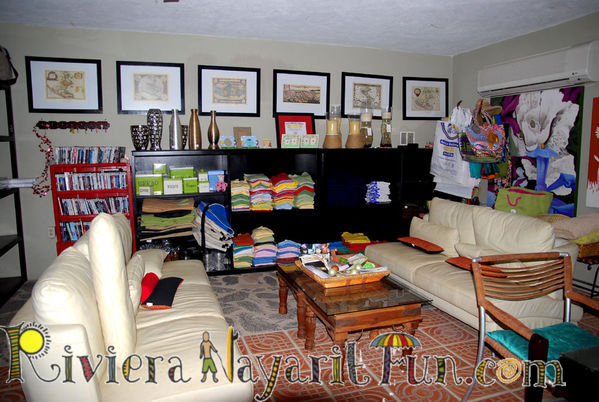 Los Arroyos Verdes has a store with unique collectables, clothes, suits for the pool, scarfs, original paintings and art.  Everything is for sale at Los Arroyos Verdes Retreat. Plants, the art in your Bucerias rental….fall in love and take it home! This is also where their office is located. The Los Arroyos Verdes Retreat staff is professional and attentive to your needs. Come and visit this wonderland, and you will never want to leave!
Workout!
Los Arroyos Verdes Retreat has a complete gym for your workout convenience. This gym also has a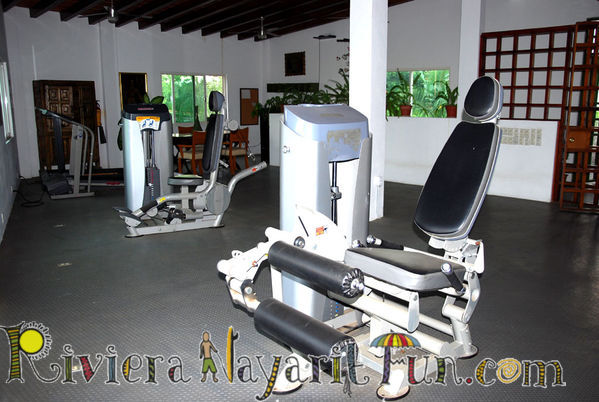 large floor for yoga classes and other types of floor workouts. Don't have your yoga mat? No worries…Los Arroyos Verdes Retreat has plenty available for you.
With up to date equipment, working out was never easier!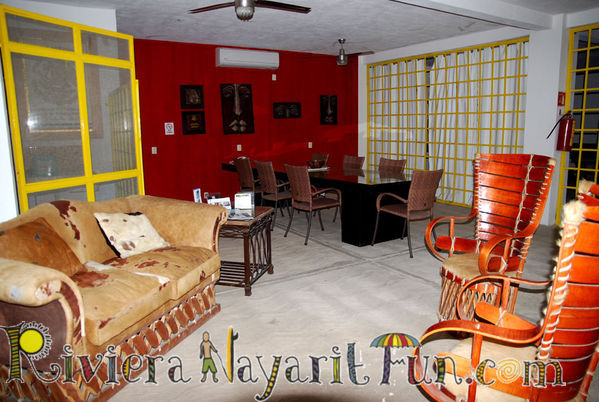 Laundry Facilities
When its time to do your laundry, you will be surprised how nice their laundry facility is! There are plenty of washers and dryers, and while you wait there are comfortable chairs and couches. There is also a large desk for working on your computer, or other things.  A large conference style table is also available. Comfort and style…that is Los Arroyos Verdes Retreat…..yes, this photo to the right is actually part of the laundry room!
Discover the difference at Los Arroyos Verdes Retreat Bucerias rentals, for a one bedroom bungalow rental, or a two bedroom bungalow rental. They also have RV rentals! As well as amazing Wedding planning and special events. Short term for a fantastic Bucerias vacation, or you may want to stay long term and relocate to the Riviera Nayarit permanently!