Bucerias Mexico Non Profit Community News
Every Day is a blessing here in Bucerias Mexico and the Banderas Bay.  This sunset on Tuesday evening overlooking the Banderas Bay to the Marietta Islands was absolutely spectacular, again!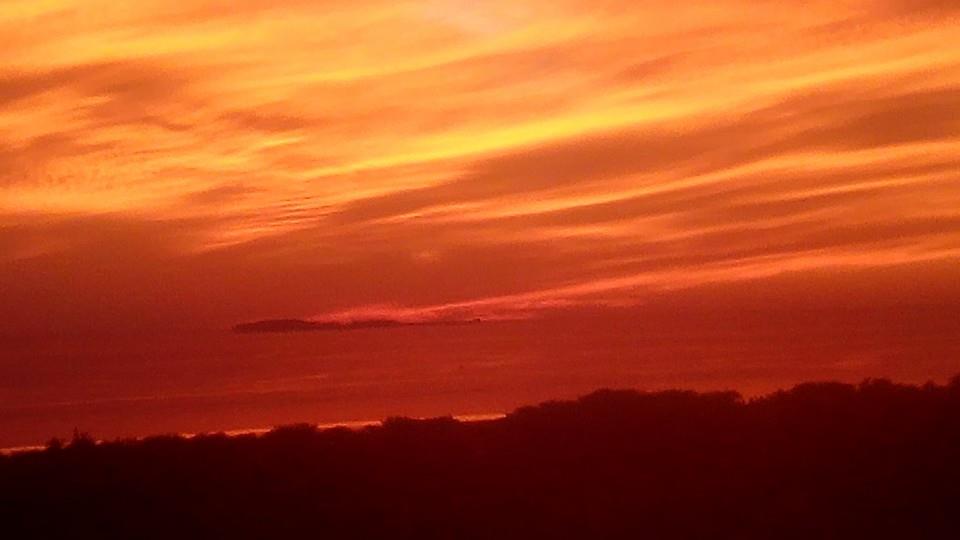 With the Christmas holidays coming towards us quickly, Bucerias Mexico nonprofit groups are getting their groove on with fundraisers to generate presents for the kids and monies and food that will be donated to families helping to create happier holidays and life throughout the year. I will say that feeding people is one of the most important things we can do to help another human being. Food is necessary for not only physical health, but also mental health and emotional stability.
Another wayone can help when flying down from Canada; West Jet allows 1 extra suitcase per person for humanitarian aid.  What is needed right now is gently used clothing for children and adults and school supplies. There is an orphanage in Valle that was recently opened with 188 children of all sizes and ages could really use the donation of clothing. Clothing also goes to the La Fuente church and the Tercera Edad Senior Center in Bucerias. If you need a inexpensive suitcase for this try a second hand store. You can find one for around 6 bucks! And leave it in Mexcio! Please contact Sandi Nystrom who heads up the John Ozzello Memorial Food Bank. Sandi  would be happy to get your donations where you would like them to go.
Children's Christmas Program A huge fundraiser will be held at the Drunken Duck on Mon, December 8, 2pm – 6pm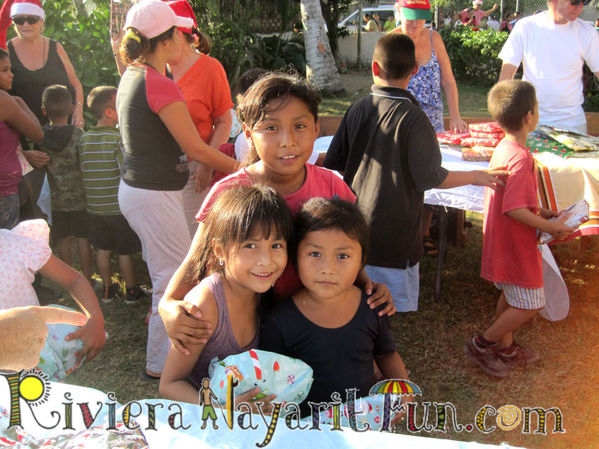 supporting the 21st Bucerias Children's Christmas Program with over 1200 gifts given every year. The program also hands out generously donated candy bags to all the children. Mothers and grandmothers are also gifted with Crown Royal bags filled with hotel type soaps, shampoos and lotions. Donation: $200 Pesos plus all the raffle tickets you want to buy! Food, drinks available plus a great band. Tickets: Yo Yo Mo's Sports Bar 40 Ave. Mexico – Bucerias Jan and Jennie Roden: 322- 222- 5101 xmasinbucerias@gmail.com Visit the little Catholic church on the arroyo (east side of Carretera 200) at 3 or 4 pm on Christmas Eve (Dec 24) to see the distribution of the gifts! You won't believe your eyes!! I was able to participate in this event and it was incredible!  It really is truly amazing.
Another fundraiser coming up for the John Ozzello Food Bank is the 4th Annual Chili Cook Off in Bucerias on December 10th. If you think you make a great pot of chili step up to the plate and enter your chili in this contest!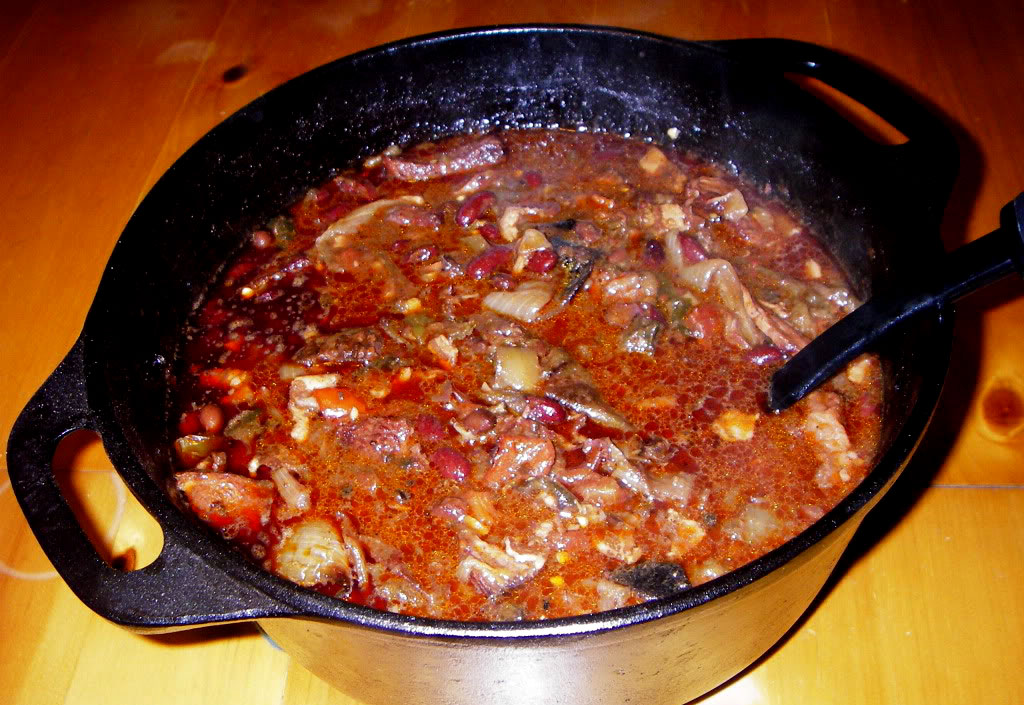 This year the Chili Cook Off will benefit the John Memorial Food Bank. They will be supplying the tables and chairs, cups, utensils and napkins. All you need to do is bring your best chili Wednesday, December 10th to 62 Lazaro Cardenas. Please register now at TheBuceriasChiliCookOff@gmail.com.  There will also be live music by Brit and Esteban, and adult beverages to cool down those chili flames.
The Amigos de Bucerias A.C. does a whole heck of lot for the Bucerias community, and I wanted to expand on that a bit in this article this week. The Amigos de Bucerias, A.C. is a Mexican registered civil association composed of members called "amigos" which reside mostly in Bucerias and unite to make Bucerias a good place to visit, work and live.
Their Mission Statement: "The civil association Amigos de Bucerias, A.C., is dedicated to the protection and enhancement of the quality of life in Bucerias, in cooperation with all residents, elected and appointed officials, business leaders and visitors."
Some of the projects they work on are the Beach Cleanup, Recycling Program, Paws and Claws, Special Needs Fund, Street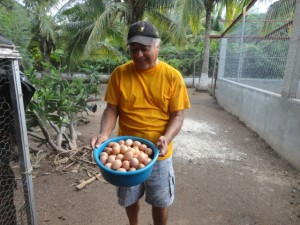 Lights and also help support the John Ozzello Memorial Food Bank. Other organizations they help out with are the Bucerias Children's library, Biblioteca Rey Nayar, Human Connections, Manos de Amor (Bucerias orphanage) and the Tercera Edad Bucerias Senior Center.
The Tercera Edad Bucerias Senior Center has recently built a large chicken coop for eggs.  Here is a small excerpt from the amigos webpage written by Amigo president Ronnie Barker, "When President Cirino told us of his plans to have a hen coop, we said, sure, go ahead, thinking, aw, sweet. But he and his seniors had bigger ideas – much bigger ideas! Using the balance of monies raised from selling crafts at the market \the Mexican ladies cooking demos, they bought the materials and the seniors set to with a will – and during the heat and the humidity of the summer, that is really something. Even as they were building, they were already acquiring some stock – provided by Manny Venegas, really cute little Easter card type chicks all yellow and fluffy chirping around." Read the rest of the article on their webpage link: http://amigosdebucerias.org/featured/whats-happening-at-the-tercera-edad/) Since then the cute little chicks have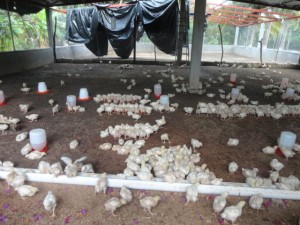 grown up to be great egg laying hens, which means lots of eggs for people to eat!  Unfortunately, they had some issues with the last rain and lost about 60 of the now egg laying chickens due to an unfinished roof. Black plastic had been donated, but just could not hold up to the last heavy rain this November 11th. If you would like to find out how you can help the Bucerias Tercera Edad Senior Center or other projects, please contact the Amigos de Bucerias on their web site at AmigosdeBucerias.org. Their page is filled wonderful community stories, information on immigration, plates for your car and information to things that folks may need when coming to Bucerias Mexico. Cruise around and check it out. You too can become an "Amigo". Join us at one of the monthly breakfast meetings at Ixta Restaurant every fist Saturday of the month at 9am, or send an email to amigosdebuceriasac@gmail.com  Cost for membership is 250 pesos.  Thanks for all you do Amigos!
BEACH CLEAN-UP PROJECT Riviera Nayarit and Bahia de Banderas Turismo Municipal are starting a program to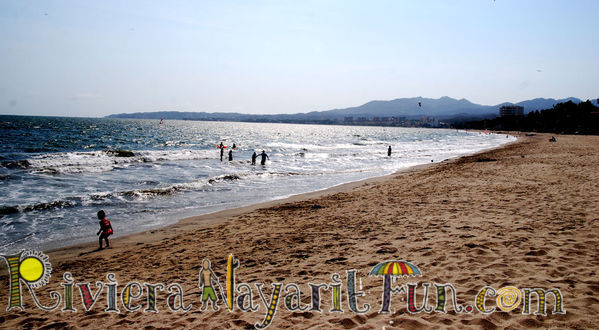 clean the beaches and also have recreational fun afterwards. The Bucerias Mexico Beach Clean up begins this Saturday 29th at 8:00 am on the Bucerias Beach along the arroyo at the Kissing Bridge. We will be cleaning the playa,  and after will be having  fun with music, DJ's , Football and Volleyball on the beach. If folks show up this could be a monthly event. You will see tables and shade tents or umbrellas set up. Hopefully this will turn into a monthly beach clean up. With the Ananda Yoga / Amigos clean up day on the second Saturday each month,  this would add to that and be very awesome! Please join in.
Adults can finish their Primary or Secondary level Literacy….
Spread the word! Tell your maids/gardeners/shop and restaurant staff – whoever …there is a new Government campaign run by INEA (Instituto Nayarita de Educacion para Adultos) – for adults to finish their primary or secondary level literacy – and it's absolutely FREE ! 
New Events on the Bucerias Mexico Calendar  / La Cruz Mexico Calendar
There is a new Bucerias Mexico Restaurant called Esquina 22 Bar and Lounge. They are located on 22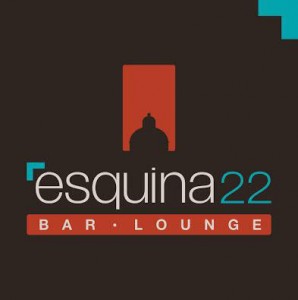 Mexico ave. (where the Shamrock use to be.) The owners of the building, Alan and Arturo, decided to open Esquina 22 Bar and Lounge (esquina means corner) and have completely redecorated with charming, soft relaxing colors that welcome you. A casual atmosphere where you feel great in a pair of shorts or a bit more dressed up. Their claim is to be a "no frills – gastro" restaurant wher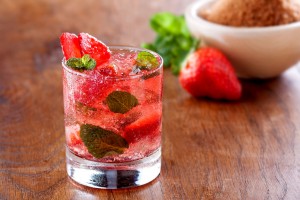 e you can enjoy top of the line cuisine with a good pricing. As owners of the property, and operators of Esquina 22, this allows them to pass on the savings to you keeping pricing very reasonable. My friends and I stopped in to try some of their 65 peso mojito and mescal cocktail specialties and we loved them! We are looking forward to trying
out their extensive menu of twice baked potatoes and 9 oz filet mignon and tuna as well. Stay tuned for their entire page coming soon on the allBuerias.com site with their full menus and pricing.

Fun daily happy hour and food specials, along with live music on Tuesday with the Latin vibes with " Piel Canela", A trio of guitar music and tambores (drums) from Puerto Vallarta playing from 8-11pm. Fridays live music is with the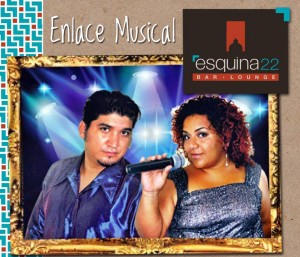 "Duo Enlace Musical" from 9pm to 12am. Enjoy the beautiful music of piano and voice. They are also offering several kinds of imported beers that one does not see very often in Bucerias.  Check out their daily food specials, as well as two Happy Hour Specials of -2X1 National Drinks from 5:00pm to 7:00pm and a Bucket of 5 national beers for $100 from 9:00pm to 11:00pm. Esquina 22 are also serving a Traditional Thanksgiving Dinner for 199 pesos. Doors are open from 4pm – 12am.
Bucerias Mexico Celebrates Grey Cup
Annual Grey Cup Party at Breakers! Come out to Breakers Beach Club this Sunday, November 29th starting at 4:30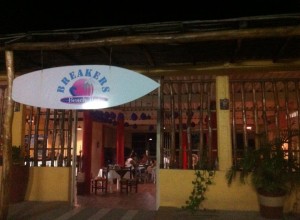 to enjoy our Annual Grey Cup Party!  We will have four TVs playing the game so you can choose to watch the game while enjoying the warm ocean breeze and beautiful ocean view.  We will have a special Grey Cup menu as well as featuring our new BBQ stuffed burgers and salad buffet for only $120 pesos. Choose between hamburgers stuffed with either bacon and cheese or mushrooms and blue cheese. We are located at #15 avenida del pacifico, two blocks north of the main square in Bucerias.  We also also serve Tim Hortans coffee and smoothies every morning  on the play at 9am. 
Bucerias Art Gallery & Studio hosts Puerto Vallarta artist, Oscar Hyle for a "Meet and Greet" Dec. 4th at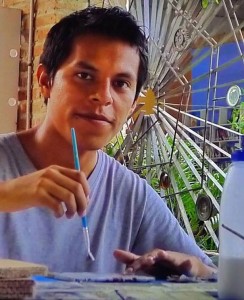 7pm during the Thursday Bucerias Art Walk. Oscar, though only 22, boasts a full resume. You will find many of his Urban Murals throughout P.V. such as 'A Tomatlense Beach' on Allende Street or "Windows on Vallarta" on Francisca Rodrgiguez.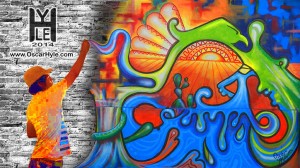 "We are thrilled to have Oscar as our Featured Guest Artist" says, Floydilou, owner of the
gallery located at 60 A Lazaro Cardenas. "He is a conscientious artist continuously honing his craft in various mediums. The meet and greet will give the community here an opportunity to see what a fine young and talented man he is."
La Cruz – Pub Britannia ..I am slipping this La Cruz info in as they have a brand new band playing the best of rock 'n' roll coming in on Wednesday nightswith Mike Curlette and Marty Lynch. Fun dancing music….the best of rock and roll….beginning at 7pm.  Dinner specials tonight Nov, 26th re are Creamy chicken curry 90 pesos, Shrimp burger 80 pesos and 2 small cottage pies 185…..drink specials too! Wednesday FUN at the only Castle on the Banderas Bay! See you at Pub Britannia!
Please check the allBucerias.com calendar and allLaCruz.com calendar  for the weekly entertainment, live music, specials and fundraisers.  Visit our FACEBOOK page the https://www.facebook.com/allrivieranayaritfun  for local live music and food specials. events and Bucerias Mexico non profit  fun, as well as a bit of national news and updates. Give us a Like while you're at it!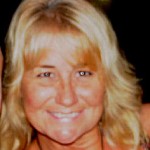 Thanks for reading. If your looking for a fun tour, fishing boats ….and the fish are running! (catch guaranteed!), Mariettas, Altavista Petroglyphs, Boca to La Animas beach hike, or  looking for a casa rental for this season or next season, please contact me directly at Cat@RivieraNayaritFun.com . I will connect you with the very best with the lowest pricing and discounts possible! A thank you out to Ronnie for the  Tercera Edad Bucerias Seniors Center photos.
Enjoy your Thanksgiving and Riviera Nayarit vacation! We are so blessed to be here!
Have a super week! AHO!
Cat Morgan
Cat Morgan is owner of the RivieraNayaritFun.com Network and NewEnergyConsciousness.com .