New Bucerias Artist, Bucerias Art in Mexico
There is a new Bucerias art gallery, and Bucerias artist, Michael Carlyle, as he and his wife Floydilou have
opened the new Bucerais art gallery, "The Drop in Art Studio & Galeria", showing local Bucerias art,  located on the Riviera Nayarit in Mexico.
Here is a story in the words of the lovely Floydilou, (and yes, that is her real name!) telling their story of their journey to Bucerias Mexico.
Be sure to click on the links, and the photos, as they will lead you to the photo gallery!
Living on the Riviera Nayarit in Mexico
We are thrilled to announce the opening of The Bucerias Drop In Art Studio & Galeria on the beautiful Riviera Nayarit. Michael and I have been looking forward to the time we could come live in Mexico.  Have you ever considered living or moving abroad? Perhaps you have that Riviera Nayarit artist inside of you and are ready to come out to play?
When  I first arrived on a one way ticket to Bucerias in August,  Michael was back in Toronto on a contract job at the Royal Ontario Museum.  He has always supported me in my dreams.  I was
on a mission to find a way for both my husband, Michael Carlyle,  and I to live and work in Bucerias, Nayarit.  We are not of retirement age.  Michael is an incredible artist and teacher.  I am a small business marketing muse whose mission is to help small business owners thrive in their communities.  With the advent of internet, Skype, social media. I believe there is a whole generation of people who understand  we are a border-less, global community with ample opportunities allowing us to explore and discover a new way of life.
Bucerias Mexico won our hearts. Michael's love of the kind people here, the ocean encompassed by mountains
, year long sun and the Bucerias art community made it a perfect fit. Michael grew up in Victoria and lived near the Royal British Columbia Museum. As a young boy he always frequented the museums. He loved to draw.  In his adult life he would take on a 20 year career at the Royal Ontario Museum   It is evident that Michael has always surrounded himself with art and he  has also collected 100′s of hard covered art books.  If he doesn't have an easel or paintbrush in his hand, you will often see him reading biographies of famous artists from Maynard Dixon to Alfred Sisley. He is an avid student of art and evolving his art.
He attributes his success to his mentors and now friends (Tanyss & Harvey) of The Art Academy of Canada.
We are two people simply taking a step. A motto I live by is not to a life with woulda, coulda, shoulda. As Canadians we are blessed to have the freedom to go after our wildest dreams.
Opening the Bucerias Art Studio & Galeria
Michael, an artist of 20 + years and I, an entrepreneur and traveling opportunist decided this year to make a go of it and be here full time. With Michael's talent and teaching background and with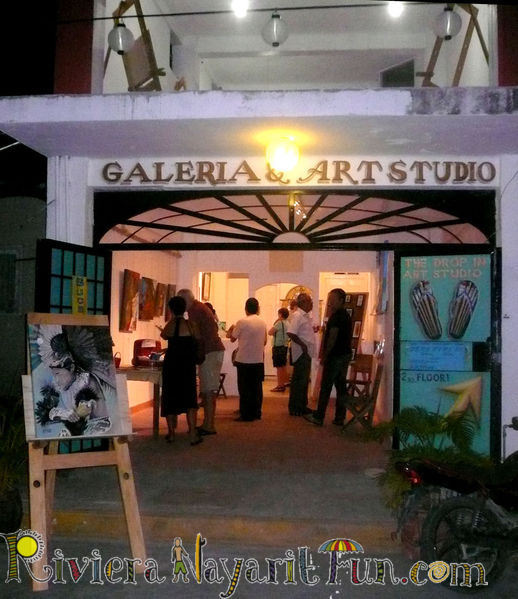 my creative entrepreneurial ways we opened The Bucerias Drop In Art Studio & Galeria on Lazaro Cardenas next to The Jan Marie Boutique. The Bucerias Art Studio on the second level, provides a venue for local and vacationing artists to gather, learn and create their work without the high cost and long term commitment of renting a commercial location.  Tuesday and Thursdays mornings Michael is onsite to provide artists constructive guidance and instruction. The rest of the week is open studio time to meet the demand of the growing Bucerias art community. Artists pay a 200 pesos daily fee to use the studio and work alongside like-minded artists. For better value you can take advantage of our monthly or seasonal rates.  We have people from all over the world for this Bucerias art experience and utilizing our open studio space. You may be painting next to someone from Paris or Oregon!  Taking beginner up to advanced Bucerias art classes at the studio is enjoyable as the space is open air, light and bright. He advocates painting from life thus teaches with real objects and people. You will catch the ocean breeze
and have a view of the many tourists curiously looking up at the studio while walking down the main street Lazaro Cardenas .  While not in studio, Michael is most passionate about painting landscapes and offers plein air art workshops in Bucerias for both vacationers and locals.
Michael usually seen wearing a polo shirt, rolled up jeans with converse sneakers (or sandals when living in Bucerias) is casual by nature and intense with art. Michael has been commissioned internationally for his portrait work and has sold still life and landscapes at D&E Lake Galleries in Toronto, Mudpuppy in Windsor, Artcite in Windsor and most recently in Bucerias at The Bucerias Drop In Art Studio & Galeria. You can commission work by him, take a Bucerias art class, or purchase one of his paintings now on exhibit at The Art Bucerias Gallery. You can find him on faceb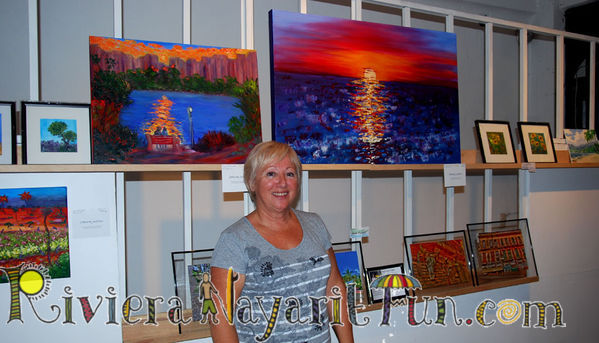 ook at http://www.facebook.com/michaelcarlyleartwork
The Bucerias Art Galeria on the lower level has open art exhibits on a rotational 3 week period for local artists to show their work. Every week their art is seen by 100′s of tourists who enjoy The Bucerias Art Walk on Thursday evenings at 7pm. The hours for the Bucerias galleria is Monday through Saturday from 10am to 4:30pm.  Currently on exhibit are over 20 original pieces of art under 400 pesos ($30), perfect for a meaningful and thoughtful souvenir gift, holiday gift or host gift. Michael and I would love to meet you. Come by and say 'hola!'.
Floydilou is known for her 'laptop lifestyle'. Always learning and showing local-preneurs how to step into the spotlight with a showstopper business that brings them stand out in the community. She offers marketing workshops that helps you to blend both online and offline marketing concepts.
Most of her consulting and coaching work is done online via phone or skype. Check out www.floydilou.com !