Delicious La Cruz Ice Cream at Huana
So have you tried the new La Cruz ice cream at Huana that opened in La Cruz de Huanacaxtle in mid December 2014, located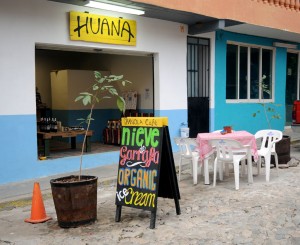 on Delfin Street across from Philos Restaurant?
This La Cruz ice cream business is co-owned by two brothers Hugo and Rodrigo Medina. Hugo thought about starting an ice cream business in Guadalajara where he was born, but decided on La Cruz in Nayarit because he wanted a change of pace in his life and because of his love of surfing in the area, not to mention his love of good quality ice cream. Huana sells organic ice cream in several delicious flavors and sizes as well as a larger selection of regular ice cream. The brothers plan on developing new flavors on an ongoing basis such as lavender, peanut butter and green tea. You'll notice the deep, rich flavors of Huana's ice cream immediately as well as the texture which is smooth, icy and refreshing.
You can also buy home-made granola, (one of my personal favorites as it has large nuggets of cereal and isn't too sweet), locally baked goods including brownies, grape juice, coffee, honey and beeswax candles.  The new cappuccino machine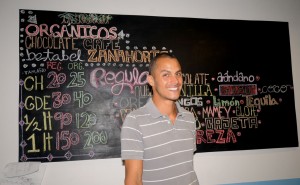 is now in so come on in for a fresh cup of organic espresso, cappuccino or latte. (Photo of Hugo right)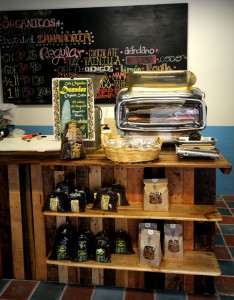 It is the eventual goal of both Hugo and Rodrigo to offer all natural, organic products ranging from ice cream, to coffee to produce. All the shop's inside decor including counters, light fixtures and display tables will be made from natural and/or recyclable materials supporting the philosophy to reuse and recycle – thereby reducing environmental impact. So come on out and support Hugo and Rodrigo's new La Cruz ice cream business Huana in downtown La Cruz Mexico!
Post by Jessie Watt
Check out the La Cruz Ice Cream store Huanaa for the
best La Cruz de Huanacaxtle ice cream!