The Best of Banderas Bay Entertainment

During the high season you can find about any type of music that is known to mankind on the Banderas Bay Entertainment / Puerto Vallarta scene in Mexico
Every pueblo on the Riviera Nayarit has a different flavor, with music festivals, the town festivals, and all at different months during the season. Bars and restaurants love to have live entertainment to persuade you to come and eat at their restaurants..and why not?! Some have a cover, some do not. Some are beachfront and outside, some are not.  Its a great way to explore some good food and fun entertainment.
One  fun addition this season for great Bucerias entertainment is at the Luna Lounge. They have created a One Time Only Friday Cabaret show and have  well known celebrities and impersonators come from all over for a one time show, instead of the regular weekly gig.
Their next show is to celebrate Elvis …ELVIS IS IN THE HOUSE! On January 10th. You can check the Bucerias community calendar for all the Luna Lounge events (like the Tuesday's Crazy Bitches Drag Show) and the special one time Friday's show as well as other Bucerias fun and events, or click here to make a reservation or get more information.

Well Known Musicians for Banderas Bay Entertainment

There are several well known musicians that reside here during the winter season. One of my favorites is Bryan Savage.  Bryan has played his saxophone and flute to audiences in the U.S., Europe, Japan, and Canada with Al Stewart, The Nitty Gritty Dirt Band, The Amazing Rhythm Aces and John Denver. He has opened for Bonnie Raitt, Mick Fleetwood, Santana, Glen Frey, Eddie Money, Journey, Gary Burton, Rick Braun, Chuck Mangione, just to name a few! He also has a new CD out. You can catch him playing with another well known musician Chas Eller (keyboard extraordinaire) and the AllStar Jazz Band at the Paradise Theater, (200 pesos not including dinner I believe) or out by the pool at Los Arroyos Verdes on January 19, 2014
cost 200 pesos includes the pool pass, lunch and a couple of drinks…
(a smoking deal!). Also catch him every Tuesday in La Cruz de Huanacaxtle (just past Bucerias towards Punta de Mita) at Oso's Oyster Bar and Fish Market on the La Cruz Marina, no cover charge! If you don't feel like driving, stay at the fabulous
Villa Amor del Mar Boutique Hotel, located on the playa overlooking the La Cruz Marina. Chris and Cindy are amazing hosts, and have all sorts of fun package deals as well!


Who is Luna Rumba Anyways??
I keep getting asked this question, WHO IS LUNA RUMBA?? which amazes me! How could one not have heard about Luna Rumba??? They are fantastic!!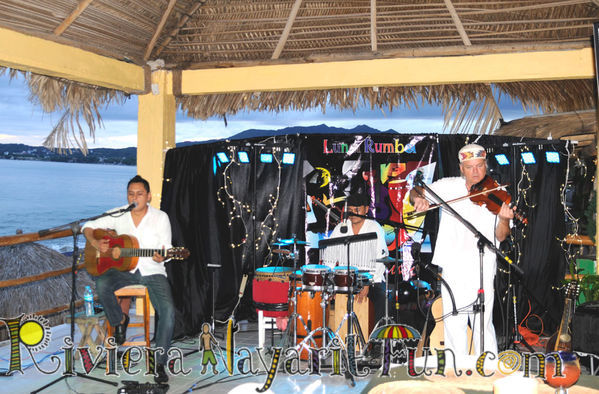 A hot Latin based band on the Banderas Bay entertainment scene this season is Luna Rumba performing Latin, flamenco, Middle Eastern, Celtic riffs and Cuban rhythms.  They have a very interesting story, and most folks that have heard of them know them from La Cruz de Huanacaxtle, where the music for their first CD was created, and Luna Rumba was born.
They recently played at Breakers to a packed house Dec. 28th, for a Sunset concert .hahaha..with the rainy weather there was a tiny sun way out there, however no one cared; (their last no admission concert) and will also be performing at the Paradise Stage Community Center this season starting in January with their first show on January 16th, tickets;  200 pesos. You can also catch them at the Taste of La Cruz on January 10th,  at the La Cruz Marina Malecon for 100 pesos per person, and enjoy delicious foods from Banderas Bay restaurants. Cheko can be found at Los Arroyos Verdes playing his guitar and singing for fun Sundays by the Pool as well on January 12th and January 26th, 2014. Click here for Concert Dates. 
It all started with a Canadian musician Geo Urich who sailed into the small port of Zihuatanejo, Mexico. A new friend introduced him to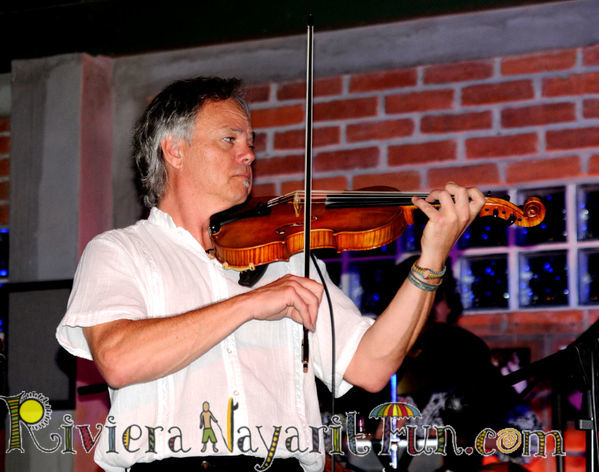 Cheko Ruiz, a talented singer and song writer from Mexico City.  It is said, that after a jam session one afternoon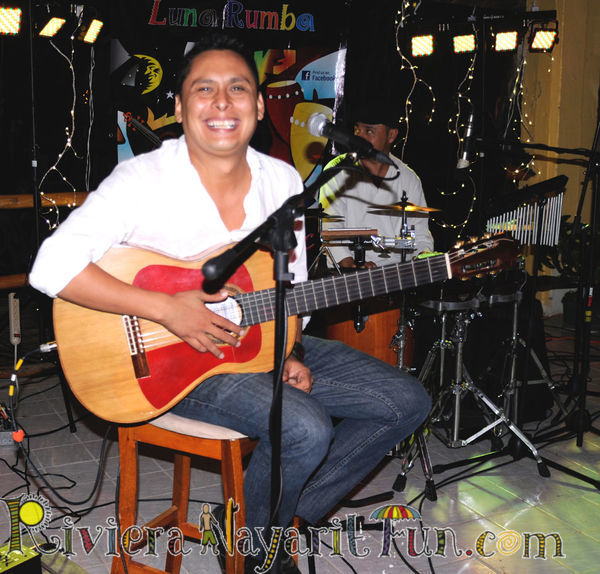 at Rick's Bar, they continued to play together creating original music which started an enthusiastic following.  After playing together for only two weeks, they were asked to play for the International Guitar Festival musician's welcome dinner. They went their separate ways after that, promising to play together in the future. Who knew!!!
Bringing you up to date three years later, in 2012, Cheko (right) Ruiz and Geo Uhrich (left) got together in La Cruz, where Geo was docked  and started writing and rehearsing / recording songs for what was to become Luna Rumba.  During this time they met up with Chas Eller who plays keyboards on the album and drummer / percussion whiz Carlos Mancilla, and a few other great musicians to round out the sounds. The end result was a world-class CD with 11 original songs.
Already Winning Awards….
In March 2013 they were notified that the song "Vamoa  Rumbear" that Cheko wrote, which Geo had submitted to the John Leno Songwriting Contest,
won finalist in the World Music Category out of thousands of entrants. Another song on the CD entitled "Espirtu Amor" (my favorite) written by Geo placed second in the world in the instrumental category for the USA International Songwriting Contest. They are on their way to win a  Latin Grammy!
Luna Rumba prides themselves playing every concert live. (Not everyone does!) Their real acoustic rhythms,  (meaning not pre-recorded), violin and guitar leads; with Cheko on guitar with his amazing vocals will absolutely melt your soul.
Geo is on violin, mandolin, acoustic and electric guitar, along with other amazing musicians like Carlos on percussion excite everyone and bring them to their feet to dance!
With Luna Rumba, real acoustic instruments meet with electronic wizardry to create layers and depths of sound that will amaze you. Check out the Banderas Bay entertainment with live music on the Riviera Nayarit, and look for Luna Rumba Band!