Authentic Mexican Dishes & Riviera Nayarit Restaurants
Living on the Riviera Nayarit all year allows me the experience of getting to know the many authentic flavors of Mexico, and there are many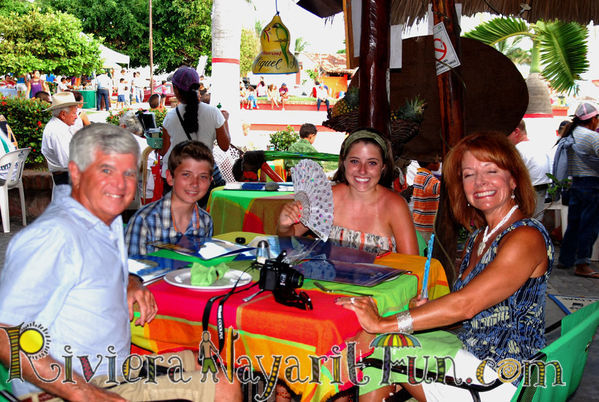 delicious restaurants in the smaller pueblos that line the Riviera Nayarit.
From Chacala, La Penita, Guayabitos and Lo de Marcos,down to San Pancho, Sayulita and Bucerias and Nuevo Vallarta, you will find different and amazing authentic creations varying in style and price.
Come and visit the Riviera Nayarit; Authentic Mexico where you can discover small towns, cobblestone roads, and great authentic Mexican food!
Cheap Tacos are great, however…..
All over the Riviera Nayarit and all of Mexico, you will find taco carts and stands, selling tacos for about 10 pesos a taco. These taco stands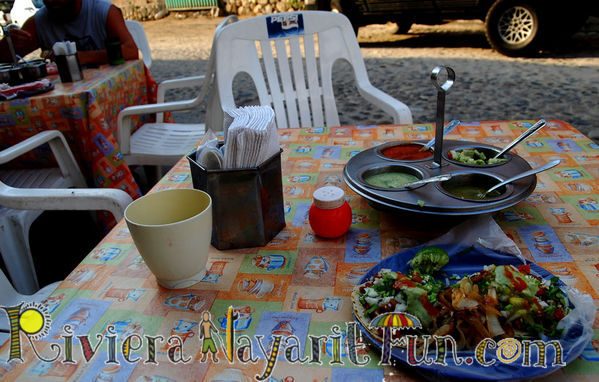 are commonly referred to as "cheap tacos"  because they only cost about 10 pesos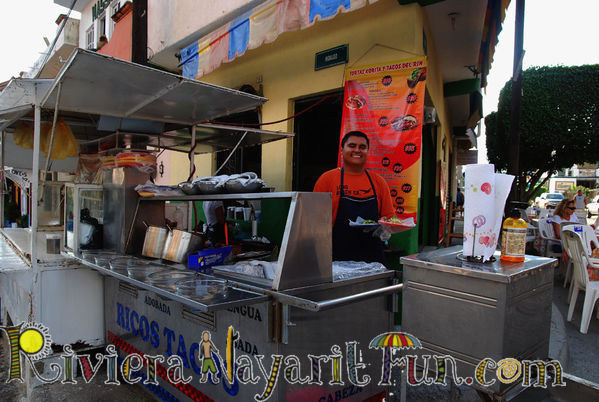 per each delicious taco!  You can get adobada, pastor, tongue tacos, some with cow head and seos, (the brain of the cow) and asada beef.  I usually go for the adobada…very tasty, staying away from the brains and head of the cow.  These yummy tacos  are served with all different kinds of sauces, red and green, avocado sauce, limes and radishes. They use Styrofoam plates, covered in plastic so no washing is necessary, since they are out on the street. These tacos are delicious, and every week I venture out at least once for "cheap tacos.
However, sometimes one gets "burned out' on the "cheap taco' and needs a little more.
Favorite Authentic Mexico Cuisine Dishes
Many traditional Mexican dishes have indigenous and Spanish influences, making each bite flavorful, healthy and unique. From gourmet
Mexican dining to street food, Mexico has a wide variety of dishes that will make your mouth water. Most dishes are served with beans and rice, a small side of salad, and they usually bring chips and salsa to your table. This is a different Mexican dish, a little less traditional, yet super tasty. Fried Avocado in a light panco batter. Very Unique and really delicious creations from Sayulita Restaurant Fuego Grill.
So grab a cold cerveza (beer) or a margarita with a shot of tequila, Mexico's favorite drink,  and try some of these Authentic Mexican Dishes for yourself! In fact, if you visit the Bucerias restaurant  Miguel Angel Restaurant and Bar in Bucerias, tell Miguel RivieraNayaritFun sent you and receive a free margarita!

1. Carnitas (kahr-NEE-tahs) – Carnitas, meaning "little meats", and for that way of cooking the pork. This dish is  made from heavily marbled pork that has been fried and then roasted. The meat is seasoned, shredded, and served in the middle of corn tortillas. In Mexico, all of the food is served with all kinds of toppings set out in front of you to choose from. You can top your carnitas with a combination of cilantro, guacamole, diced onion, salsa, refried beans, radishes and of course, a squeeze of lime.
2. Ceviche (seh-VEE-cheh) – A Pacific Coast dish, ceviche is one of the favorites among national and international diners. Marinated in lime
or lemon juice, fresh seafood (fish, octopus, scallops and shrimp) is mixed with cilantro, avocado, garlic, chiles, and red onions tomatoes for a salad or entrée. There is nothing better when it come to Ceviche that is made with the fresh catch of the day in the small fishing villages along the Riviera Nayarit, including at the La Cruz marina which is right next to Bucerias Mexico.
Ceviche dates back to Pre-Colombian civilizations when the Incas marinated their fish in chichi, a fermented beer. The solution cooked the fish, and the dish caught on, so much so that other Latin American countries have their own versions. Peruvian ceviche is served spicy and is supposed to cure hangovers while Ecuadorian ceviche is soupy and is served with popcorn.
3. Chilaquiles (chee-lah-KEE-lehs) – Chilaquiles comes from the Nahuatl word chil-a-quilitl, meaning "herbs or greens in chili broth". Mexicans really love this dish, and you probably will too! Toasted tortilla chips are baked with chicken, cheese, or scrambled eggs. Chilaquiles are then drizzled with crema (sour cream) and sprinkled with white cheese, chopped onions or cilantro. Like most Mexican dishes, the version you sample is dependent upon the region in which you are dining. Mexico City likes their chilaquiles with a spicy tomato sauce and a topping of epazote. Guadalajara likes their chilaquiles thick and hearty with a lot of tortillas, cream and onion. In Bucerias Mexico they serve their Chilaquiles more like Guadalajara, sometimes served with shrimp or chicken. They say its great for a hangover!
4. Enchiladas Verdes (ehn-chee-LAH-dahs VEHR-dehs) – Enchiladas are loved by Mexican food fans all over the world. Enchilada means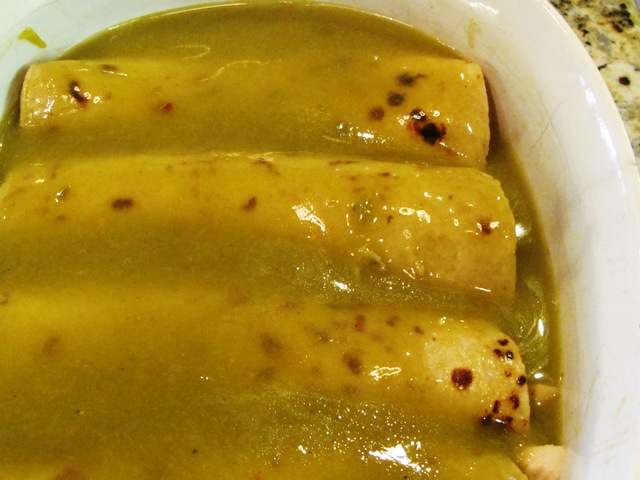 "in chile", and true to its meaning, enchiladas verdes (green) swim in a bold sauce made of boiled tomatillos, Serrano chile peppers and sour cream. Commonly thought of as street food, this hearty comfort food is made up of a shredded chicken stuffed inside a corn tortilla that is either folded in half or rolled. It is then smothered with salsa and topped with crema and white Mexican cheese, which is a little salty.
At home some Mexicans cook their enchiladas by frying the tortillas on a grill with the sauce, and roll very little into the tortilla, served with some cheese sprinkled on top, with avocado and other sides.
5. Ensalada de Caesar (ehn-sah-LAH-dah deh SEH-sar) – Most foodies credit restaurateur Caesar Cardini (1896-1956) for the invention of the salad that bears his name. It was a busy July 4th weekend in 1924 when Caesar ran short of food at his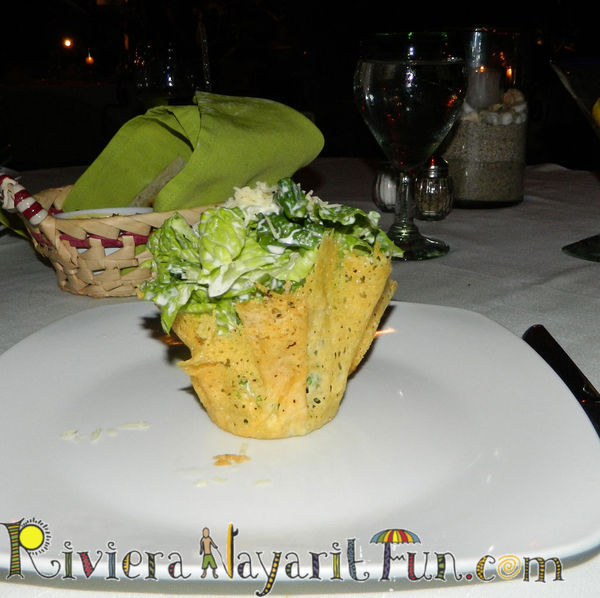 Tijuana restaurant in northwestern Mexico. He whipped together a dressing of garlic, Italian olive oil, imported Parmesan cheese, boiled eggs and Worcestershire sauce. He then poured it over Romaine lettuce leaves and topped the salad with croutons. A few years later, Caesar's brother and Italian Air Force pilot, Alex Cardini, added anchovies. Today, Caesar Salad is one of the most popular salads in North America. You can find Caesar salads everywhere. Sometimes they cut the Romaine lettuce in small strips instead of the larger pieces found in American restaurants.
6. Mole Poblano (MOH-leh poh-BLAH-noh) – Mole is derived from the Nahuatl word milli meaning sauce or "concoction". It's a dark, thick sauce made of unsweetened chocolate, spices, a wide variety of chiles and up to 100 other ingredients such as nuts, bread, cinnamon, sugar, lard, plantains and cloves. This uniquely Mexican sauce is time consuming to make and almost every Mexican home has their own recipe. While we know mole comes from the mountainous city of Puebla, Mexico, there are many legends regarding its creation. Some say it dates back to the 16th century when an Archbishop was visiting the nuns of Convent of Santa Rosa in Puebla de los Angeles. With fervent prayers and much chopping, the sisters made up a concoction of what few ingredients they had in their cupboards and presented their honored guest with this delightfully flavored sauce.
Other food historians believe mole poblano dates back to Moctezuma, the Aztec king. When Moctezuma greeted the conquistadors, who were thought of as gods, he served mole to Cortez. Of course, other theories exist but one thing is for certain, mole is a favorite across the country and internationally, and one of the Riviera Nayarit's favorite sauces.
7. Pozole (poh-ZO-leh) – The word pozole is taken from the indigenous language Nahuatl meaning "froth". Passed down from generation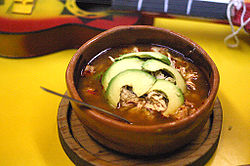 to generation, this culinary favorite enjoys a Pre-Columbian history. It is said to have been created in Tonalá as meal for religious purposes. Ingredients included human flesh, but today, pozole is a broth-like soup that is made from hominy and shredded
pork or chicken. Depending upon the region of Mexico, pozole is made to reflect the tastes of the people. For example, in Guerrero, green tomatoes are added. In Michoacán, pork rinds are added. In the State of Nayarit, pozole is made with pork and dried poblano peppers. Once dished, pozole is often topped with lettuce, onion, oregano, radish, lime and of course, chile, making this dish very popular all over the Riviera Nayarit in Mexico.
8. Tamales (tah-MAH-lehs) – Tamales are tasty meals steamed and wrapped inside a banana leaf or corn husk. Ingredients can include beans, meats, tomato, mole, cheese, chiles, potatoes, pineapple, corn and red or green salsa. Tamales date back to the pre-Columbian era when the process of nix-tamalization (the process of field corn with wood ashes) softened the corn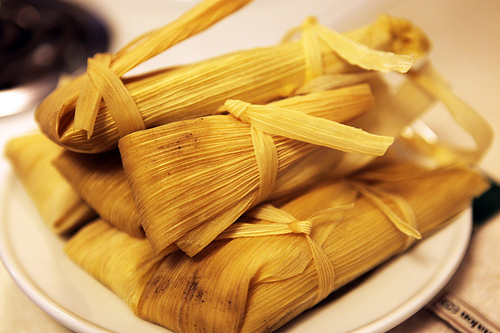 for digestion. Tamales are said to have been served by the Aztecs to the Spaniards in the 1550′s. Throughout the centuries, tamales have remained a favorite meal.
You will find the best homemade tamales on the Riviera Nayarit in Mexico. Traditionally, the Mexican wives along with their daughters and sisters will make the tamales and the husbands will go out and sell them. Tamales are a lot of work, and it takes at least 3 people to make a lot of them. I buy mine weekly from a guy that drives his small motorbike (with a hot cooler on the back to keep them warm) by my casa yelling out Tamles..pollo..camarone (chicken, shrimp). I pay 10 pesos for each delicious one! YUM! (less than one dollar each.)
9. Torta (TORT-teh) – If you are a sandwich fan, then look no further. The Mexican sandwich, or torta, was first introduced in Puebla, but when you travel the country, you will be treated to all sorts of torta combinations. These sandwiches are made with special Mexican bread called bolillo or telera. Either is cut in half horizontally and spread with bean, avocado, or mayo. Then the fun begins. Other ingredients such as pork, steak, chicken, chorizo, fish or ham. To top off the torta, tomatoes, onions, lettuce, chiles
and salsa can be added. With a quick pass over a grill, and the toasted torta is ready to eat.
Once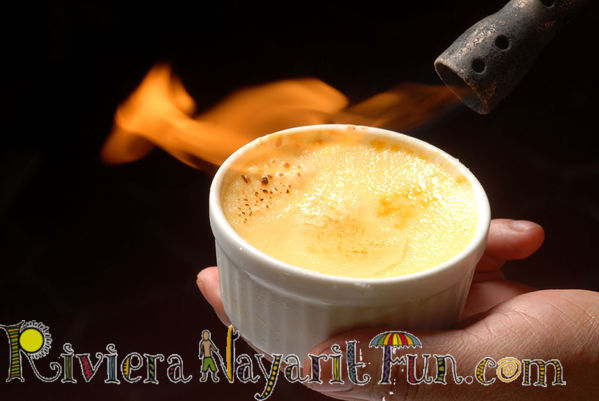 you've discovered your favorite Mexican dish, don't forget to try a piece of flan  ( Mexican custard),  and other amazing dessert dishes their amazing sweet breads of all kinds, or a cup of traditional Mexican hot chocolate. With such delicious goodness, it's hard not to become a Mexican food lover.
During the summer season, many restaurants are closed. However, some do say open all year around. Click on these links and discover local and open Riviera Nayarit Restaurnats and  how great food in Mexico can taste! Eating and enjoying delicious food is one of the best things about life!
Visit the Riviera Nayarit in Mexico and discover the amazing variety of restaurants, from the Bucerias beach restaurants, fine American cuisine like Marks Bar and Grill, and the wonderful authentic Mexican restaurants delicious cuisine like Miguel Angel Restaurant and Bar on the Main Plaza in Bucerias, or the most romantic Sayulita Restaruant, O Restaurant.