Riviera Nayarit Events Coming Your Way
Riviera Nayarit events are getting into full swing as the summer closes, and the rainy season is almost over. Taking a couple months off from computer work has been absolutely fabulous this summer! However,  it's back to work for this gal! Let the Riviera Nayarit Events begin!
Folks are painting and preparing their businesses for the arrival of long term x-pats and tourists brightening up the towns. Keep your eyes on the al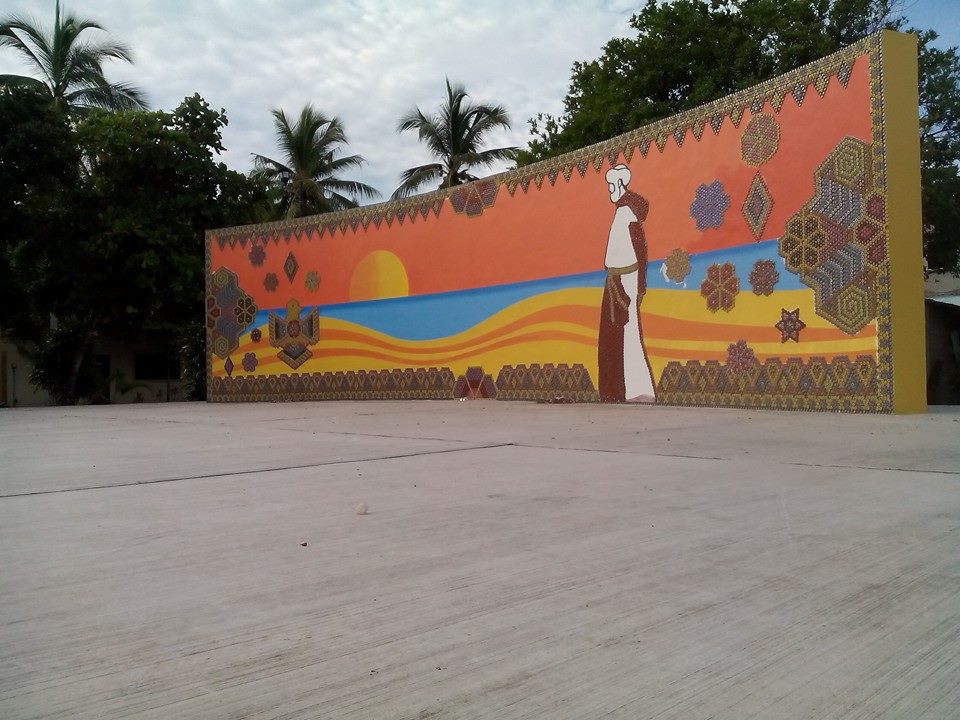 lBucerias Calendar, as well as the La Cruz Calendar for Riviera Nayarit Events, and Banderas Bay events, classes and fun entertainment coming up this season!
Please LIKE our allRivieraNayaritFun Facebook page for all kinds of Mexico information Gracias!
It's San Pancho Days!
San Pancho Days began Friday, September 25th at 8pm starting the ten days of fun!
The mural for this year's San Pancho Days is made out of metal bottle tops. It is SOO cool!
Bring the entire family for rides and games, good food and dancing. A great time for everyone!
Festival Sinergiarte / San Pancho -December 20th – 28th
San Pancho has a very cultural energy, and was names the "Cultural Capital of the State of Nayarit" a f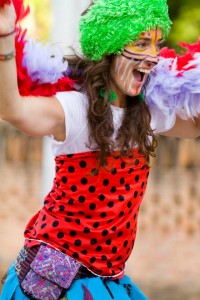 ew years ago.
An organization called Collectivo San Pancho coordinates more than 50 concerts, 30 presentations of dance and performance, 20 circus shows, 10 theater shows, 20 solo exhibitions, and 10 multidisciplinary group exhibitions for everyone's enjoyment, bringing the San Pancho community to life. You may find out more about everything they promote here:
colectivosanpancho.tumblr.com 
The organizers of the 9th Festival Sinergiarte are not looking out for various disciplines of music, theater, circus acts, painting, sculpture, literature, performance and media. These doors will be closing soon, so if you have an interest in participating please contact them immediately.
The Sinergiarte Festival is their largest project and has grown and they need your support.
Turtle Season is HERE!!  The turtles are coming up on the beaches around the Banderas Bay and all along the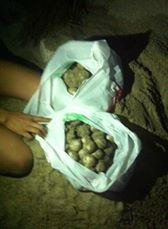 Riviera Nayarit. All of the camps have been very busy, especially with the weather and high waters on the playa.
Several turtles came up and laid their eggs right at Breakers Beach Bar in Bucerias. Turtle egg rescuers came and took the eggs for the incubation of 45 days; they are hatched and then released at night increasing the chances survival.
If you would like to be a part of the turtle egg protection programs and turtle conservation projects there are several to choose from on the Riviera Nayarit.
Here are a few of the organizations. This photo is from San Pancho Turtles team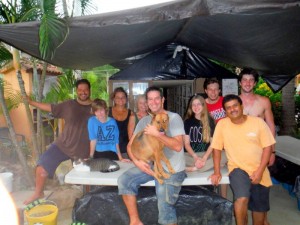 this season. It is quite easy to find them and easy to communicate with them on their facebook pages.
They need all the assistance they can get due to egg poachers.
Campamento Turtuga Sayulita   https://www.facebook.com/campamentotortuguero.sayulita.9
San Pancho Turtles  https://www.facebook.com/sanpanchoturtles
Lo de Marcos Sea Turtle Conservation: https://www.facebook.com/LdMseaturtleconservation
Classic Rock Festival 2014 / Nuevo Hard Rock Hotel
Mark your calendars for the first Vallarta – Nayarit Classic Rock Festival on December 11th through December 14th.
it will be taking place at the Hard Rock Hotel Vallarta and the neighboring field Sunset Garden.  This rock fest will feature some of the best music from the 60:s, 70′s and 80′s.
There will be an amazing lineup of musicians like legend Billy Burnette from Fleetwood Mac and, on joining in on Skype, the great "Skunk" Baxter from the Doobie Brothers and Steely Dan.
To Quote the creator and group producer John Zaning of the Aaring Group, ""Vallarta-Nayarit is the perfect stage to present this first-ever festival of its kind to the world. The climate in December is amazing and the beaches are absolutely stunning." And think he is absolutely correct in that statement!
The House Band for the festival is made up of stars from different bands including Burnette, Baxter and others from Dire Straits, Steve Miller Band, Little Feat, Boston, John Mellencamp and Tears for Fears, and playing with big stars form The Doors, The eagles, Cheap Trick and REO Speedwagon and more! Sounds like it's going to be a good time!
Octopus's Garden in La Cruz de Huanacaxtle

The Octopus's Garden / Hikuri La Cruz, though closed for regular business until November, are having a Big Garage Sale on Saturday and Sunday the 4th and 5th of October, from 10 am. to 4 pm. with lots of bargains for the kitchen, the garden, books and many clothes and gift items.
Come and enjoy the fun; there will be freshly roasted coffee for sale. Octopus´s Garden Restaurant and Bar, Coral 66, La Cruz de Huanacaxtle.
Tel: 01 329 29 55367
3rd Annual La Cruz de Huanacaxtle Fishing Tournament
October 15th – October 19th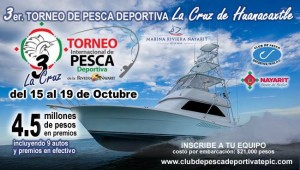 The Best Sport Fishing Tournament in the Mexican Pacific will be held in La Cruz de Huanacaxtle for its 3rd annual year, and is sponsored by the Tepic Sportfishing Club AC and the State Government.
The 4 categories are: Sailfish, Marlin, Dorado and Tuna with over 4.5 Million pesos and prizes, which also include brand new cars from Chevrolet and Mazda!
The event location is held at the Marina Riviera Nayarit in La Cruz de Huanacaxtle. A fun and crazy fishing party; this third annual event promises some hot and heavy competition for all categories! Get signed up and Bueno Suerte! ClubDePescaDeportivaTepic.com
Free Market Spaces at Bucerias Monday Market

If you are someone who would like to be in a market with a super location in Bucerias Centro you may want to get in on this fabulous deal! Who knows….perhaps it will extend into a two day market!! Ya never know!
"Preregister NOW! The Bucerias Monday Market is currently taking reservations for spaces. In order to better serve the community, this season we are opening our little plaza for artisans of every type, by popular demand. The Monday Market is every Monday starting November 3rd, 2014 from 10 – 2pmish. Spaces are FREE, but limited to a first come first serve, so you MUST pre-register.
For more info thebuceriasartwalkplaza@gmail.com or call 322.120.4450
Christy B"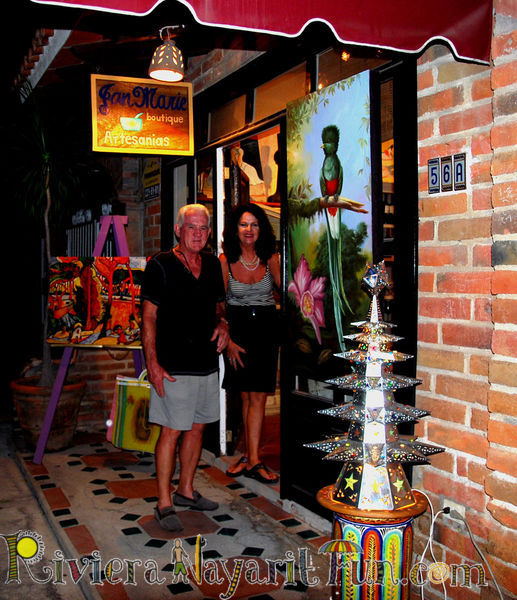 Thursday Nov. 6th!
First Bucerias Art Walk of the Season begins with the precipitation of the Bucerias Art Galleries (by Mark's Bar and Grill) as they have an"open house" every Thursday evening during high season beginning at 7 pm.
Enjoy meeting local artists and art gallery owners while enjoying a glass of complimentary wine and appetizers.
Bucerias Art Gallery & Studio  -  60 A Lazaro Cardenas
Here is an overview of events for this season at the Bucerias Art Gallery and Studio Bucerias community events.
Please click HERE for contact information, Thank you!
OCTOBER
Monday October 13th –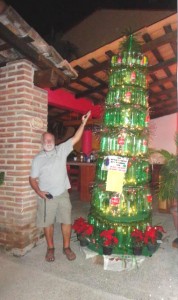 Champagne Art opening featuring Michael Carlyle's newest series, Join us for a glass of  free champagne before you head out to Canadian Thanksgiving dinner 6pm
Tues/Wed October 21st 22nd
Go BIG and Go HOME -  Imagine painting your own BIG piece of art. Beginners welcomed. Take it home and let it be the next dinner party conversation starter.
NOVEMBER
Thursday Nov. 20th – Dec. 1st
MYSTERY ART SHOW -   Accomplished artists sold anonymously alongside student /amateur works. All pieces, 750 pesos!! The artist is revealed after purchase.
(ARTISTS both pro and amateur – CALL FOR SUBMISSIONS)
DECEMBER
The second year, Dec. 22nd to Dec. 31st. is the RECYCLED BOTTLE CHRISTMAS TREE EXHIBIT- Who in town will have bragging rights for the most FABULOUS, WHimsical, ImAGinAtiVe tree?
Thanks for checkout out our post! If your looking for a short term or long term rental contact Cat Morgan at Cat@RivieraNayaritFun.com or Cat@NewEnergyConsciousness.com . You may also inquire about private tours and other fun around the Riviera Nayarit! See you on the beach!
Riviera Nayarit Events are getting going for the High Season in Mexico!