La Cruz de Huanacaxtle Hosts 4th
Swimming Competition
The 4th Annual Open water swimming Competition , (Aguas Abiertas Riviera Nayarit Nadoseguro) will be held this Saturday, May 17th, 2014 in the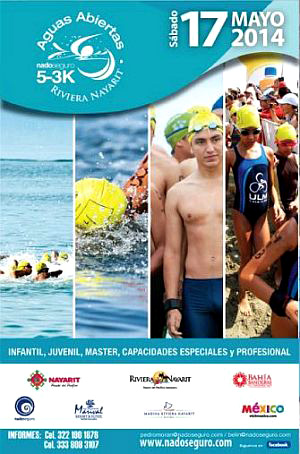 Riviera Nayarit pueblo La Cruz de Huanacaxtle, on the playa next to the Marina Riviera Nayarit (La Cruz Marina) starting at 7am and finishing at 2pm.  There are going to be a lot more people this year, as there are 700 registered competitors, which is double the amount from the first tournament which was held in 2011.  The competitions are regulated as well as judged by people from the International Swimming Federation (Fina) as well as the Mexican Swimming Federation (FMN).
Registration Closed
They have had to close the registration early due to so many people signing up. The competitions are include all ages of athletes from 5 to 70 years old, and welcomes competitors from regions of Mexico, as well as Canada, the United States and abroad.
In previous competitions the categories were7 to 20 year-olds making a 500 m lap; kids ages 11 and 12 swimming 1.250 km.; swimmers ages 13 and 14 competing in the 2.5 km swim, and amateurs 15 years and older swimming the 3.75 km in the required time of under 2 hrs. The main competition is a 5k race for professional swimmers with a time limit of 1 hour, 20 min.

Place/Prize Trophy  Information:
1st Place – Trophy and $4,000 pesos
2nd Place: Medal and $3,000 pesos
3rd Place: Medal and $2,000 pesos
4th Place: Medal and $1,000 pesos
5th Place: Medal and $500 pesos
The event has huge financial backing and is heavily supported from the government, as well as the State of Nayarit and the Secretary of Tourism, as well as sponsors like "Riviera Nayarit" and "Mexico", which helps to create the success for this annual swimming event.
La Cruz de Huanacaxtle is the perfect place for this swimming competition due
to its pristine beaches and safe swimming location, along with local hotels and restaurants and road access.  There is also plenty of room for everyone to come and enjoy the day on the beach and cheer for their swimming friends, a fun time for all. There will be vendors with food and drinks, tee-shirt stands and more. If your looking for a terrific place to stay right on the playa next to the La Cruz Marina check out Villa Amor del Mar, La Cruz Beachfront Boutique Inn. Chris and Cindy are fabulous hosts!
If you missed out on registering for this year's swimming competition, here is the information to get in on next year's competition! You may email at eventos@nadoseguro.com, or call 322-209-0716.  Well known and important swimmers will be competing, such as female competitor and Olympic medalist Lizet Rueda Santos.
I wish all of the competitors the best of luck! Buena Suerte! and have FUN above all!
Come on over to La Cruz de Huanacaxtle this Saturday and enjoy the festivities! If your looking for more information about La Cruz de Huanacaxtle, local La Cruz Restaurants and other information, please  visit the website allLaCruz.com . See you on the playa!