Bucerias Two Bedroom Rentals on Riviera Nayarit
Los Arroyos Verdes offers gorgeous and state of the art Bucerias two bedroom rentals on the Riviera Nayarit in Mexico.  The grounds are beautifully designed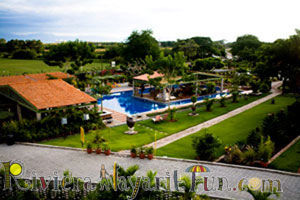 as a wonder botanical gardens and Eco Systems throughout the entire property. The Bucerias two bedroom rentals at Los Arroyos Verdes Retreat  has options of an upstairs or downstairs condo / villa style units or their studios, which are a bit smaller. All of these Bucerias two bedroom rentals units have large flat screen TV's, WiFi, patios and air conditioning.
Los Arroyos Verdes Retreat translated means The Green River, and this Bucerias retreat is an Eco green minded retreat using recycled materials with  a solar heated pool,; created with love and living close to the earth. Click on the photos and links for more photos and information.
Single Level Bucerias Two Bedroom Rentals
The Bucerias two bedroom Bungalows rentals  for a one level include two bath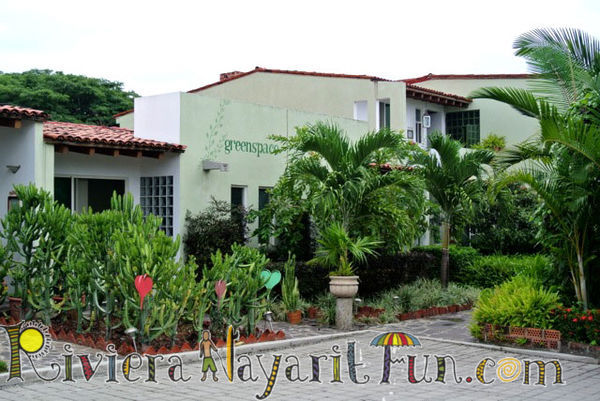 rooms, a private terrace, parking for 2 cars and can accommodate 4 people.  The lot size is 140 square meters. The inside is beautifully furnished with a nice living area, an elegant dining area, a state of the art kitchen with appliances and a walk out patio with a beautiful green garden setting.
Two Level Bucerias Two Bedroom Rentals
The Bucerias two bedroom rentals with two levels in Los Arroyos Verdes include two and a half bathrooms, a private terrace, parking for 2 cars and can accommodate up to 6 people. The lot size for this house is 200 square meters giving everyone plenty of room! The interior is artfully decorated with a kitchen, living area, dining area,  and has a beautiful patio garden, and plenty of parking in the front.
These Bucerias two bedroo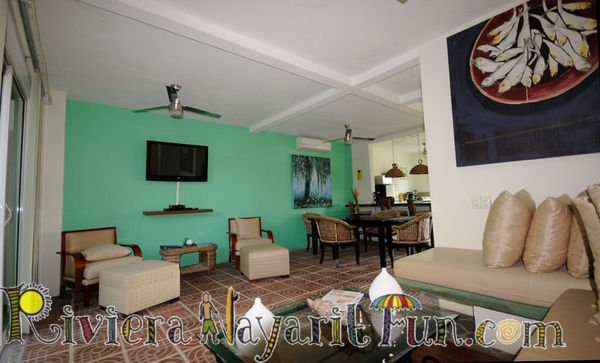 m rentals have all the comforts of home.  It's important to feel well taken care of in a foreign land and Los Arroyos Verdes Retreat has accomplished this perfectly.
Los Arroyos Verdes Retreat Amenities
With a large warm pool to relax or swim with a center bar area that has a 360 degree access from the pool that you will surely enjoy. Every Sunday there is live music playing on the island at the pool for your pleasure. Other amenities include the Bamboo Restaurante, spa, workout gym,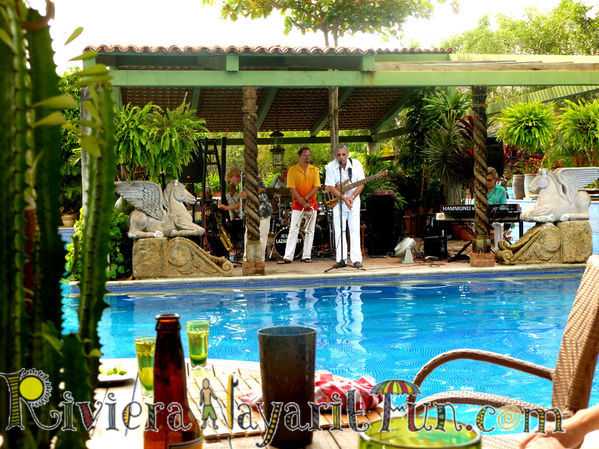 large laundry facility and a tienda for shopping for collectables, swim wear, and other interesting art and sculptures.
Los Arroyos Verdes  Retreat grows their own herbs in their garden and then uses these herbs in the food offering a fresh organic taste at their onsite restaurant.  The people who are attracted to this accommodation are the friendliest people you will ever meet. Los Arroyos Verdes Bucerias retreat can accommodate many kinds of groups and ceremonies from team building, spiritual, corporate, gay friendly and friends getting together.  As the evidence clearly shows this is a great place to look for Bucerias two bedroom rentals.
Offer other rentals as well  from one bedroom bungalows rentals, RV Rentals or one bedroom rentals in one of the Villas. Drive yo
ur own RV and stay in the RV Park area.
Los Arroyos Verdes has 24 Bucerias two bedroom rentals to offer allowing you the freedom of  a Bucerias retreat setting, with only 5 minutes from Bucerias Centro and the Bucerias beach.
Book your next Bucerias vacation rentals with one of the Bucerias two bedroom rentals in Los Arroyos Verdes Retreat, located in Bucerias on the amazing Riviera Nayarit in Mexico.
Whether your stay is for two weeks, or  a long term rental, Los Arroyos Verdes Retreat can accommodate all of your needs in this  green living Eco garden wonderland.