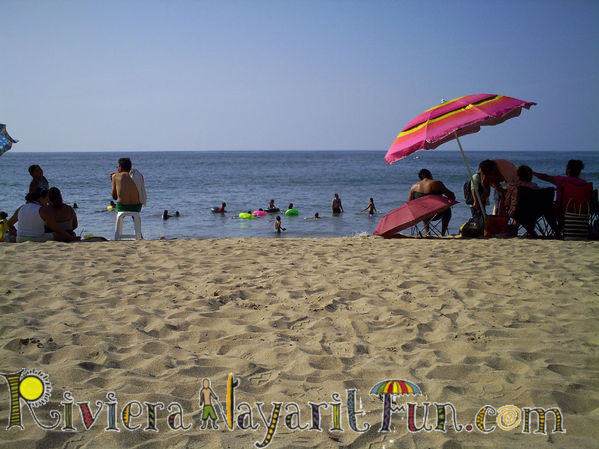 If you enjoy all that goes with vacationing or living near the ocean, then Mexico's Pacific Coast is the place for you.  Coined the Mexican Riviera, it spans kilometer after kilometer (mile after mile) of dazzling gold beaches framed by beach bays and coves of all shapes and sizes suited to all kinds of activities.
While there are hundreds of bays on the Pacific Ocean, some of the most dynamic are located in the tropical paradise of the Riviera Nayarit, part of the Mexican Riviera.  Mother Nature has bestowed each of these beach bays with varying ocean conditions that match certain water sports and beach activities better than others.
Among them is Bahia Banderas Bay, the largest natural bay in Mexico and one of the ten largest in the world.  This vibrant bay is teeming with tropical fish and sea life that live among underwater rocks, caves, and coral reefs, making it wonderful for snorkeling, diving, whale watching, and sea turtle sightings. Other towns along the bay provide the best conditions for sailing, sport fishing, kiteboarding, and surfing.
Slightly further north are the more authentic Mexican beach towns of Bahia Jaltemba Bay. Home to some breathtaking long beaches and smaller beach coves with island views.  Portions of this bay have calm, clear, aqua sea water and soft, light, gold sand beaches, which are ideal for snorkeling, fishing, swimming, and beach sports.  One of the towns holds the largest open-air market (tianguis) in the region once a week.
Continuing north beyond this bay and the town of Chacala are the natural wonders of Bahia Matanchen Bay.  The towns and beaches along this bay harbor incredible biodiversity, such as marshes, mangroves, jungles, rivers, beaches, wildlife, and historical sites making it ideal for sightseeing, birding, boat tours, and conservation.  Its beaches are known to have some of the best waves in the region for surfing.