First Annual Ocean Fest at B Nayar, Bucerias
The First Annual Ocean Fest will be held on July 26th at B Nayar Village Resort in Bucerias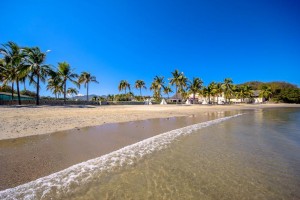 from 2-8pm, and this fun event certainly is attracting a lot of attention! The Mission of the Ocean Fest is to celebrate the ocean and collaborate on how to protect the beautiful Banderas Bay.
The Banderas Bay is a lot larger than folks realize.  Bahia Banderas Bay is the largest natural bay in Mexico, among the 10th largest worldwide, and one of the deepest bays in the world reaching depths of over 3,000 feet.  Extending across 68 kilometers (42 miles) of the Pacific Coast, the bay begins in the south at Puerto Vallarta, flows northwest into the Riviera Nayarit at Punta de Mita, then the open ocean water continues north beyond Sayulita and through Lo de Marcos  to Guayabitos and La Penita where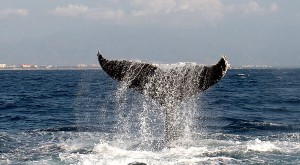 the Bahia Jaltemba Bay resides. Our beautiful bay attracts a huge variety of wild life, including the Humpback whale, Manta Rays, turtles, dolphins, a huge variety of birds and so much more in and out of the water. Becoming more informed on how to protect our bay and everything that survives in and around the bay is important.
Did you know that the oceans flow over nearly three-quarters of our planet, holding 97% of the planets water? Clean water is vital for our Mother Earth and all the life it supports. Also, our oceans produce more than half of the oxygen in the earth's atmosphere and absorb most of the carbon from it. No matter where we live – each of us affects the ocean and is affected by the ocean.
Jacques Cousteau
It was Jacques Cousteau who was responsible for appealing to the Mexican government back in the 1960's to preserve Islas Marietas as a national park to protect its delicate Eco-system.  The Cousteau Society is an official sponsor of Nayarit Ocean Fest
.
Francine Cousteau says:

"It is always good to hear about people and communities dedicated to spreading awareness of ocean conservation. We appreciate your desire to share the work of the Cousteau Society, and to help spread Captain Cousteau's message of preservation and education to the Bay of Banderas." 
It's time to put mother nature first and learn how we can protect our beautiful environment before it's too late, like so many other polluted and fished out areas on the planet. This is why the Ocean Fest is a win-win-win project. Become more informed on how we can help conserve our oceans and have a lot of fun while your at it, AND the proceeds go to a very good cause!
A Non Profit Event
This fun summer Non Profit event is a win-win project with all of the proceeds going to an education fund for La Cruz with Fundacion Punta de Mita, which is a community development foundation covering the Bay. You can check them out at http://fundacionpuntademita.org/en/. Thank you for all you do! 
Co-hosts Surf Mexico raises the level on the fun meter with the first Nayarit SUP Polo State Championship Competitions. This alone is bringing in people from all over the bay; Sayulita is bringing the Sayulita Jr. SUP Team! The beautiful surroundings of beachfront B Nayar Village Resort makes the perfect location for this event. This is super fun for the entire family!
DJ NIco will be spinning your favorite songs.  There will be several booths on the playa with Surf Mexico, Neopolitan Brick Oven Pizza, Divine Mermaid, and E Sun Energy, and Pita Hache is going to give an Ocean Conservation Talk. There is going to be beach yoga, art for kids, educational exhibitions, more great local food,  and sand sculptures. Prana Colectivo is going entertain us with a Huichol performance. Super fun water activities; SUP Polo (great for kids too!) , Starship Racing, Sprint Racing. If you would like to learn how to SUP now is your chance to learn from one of the very best SUP guys around, David Jianu. Why not?
John Pounder (JL Ditigal Media) is the photographer for the special event. Look up in the sky for the Sky Cam! I can't wait to see the photos. You will also be able to view them all on his site and order the ones you love with all of the action! THANKS JOHN!  I will be keeping you posted. You may also visit our FB page at https://www.facebook.com/allrivieranayaritfun/ and give us a LIKE if you like!
Get Your Tickets!
B Nayar Village Resort has several large pools to enjoy, loungers and umbrellas; plenty of space and fun for the entire family. Children will absolutely need to be supervised in the pools. Tickets are only 100 pesos for adults and 50 pesos per child.
Tickets can be purchased at: 
Gecko Car Rental, Bucerias, B Nayar Village Resort Discovery Centre, Catrina at the Marina Riviera Nayarit, Aequilibrium Bikes, Versailes, in Puerto Vallarta, Timothy Real Estate Group Puerto Vallarta, and Revolucion del Sueno in Sayulita. So get your tickets now!
Thank You Penny Isabel

Penny Isabel is the founder of the "Ocean Fest" and was inspired with the idea from "World Ocean's Day", which was held on June 8th. The date for next years Ocean Fest will be held closer to the World Ocean's Day date. Penny is also available to show you around B Nayar Village Resort and explain all of the projects and what is for sale. It's nice to have Penny Isabel and Wayne Soroka from the Timothy Real Estate Group at B Nayar bringing in a fresh new energy. 
PEOPLE YOU CAN TRUST...If your looking for someone you can trust in the real estate business it's these two wonderful people.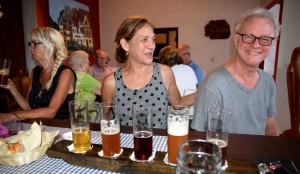 I met both Penny and Wayne when renting their home to them, and have also had the wonderful opportunity to know them on a personal level, (This is a photo when we went Beer Tasting at the Black Forest Restaurant in La Cruz.) as well as a business / professional level. These two people are folks with high integrity that you can trust.  Thanks so much Penny and Wayne for all that you do to support our bay and community. Penny, your one amazing gal! For any other questions on the Ocean Fest, or to set an appointment for a B Nayar Village Resort showing please email Penny at:  penny@timothyrealestategroup.com .
Enjoy the 1st Annual Ocean Fest at B Nayar Village Resort in Bucerias and learn how you can help restore and protect the amazing Bahia Banderas Bay on the Riviera Nayarit in Mexico.