Bucerias Restaurant Matsuri
One of the reasons that makes living in Bucerias a wonderful experience is the variety of Bucerias restaurants, and right here on the lovely Riviera Nayarit in Mexico!  With Greek,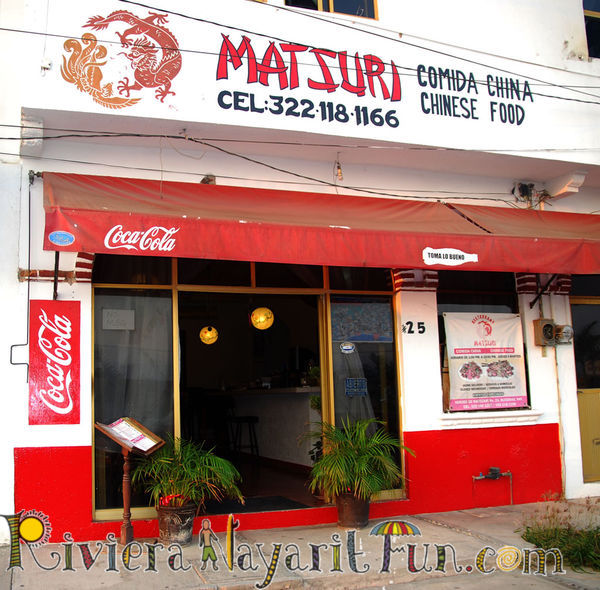 Itialain, American/Mexican and todo Mexicana, and along with the Asian varieties, you could literally eat a different cuisine every day! Today, however, I would like to share with you about a wonderful family owned and operated Chinese Bucerias restaurant, Restaurant Matsuri!
Grazilla and Jose Gonzalez are a happy couple, and you can tell they enjoy what they do by their enthusiasm in their work and for life. Their daughter also comes and helps out at the Chinese restaurant, and also works at another store near by. Jose (chef)  and Grazilla (chef and wait staff) lived and worked in two well  known Chinese restaurants in Seattle Washington, one being Dynasty and the other Pleasant Garden. There they learned the "Chinese secrets of cooking" as well as pretty good English, and decided to come to Mexico and share their Chinese knowledge with all of us in Bucerias Mexico.
What's for Dinner?
When I walked into Matsuri Restaruant, it felt nice and open, clean, and had colorful lamps with lots of red (the color for good luck) and white,  and nice wall hangings. We chose a table in the back by the fish tank.

Grazilla is very sweet and brought us very lightly fried wontons with different dipping sauces. They were freshly prepared and quite light and delicious!
I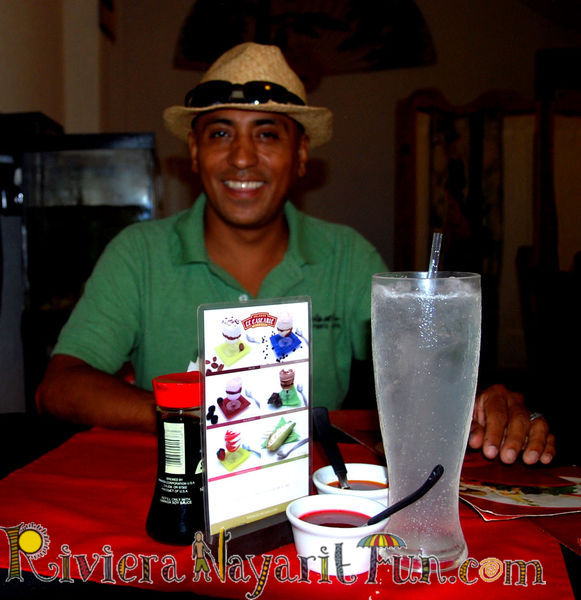 ordered a lemonade without sugar and we decided to start out with ordering soup, as my friend Miguel had the Wonton Soup while I choose the Misoshire Soup, which was  a Miso soup with some soy chunks and mushrooms and bamboo in it.  The soup also came in very large bowls, and could easily be a good lunch, or dinner depending on your appetite. Both

soups were delicious; the Wonton Soup having more things to chew on like  vegetable and wontons. We ordered our entree's next, with my friend ordering the Curry Beef and for myself the Kung Pao Chicken. When the dishes came out the large plates were 'loaded' with delicious smelling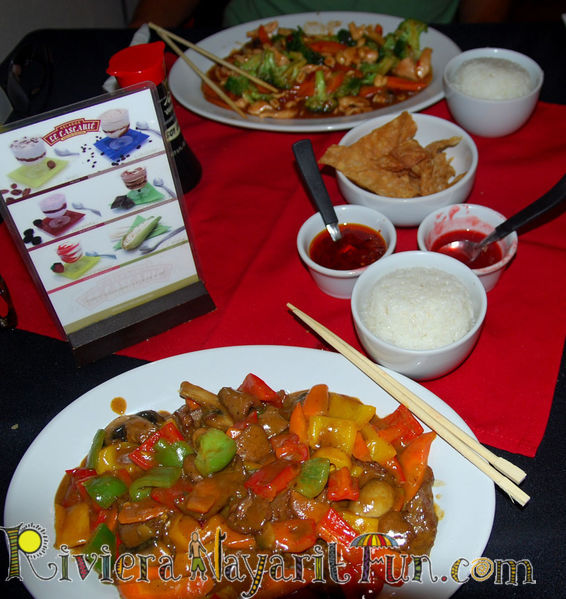 food.  The vegetables were fresh, even the mushrooms, (which was very nice as a lot of places use canned) and we dug right in! The curry was not overpowering and the beef was very tender and easy to chew! The Kung Pao Chicken had lots of peanuts in a semi-spicy sauce along with an abundance of  vegetables, and I took home what was left for another meal. I had heard about this Bucerias restaurant, but had never tried it before. Both were very good and I will give the entire meal and service a 10, and a big thumbs up!
The Menu
They have a nice variety on their menu with spring rolls, fried rices and usual Chinese fare with shrimp, beef, chicken and vegetables,  as well as BBQ Ribs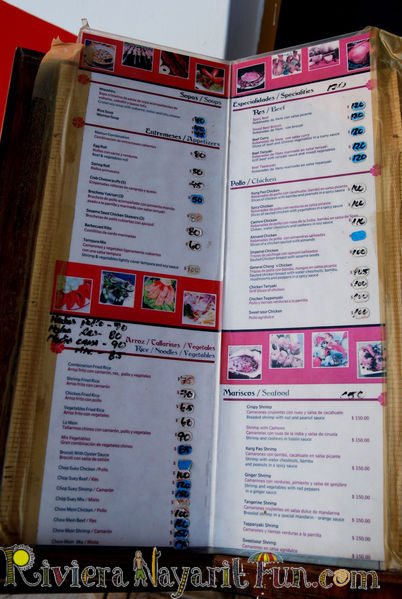 and a few rolls of Sushi. I think I will try the fried rice and ribs next time!
For their drink menu they serve Ice Tea, orange drink, soft drinks, coffee and hot tea. Their menu is in English and Spanish in a different way. The titles of the food plates are in English, and the description of the food is in Spanish with lots of pictures!
The only thing left to write about are the prices! Soups are 40 pesos for the Rice and Misoshiur soups, and 50 pesos for the Wonton soup. Appetizers are ranging from 45 – 80 pesos for he bigger Matsuri Combination plate, and rices and vegetables and other entree's range from 60 pesos to 150 pesos. Now, that's some decent pricing if you ask me!
When you add it all up, 1, Fun and friendly people, 2, great tasting food and 3, really reasonable pricing. That makes 3 great reasons to try the Bucerias Restaruant Matsuri. Oh! Wait! They are open all summer! There is reason number 4.
Location, Location, Location!
Restaurant Matsuri is located on Heroes de Nacozari # 25 in Bucerias Nayarit Mexico. They are right next to the Registro Civil and two doors down from the Telmex on the same side of the street as the OXXO and Pemex in the lateral.  So when your ready for some great Chinese food, give Bucerias Restaurant Matsuri a try. It will be sure to please your palate! And when you don't feel like going out, there is nothing better than Matsuri Chinese food to go!
322-102-1317 or 322-118-1166