Km 5 Surf Bar – Surfers Dream Realized in Mexico
Km 5 Surf Bar and Restaurant started with a dream and is now self realized in the Sayulita area on the Riviera Nayarit in Mexico.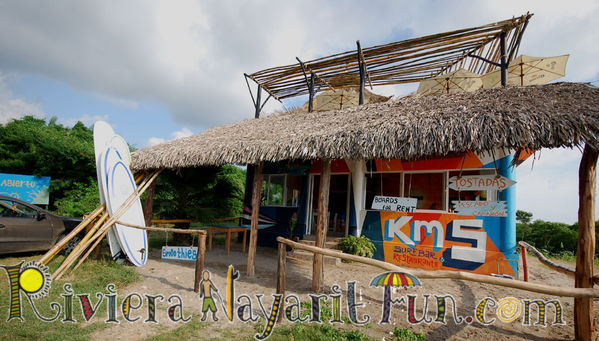 One of the owners, David, tells us the story of  his journey, along with his close surfer friends,  who created the only authentic Surf Bar just outside Sayulita and 5 Km from Punta de Mita Burro's Surf action, thus forming Km 5 Surf Bar and Restaurant.
This surf bar looks like a Surf Shack, with sand floors. It's all about living the surfing dream on the Riviera Nayarit in Mexico, and sharing it with others.

The Surfers Dream
"Everything started with the dream. After living in the city we decided to come down to the beach, to find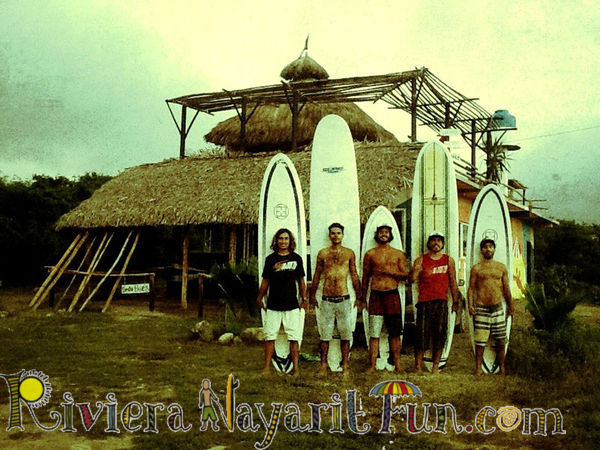 what people think,  just like in the movies. I mean the kind of lifestyle we all want to have. What I am saying, is it's all about being close to the ocean;  being able to surf every day, hang out with friends, be with our dogs, carrying  our boards, driving with no hurries, enjoying every moment of life, and getting close to nature again. We were forgetting what a sunset is, what being in the water means, and being around the animals in their own environment.
So,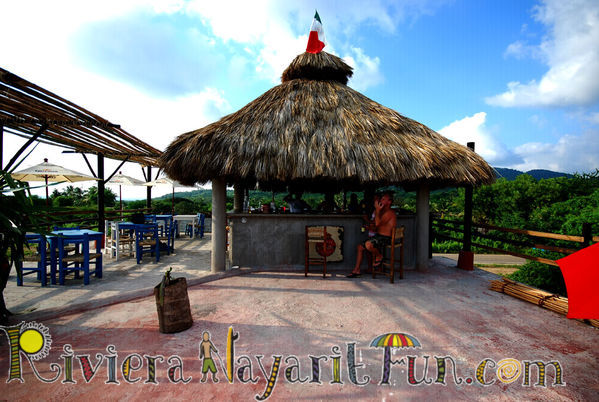 when we  find this place, where all of these things happen for real, and we realized that we had to make something in some way to share this feeling to other people. This is when we decided to follow our dream sharing this feeling by giving the people a place where they can enjoy themselves with an incredible view of the mountains and the view of the pacific ocean from the Km 5 Surf Bar and Restaurant  terrace, offering them the best food and drinks ……
Finding My Way to the Riviera Nayarit
I (David) am original form Cuernavaca Morelos, a beautiful town just 40 minutes south from Mexico City. I spent all my life there since I was 7 years old until my 26th  year.  After college, I decided to start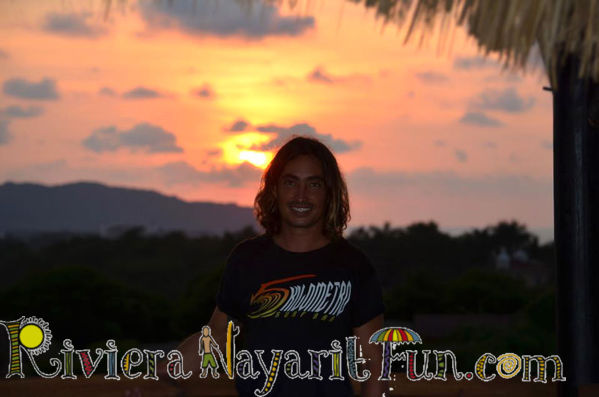 creating and living my dream of living at the beach, and surfing all day. I bought an old jeep, adopted a dog from the street, and started on my journey to enjoy life. I took a flight from Mexico City to Puerto Vallarta. where I spent my first 5 months looking for job there. Then,  I came to the beautiful Riviera Nayarit.
I moved from PV to Sayulita, and then found a job at the Four Seasons in Punta de Mita, as the front desk agent.  I then moved to the beautiful town of  Higuera Blanca; that was at the end of 2006. I worked for the Four Seasons for 3 years until I decided to come back to Cuernavaca to earn money, so I could came back to the beach and start my own business, and obviously to keep surfing. So after 3 years I did it!  I came back to Higuera Blanca, finding friends that will share the same dream as mine.  (A photo of David at Km 5 Surf Bar top deck for sunset)
Finding Like Minded Friends
I found my good friends Rodo, Carlos and Tony in the awesome and amazing town of San Francisco Nayarit, also known as San Pancho.  Rodo, an amazing human being, with an old soul,  impressed me with such a mystic way of working in the kitchen.  Carlos and Tony, two young guys with a lot of energy and passion for creating new things; a well- rounded sort of good people, impressing people with  amazing kinds of cocktails and teas. I knew we were going to make such a great team together. These great guys are from Guadalajara, Jalisco, and fell in love with surfing and creating this dream together.
Km 5 Surf Bar & Restaurant
We decided to follow our dream together to share this with other surfers and people, being able to surf every morning and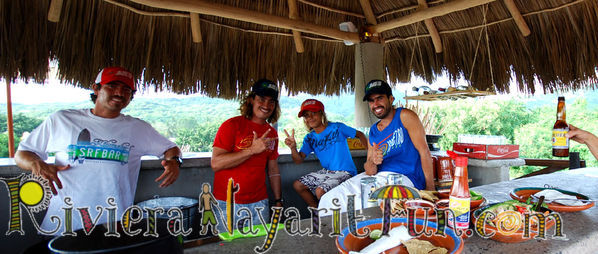 live the life of a surfers dream.   The most incredible food prepared by Rodo, looking out over the ocean, and of course offering  surf board rentals.  This is how the Km 5 Surf Bar & Restaurant was founded and created.
From all of us, Rodolfo, Carlos, Antonio and I (David) who are the owners of the Km 5 Surf Bar,  and we look forward to meeting you,  and enjoying your company at the Km 5 Surf Bar and Restaurant, and perhaps catching some morning waves sometime!"