Having Fun on Riviera Nayarit Tours
Riviera Nayarit is a region of outstanding beauty and anyone who decides to come here to check out the Best Riviera Nayarit
tours in Mexico,  like ocean tours, whale watching tours, petroglyph tours, surfing tours, or pueblo and tequila tours will long have a memory of a holiday they will cherish for the rest of their lives. As far as a Riviera Nayarit Tours in Mexico  is concerned these are among the most fascinating.  River Nayarit tours have splendor that makes an experience of a lifetime like no other tour can, and will be the best days of your Riviera Nayarit vacation. Click on the links and photographs to find out more information, and to see more great photos as you discover what fun Riviera Nayarit Tours can be about!
The Petroglyph tours including a magical, mystical visit to the AltaVista Petroglyph in the region of Riviera Nayarit. This fascinating archaeological site lies in north eastern region near Jaltemba Bay. The locals here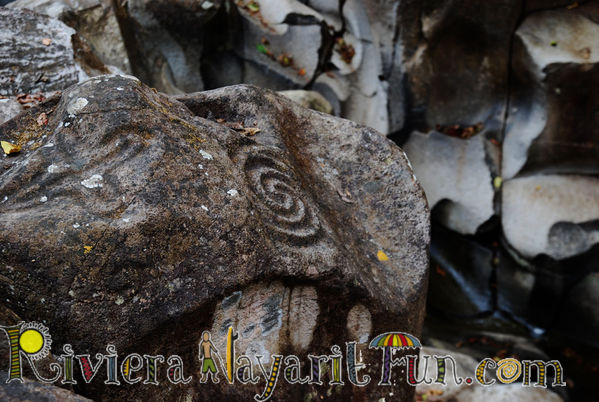 in Riviera Nayarit call it "La Pila del Rey."
Here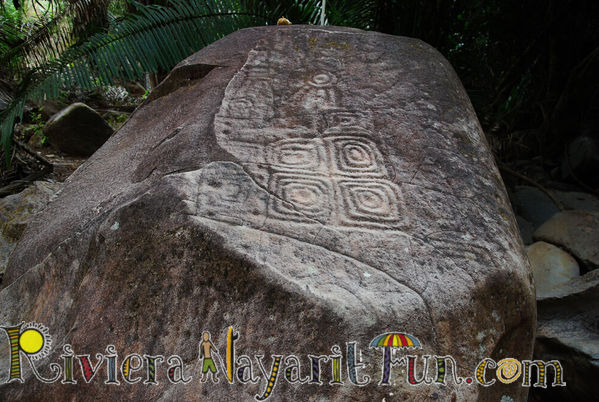 you will find stone engravings (known as Petroglyphs), spread across more than 200 acres of land. For this Petroglyph tour you will need an extra memory card in your camera. As you follow the river through the jungle, it feels like you are in a land of long ago. The stone carvings have existed for over 2,000 years and were carved by the Tecoxquines, who were an ancient civilization from the Aztec era. The images often appear to show that the Aztec tribe was trying to communicate with their gods or deities.
The Riviera Nayarit lies on the shores world's largest ocean, the Pacific; here the different Riviera Nayarit tours in the ocea
n will take you on a journey around Banderas Bay, the
central Riviera Nayarit and Jaltemba Bay.  There is an island behind the rocks (on left) that you snorkel to get to on the Marieta Island Tour.  This  photo has a Blue Footed Boobie bird. It really does have blue feet! The surfing tours and the whale watching tours also take place in this region. On the Riviera Nayarit, Mexico, the waters along the Pacific Coast are pristine breeding grounds for Humpbacks, Bryde and Orcas. These whales often share the waters with dolphins.
Whale watching tours are certainly one Mexico tour that you will never forget. The whale watching tours begin around
December and continue onwards until the end of March, sometimes into April, and there are hundreds swimming around the bays in the
Riviera Nayarit region. Take a holiday and a Mexico tour in the middle of the whale watching season see some dolphins too. These beautiful creatures are ever present along the Riviera Nayarit region so once again do not forget your camera. You may want to reserve your space now. There are a couple kinds of Whale watching tour boats. There are panga boats, and larger tri catamarans both with transportation included, and also including food and beverages.  Both of these tour experiences are wonderful, fun and exciting. with  different pricing, and both types should be checked out to decide what is right for you, or try both!
The surf along these bays in the Riviera Nayarit region is also ideal for those wanting to experience a Riviera Nayarit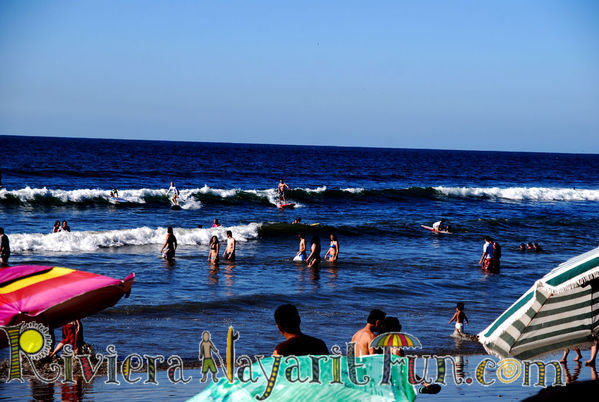 surfing tour. Surfing tours include your wet suit and board and a ride to one of the best waves the Sayulita b
ay and Punta de mita area can offer.
There are a lot of different tours that are truly amazing! Click here to discover the only round pyramids on the planet! If you are needing any type of transportation, VIP Transportation  has everything you need! For all tours, the airport, shopping and City Tours.  Riviera Nayarit tours are a pleasure to behold and the tours here are an experience you will not forget.