Bucerias Mexico Rentals on the Riviera Nayarit
Looking for a terrific Bucerias Mexico rental? There is a wide variety for the Bucerias Mexico rentals for the individual looking to vacation or relocate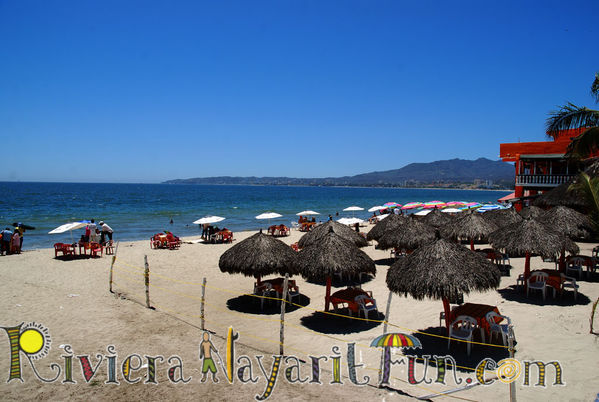 to the wonderful community of Bucerias Mexico.  Located on the amazing Riviera Nayarit, this great pueblo  is located only 45 minutes from the Puerto Vallarta International Airport, makes the town of Bucerias Mexico easy to access, yet still have the authentic Mexican pueblo flavor and the wonderful beaches we all enjoy on a Mexico vacation.
There are many Bucerias Mexico rentals, including beachfront rentals, ocean view rentals, one and two bedroom rental opportunities, and even green ECO rentals. Bucerias Mexico long-term rentals are for the individual interested in relocation, or in a retirement situation and getting away for at least 6 months. Click on the links for more information, and also click on the photos for more photo galleries.
Here is a sampling of some of the great temporary and long-term opportunities that Bucerias Mexico has to offer:
Bucerias Green ECO Rentals
These are Bucerias Mexico rent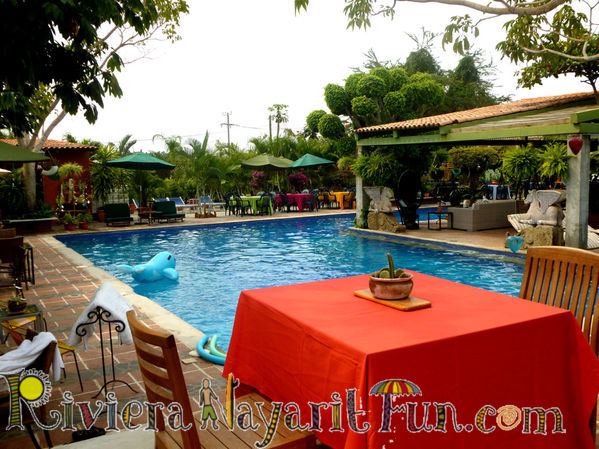 als for the environmentally conscious tourist. Those looking to reduce their carbon foot-print can especially consider the Los Arroyos Verdes Retreat, with amazing RV Bus Rentals, one bedroom and two bedroom bungalows, as well as one bedroom and two bedroom villas.  Los Arroyos Verdes Retreat is located only 5 minutes from Bucerias Centro and the playa. This Green Eco Retreat has everything you could dream of; t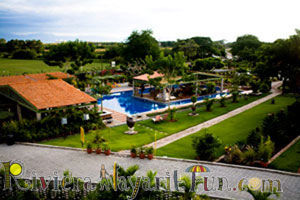 he Bamboo Restaurant, Huge solar heated pool, day spa, workout center, tienda (store) and a large laundry facility. Los Arroyos Verdes has over 30 Bucerias Mexico Rentals, which creates the beautiful and amazing space for the perfect wedding venue, or any life celebration for you, your family and friends.
Click on the links to view the villas, casitas and the RV rentals. You may also click on the photos, as they link to the photo galleries.
Los Arroyos Verdes Retreat. Luxury and Eco Green…"We wait for you" ….
Bucerias Bungalow Rentals..Mexican Style!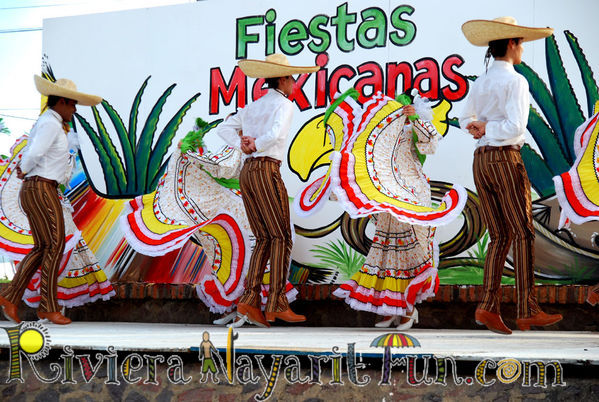 Located at the main town square in Bucerias Mexico is Miguel Angel Bungalows. A gated Bucerias Mexico rental  that has a nice grass yard
that is completely fenced in is perfect for you small pet! Yes, Miguel Angel Bungalows are very a Bucerias pet friendly rental!  Enjoy a one or two bedroom bungalow only 2 minutes to the playa. Away from the loud bars, close to shops, and you will surely enjoy the Mexican Fiestas that take place in the town square. Dancing and traditional folklore come to the stage, yet end early enough so you can sleep at night! Enjoy a 10% discount at Miguel Angels Restaurant and Bar located right next door to these Bucerias Bungalows.
Bucerias Beachfront Rentals / Oceanfront Rentals
These ty
pes of  Bucerias Mexico rentals offer the tourist unparalleled views of Banderas Bay, often from a balcony. The wide assortment of properties usually can sleep multiple amounts of people. Most are able to host five individuals and is usually rented for between $150 to $295 a night. These Bucerias beachfront rentals usually include air conditioning, fans and screens, and most have either dipping pools, or in a large casa or condo setting larger pools.
Many of these beachfront rentals require a minimum stay.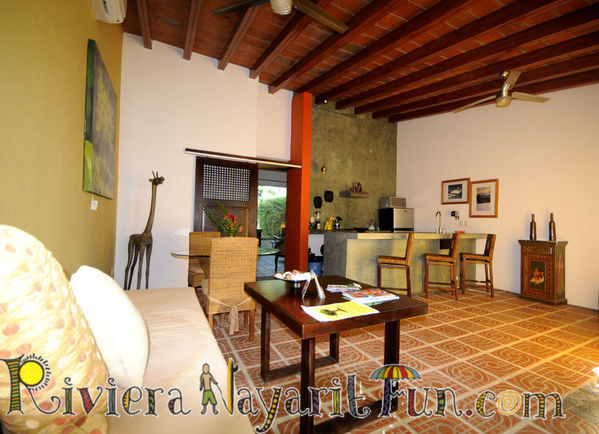 Bucerias One Bedroom Rentals
There is also many Bucerias Mexico one bedroom rentals for the vacationer to consider, ranging from units with scenic beach and ocean views to units that are near many city attractions, the Bucerias restaurants and markets, and only minutes from the Bucerias playa. These Bucerias Mexcio rentals range from $120 to $175 a night, depending on how long your stay is.
Bucerias Two Bedroom Rentals
For those who require a little more space, Bucerias Mexico rentals also have many two bedroom rentals available
, from $185 to $250 a night. Enjoy a Bucerias Beachfront Two Bedroom Rental, or one a couple of blocks away from the playa. Our Bucerias rentals are close to all amenities, making your stay easy and fun!
Bucerias Long-Term Rentals
For those wishing to relocate to this tropical paradise permanently there are Bucerias Mexico  long-term rentals available. Usually starting at between $500-$1800 and up, these long-term rentals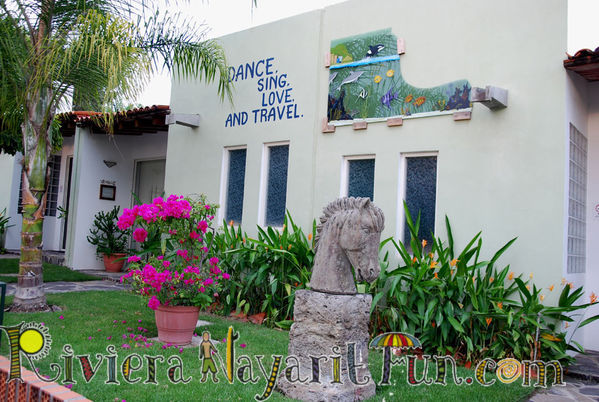 usually require a six month to a year commitment, and come in Bucerias Beachfront Rentals and Bucerias Mexico rentals of all sizes.
Remember that in Bucerias Mexico, summer rates differ greatly from the peak season, which is from October/ November to April/ May. This lush paradise, where the mountains meet the sea have  Bucerias Mexico rentals options to consider and is well worth the money. These Bucerias Mexico rentals provide you with a place to stay and the experience of a lifetime!