Birding and Bird Watching
Providing a favorable sets of conditions for native and migratory birds, the Pacific Coast of Mexico is an ideal place for birding and bird watching. Recognized as a refuge for all kinds of wildlife, the wetlands of the region are home to 500 animal species and nearly 200 plant species including mangroves and rainforests.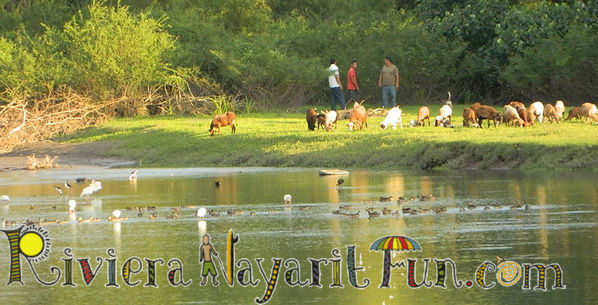 The tropical environment of Riviera Nayarit provides an expansive natural habitat for birds that flock to its marshes and beaches.  Once a year, 80 percent of the Pacific coast's migratory birds gravitate to the region, especially San Blas, Singaita, La Tovara, and Isla Isabel but also other towns.
In the beach town of San Blas alone, over 300 species of birds exist.  As a result, the neighboring town of Singaita was selected as host of the International Migratory Bird Festival at the end of January.  San Blas offers a variety of delightful, educational bird tours by expert bird watching guides.
There are a total of 350 bird species that visit this Mexican tourist destination every year and because of this, authorities have made sure that the birds are protected during their yearly migration in Riviera Nayarit. There are protected bird parks and bird lagoons available for these flighty little creatures, thus creating a well-laid bird sanctuary that can be visited and observed by specialists and bird lovers alike.
If you are planning to have some bird watching adventure at Riviera Nayarit, then you will be pleased to discover that there are a lot of daily San Blas and Quelele Lagoon bird watching excursions that are readily available for you to enjoy. These tours consist of boat trips toward La Tovara Mangroves wherein tourists can observe and discover different kinds of bird species such as the Puaraquees, Purple Gallinules, Bare-throated Tiger Heron, Northern Potoo and Jacanas, etc. You can see most of these creatures in close-up, thus giving you an amazing experience that you will not forget.
You will also discover that your bird watching escapades are combined with different kinds of big events like the International Migratory Bird Festival that is held annually. It involves not only bird watching but it consists of all sorts of cultural programs that the locals have prepared for the visitors to delight themselves with as well. Bird watching in Riviera Nayarit is certainly an ideal place for all individuals who want to learn and have fun at the same time by getting in touch with nature through these birds.