Riviera Nayarit Community Fun
Its the middle of January already and the Riviera Nayarit in beautiful Mexico is in full swing for the winter season. There have been many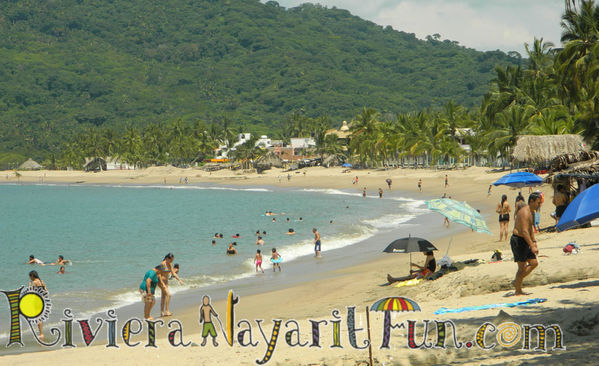 community functions and business attractions, and we want to share some of them with you! There is always a lot happening on the Riviera Nayarit, and you can check out the happenings on AllSayulita.com, AllSanPancho.com, AllLodeMarcos.com, AllGuayabitos.com, AllLaPentia.com and AllChacala.com.
The Third Annual Jaltemba Bay Rotary Fundraiser
The third annual Jaltemba Bay Rotary fundraiser was held this last Saturday on the 21st of January, 2012 at Tonita III in La Penita. The festivities included the beautiful Mexican Tepozcalli dancers from Las Varas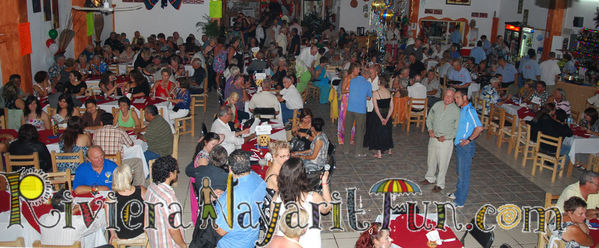 and live music for some dancing with Manuel and Son. A lovely chicken dinner was served that included any beverage of your choice.
There was also three different auction fundraisers, the Chinese Auction, the Silent Auction and a Live Auction, which made for a really fun time! Every year the Rotary Club members give out awards to the outstanding citizens in Jaltemba Bay.
This year there were four volunteer groups that were recognized and honored for their services to the community.
If you are interested in becoming a Rotary Member, the Rotary meetings are held every Wednesday at Pina Coladas at 8:00am in Guayabitos. I am very proud to be a Rotary member here in Mexico and help bring in changes that help the peoples and the community without changing their wonderful culture.
Whats up on the Guayabitos Strip Mall
The Guayabitos Strip Mall is located behind the Oxxo in Rincon de Guayabitos, and has a lot to offer!
Starting out with
Beauty by Aurora. She has a full staff and offers hair shampoo, cut and style, hair coloring, highlights and hair attachments. Manicure the hands and pedicure the feet, change your
polish or add gel nails. Waxing for legs, bikini lines, lips, eyebrows, underarms and back. Aurora offers a complete line of hair and skin care services. Come and visit Aurora….you deserve it!
Next in line is the Espresso Internet Cafe, where you can enjoy a delicious cup of coffee or a tasty latte' while you check your e-mail.
And, what is a day without a great workout? Come and work off ail of those extra holiday pounds at the Fitness Pad.  The Fitness Pad has 20
fitness machines including treadmill, stationary bikes, a full kickboxing bag, adjustable 6-setting ab/crunch bench and a pull-up tower! There is also a entire free weight system with a professional trainer on staff.  Dell also has some fun workout clothes as well as other fun things to wear out and about. She has some great specials as well.
Then its time to eat! One of the best places in Guayabitos to eat at is TeriYaki Time Restaurant. Yakisoba, chicken,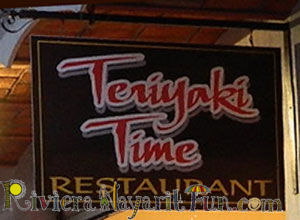 beef or shrimp teriyaki, fried rice and a variety of pasta dishes are served daily made fresh to order. Try a large fresh salads for lunch or check out their daily breakfast specials. They also make a great Thai Iced Tea, and have a good selection of wine and beer.
Annual Amigos de Lo de Marcos Fundraiser
It s that time of year again, and the Amigos de Lo de Marcos is having their amazing annual fundraising event on the beautiful Riviera Nayarit in Lo de Marcos Mexico. It all starts on Friday, February 3rd, at 8:30am, with a town "Walkabout" with a guided tour of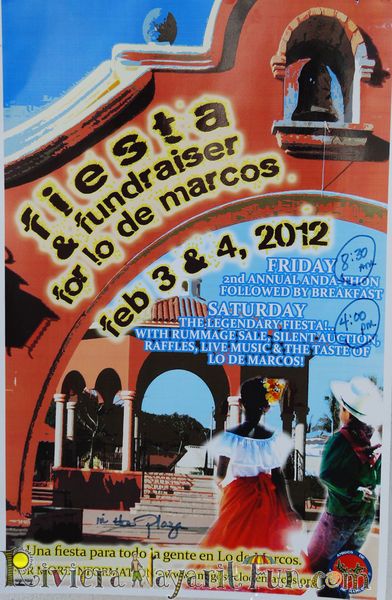 Lo de Marcos. The tour will visit sites where the Amigos of Lo de Marcos works with the town, and will also cover the water issues of Lo de Marcos. There is also the new town compost project which is a great success!
When the tour of Lo de Marcos is finished there will be breakfast served at the Lo de Marcos town square.
The following day on Saturday, Feb 4th the Silent Auction begins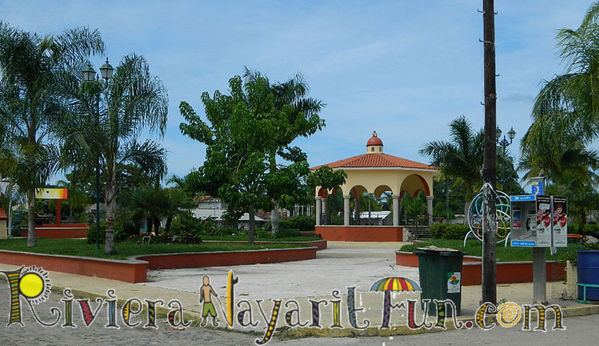 at 4:00pm, along with the huge  rummage sale that you will not want to miss as well as freshly baked goodies for purchase. And what would a celebration and fundraiser be without ice cold beer and tasty margaritas? They will be served later in the evening form 7:00 to 10:00 pm. along with dancing to the Latin reggae sounds of two local bands, Mal Bichos, as well as some fun Salsa music with Rhythm Eleison.    Come and support the town and peoples of Lo de Marcos!
The 2012 Pro Surfing Tournament
On January 12,13 and 14 the 2012 Pro Surfing Tournament in Arroyo Seco was amazing.  Felipe Hernandez (left), age 21 from Sayulita,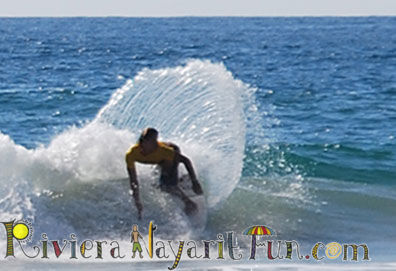 Nayarit took the first place for the Men's Pro Category, as well Adan Hernandez, age 24 from Sayulita, taking 5th.
Edgar Rodrigues, age 14 from San Pancho took 4th place in the Sub 18 Category and Adan Hernandez (right) from Sayulita was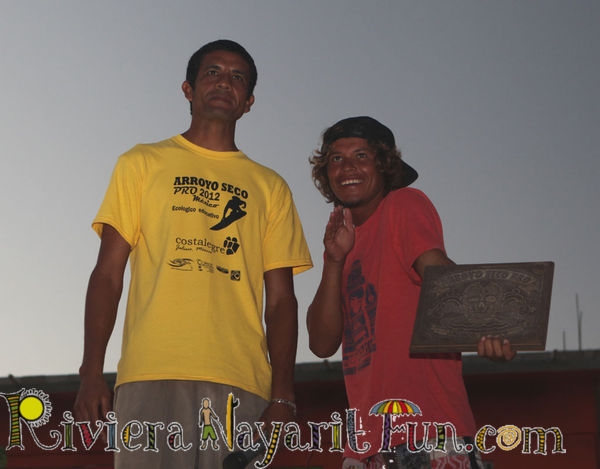 presented a trophy by Artemio Rosas for "Arroyo Seco Pro 2012 Surfer of the Year", recognizing his involvement in a large number of important international tournaments and his support for the surfing industry. It was really an amazing time and I loved covering the event, as all of the people I met were really cool and well as the fact tht surfing is a big thing in Mexico and all over the planet! The entertainment with DJ PIN, Christian Reggae by Majhave, and Christian Rap by 12 Clan was awesome and they all rocked the house.
I posted about 450 pics on the RivieraNayaritFun Picture Gallery as well! Enjoy!
You can read more about it on our town sites AllSayulita.com and AllSanPancho.com.
Here is a list of all of the winners below:
Sub 18 Catagory:                                                                                                             
1st  Place     Mario Farias, age 17 from Play Azul, Michoacan
2nd Place    Marcos Hootman, age 16 from Tecoman, Colima
3rd Place     Victor Alarcon, age 11 from Manzanillo, Colima
4th Place     Edgar Rodrizues, age 14 from San Pancho, Nayarit
5th Place     Edgar Juan Camarena, age 15 from Manzanillo, Colima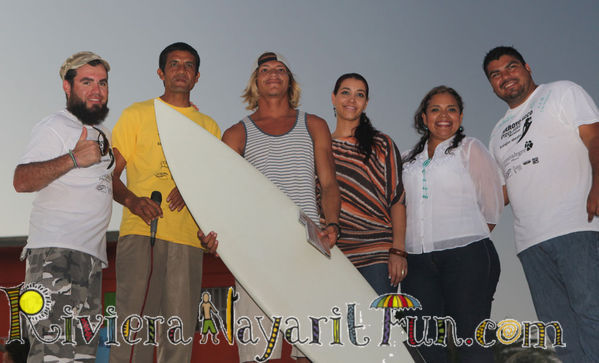 Mens Pro Catagory:

1st  Place    Felipe Hernandez, age 21 from Sayulita, Nayarit
2nd Place   Martin Olea, age 23 from Barra de Navidad
3rd Place    Adrian Rodriquez, age 25 from Sayulita, Nayarit
4th Place    Raul Medina, age 30 from Playa Azul, Michoacan
5th Place    Adan Hernandez, age 24 from Sayulia, Nayarit
It was a terrific time, and I can't wait for the next tournament. Congratulations to all of the contestants and winners.
There are so many different things to do here on the Riviera Nayarit. I really love living here all year long! Come enjoy the amazing flavors of the Riviera Nayarit in beautiful Mexico!
Come to the Riviera Nayarit for your Mexico Vacation and enjoy all of the diversity this region has to offer!