The Best of Banderas Bay Entertainment – Bryan Savage

Banderas Bay entertainment is amazing during the high season! From rock to jazz to banda and everything in-between! If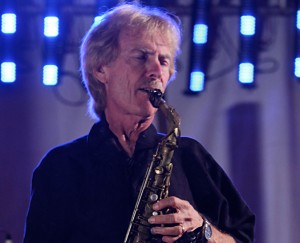 you have not had the opportunity to see a Bryan Savage concert you have been missing something very special indeed. Bryan has been playing the saxophone and flute professionally for about 40 years playing with big time musicians and vocalists like Al Stewart (Year of the Cat), The Nitty Gritty Dirt Band, The Amazing Rhythm Aces, Bonnit Rait and many, many others. Bryan was also awarded a gold record for his sax solo on Steve Martin's number-one-selling hit single "King Tut".  He is currently doing shows under his own name as well as  with The Banderas Bay Jazz Allstars in Puerto Vallarta and the Riviera Nayarit every winter in Mexico.
Throughout college he played in bands and felt that playing music was where his biggest interest was. After receiving his BA degree in finance Bryan decided to continue to play and his first CD was self-titled "Bryan Savage" and was released in 1992, which did very well on U.S. radio airplay. In 1996 Bryan was signed by one of the Virgin Records companies with six more CD's to follow under his name. All of the CD's have received tons of airplay in the U.S. as well as internationally, with "Catfood" and "Soul Temptation" doing the best, charting in the top 5 or better. Bryan has created many CD's with other big names in the music industry and has gone on tour in many countries such as Japan, Germany, England, Scotland, Netherlands and Canada, and of course Mexico!
Bryan and his wife Michelle are from my neck of the woods in Colorado; Glenwood Springs, which is located in the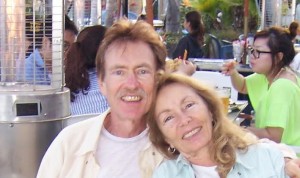 Aspen / Roaring Fork Valley.  He and Michelle have been coming to Mexico since 1988, first to Cozumel for vacations, and then starting in 2005 to the Puerto Vallarta area. They purchased their second place on the playa in La Cruz de Huanacaxtle in 2010. Their first place was for only a month or so for "get-aways" during the Colorado winters. Now they are both quite happy to escape the cold winters of the Rocky Mountains and stay for 6 months.

Life changing events happen to all of us, and for Bryan it was in 2010 that he began not to feel well. They had been spending winters in Naples Florida at that time. Bryan decided to make an appointment with a doctor and cardiologist, who did an electrocardiogram and came out saying, "I'm going to call an ambulance to take you to the hospital".  Bryan told me he did not think he ever had an actual heart attack, but later found out that he was very close to having a fatal one as they found nearly 100% blockage of the heart artery, that the doctors actually call a "widow maker", as well as a couple of other arteries that were also blocked. Bryan immediately went in for a triple heart bypass open heart surgery. Bryan had always exercised a lot and eaten healthy, which doctors credited for his surviving. They blamed heredity factors on the heart disease.
The Banderas Bay Entertainment Scene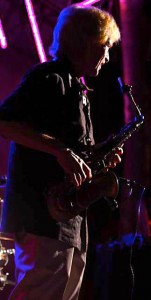 Luckily for all of us folks, and the Banderas Bay entertainment scene and along the Riviera Nayarit, Bryan's life changing experience led Bryan and his wife Michelle with the decision that it would be more fun to spend winters in Mexico. Bryan stated, "I was planning on being off most of the winters while down here and continue to play the busy playing schedule back in Colorado for the summers, between playing with The Banderas Bay Jazz Allstars, as well as doing my shows that are under my name."
Music is in Bryan's blood, or could quite possibly BE his blood as he continues to create new original music each year. When he plays solo, Bryan puts on a terrific show with computerized accompaniments he has created which creates a rich full sound, complete with a light show.
For Banderas Bay entertainment at it's best, jazz music from The Banderas Bay Jazz Allstars are amazing and are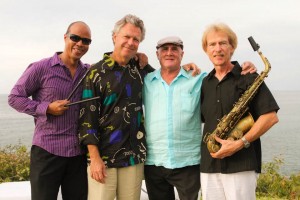 not called the "Allstars' for nothing!
They put on an amazing performance with Chas Eller on keyboards, Steve York on bass and Lazaro Poey on drums / percussion and Bryan playing alto sax and flute. Bryan also enjoys playing private parties and events as well and packs the dance floors.
You can catch Bryan Savage solo concerts at Breakers Beach Bar for a special Valentine's Day Sunset Concert in Bucerias, Sonora a la Parrilla on Feb 24th in Bucerias and at Oso's Oyster Bar every Thursday in La Cruz de Huanacaxtle at the marina, and also plays at Los Arroyos Verdes throughout the season for the fun Sunday Pool Party they have.
The Banderas Bay Jazz Allstars are playing in Sayulita and Zen Garden (a wonderful venue) Friday, January 30th,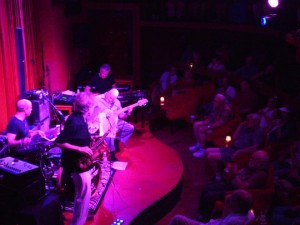 (their second show there this season!), and Puerto Vallarta at the Red Room on Feb 7th, 20th, March 6th, 20th. They are also playing the 15th Annual San Pancho Music Festival, which is February 27, 28 and March 1st. They are not yet sure which day they are playing yet as schedules continue to unfold. To find out more or contact Bryan Savage you can check his page out here. http://www.allbucerias.com/business/bryan-savage-music-banderas-bay-entertainment. Thanks for all of the amazing Banderas Bay entertainment and the sweet music Bryan Savage creates for us!
For the very best of Banderas Bay entertainment check out Bryan Savage in Mexico!