Mexican Folk Dancing at Bucerias Restaurant
Sonora a la Parrilla
Bucerias, located on the north end of the Riviera Nayarit in Mexico has a wonderful Bucerias Restaurant Sonora a la Parrilla. There are plenty of  Bucerias
restaurants, however this Bucerias restaurant is the only one specializing in Sonoran beef.
On Saturday, Jan 20th, they are having a FREE Folkloric Mexican Dance Show! The
re is no cover for the show, so its a great opportunity to come and enjoy tender Sonoran beef and a taste of authentic Mexico.
This Bucerias restaurant Sonora a la Parrilla is a new Bucerias restaurant with a large lovely garden patio setting. They have their own butcher shop right at the restaurant and cut your choice of Marinated Arrachera, New York, Top Sirloin, Rib Eye, Beef or pork ribs, Prime Rib, T Bone, Porter House and  Vacio (Imported Angus). They also have chicken and shrimp cuisine, all cooked to perfection!  You can choose any of these cuts of beef and recieve an 8.8 oz. portion for only 99 pesos….now, that's only $8 dollars U.S.! The meals are served with hand made
tortillas, charro beans and three salsas.
You can't find a better price for delicious tender Sonoran beef anywhere else on the Riviera Nayarit!
Of course this Bucerias restaurant also has a full bar to accompany your meal.
A Mexican Folklore Dancing Fiesta History

Mexican Folklore Dancing
is an authentic Mexican dance expression that displays the colorful heritage of the beautiful country of Mexico. It is influenced by the complex history of Mexico, from the Spanish Colonial Period, the Mexican War if Independence and the 1910 Mexican Revolution.  It also has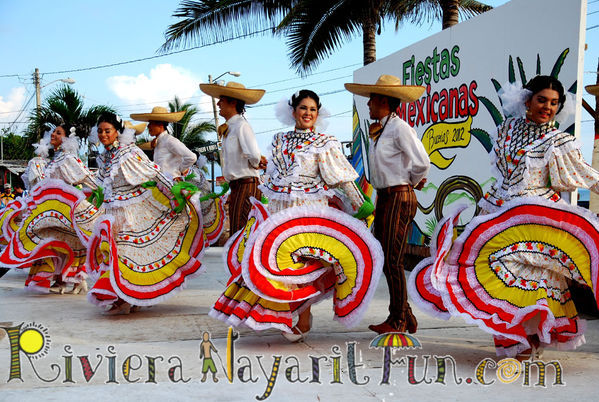 a unique mix of the Mexican Indian indigenous cultures in Mexico.
When you put it all together, it is now developed into an amazing beautiful dance with beautiful colorful costumes. The dancing itself portrays stories of the struggles and joys of Mexican life, their religious and cultural beliefs and the other festivals that they hold every year.The orgin of the Mexican Folklore dancing came from the Mesoamerican days, when the dancing was performed to appease the gods of the Mayas and the Aztecs. When the Spanish came to Mexico in the 16th Century, they brought the European style of dance like ballet, polka, waltzing and schottische, which heavily influenced the indigenous dancing.
Other conquests allowed the German, French, Italian and Spanish dances to mingle with the original Mexican folk dancing and out of that came three forms of Mexican folk dance.The first one is 'Danza', which is an indigenous ritual dance usually performed in religious and community settings.
The second is 'Mestizo', where the western influence came into play in the steps and the theme.
Then the 'Bales Regionales' or the regional dances are a dance form by each community. This dance is usually done in community and theatrical performances. Each state and region in Mexico  presents the Mexican dance form in a style that reflects its own unique customs and traditions.
Every Mexican community loves to celebrate life with dancing and parties. They love life, and expressing life with dance.
Come on down to the Buc
erias restaurant Sonora a la Parrilla on your Bucerias vacation on
the Riviera Nayarit
  for a delicious steak cut just the way you choose,  a traditional Mexican Folklore Dance on January 20, and enjoy the show while you dine. After all, you are in Mexico!
Sonora a la Parrilla also has live music every week, so check out the
Bucerias calender
for more details.