On the Road
As we are currently living in Lo de Marcos in the Riviera Nayarit in Mexico, it was not a very long drive on the 200 road to San Blas. We had not driven through San Blas on our way to Mexico from Colorado, and since we had our friend Conor visiting, we thought it would make for a fun trip with a bit more authentic Mexican flavor of the Riviera Nayarit in comparison to some larger and well known cities.
We figured that it would take us about two hours to get to San Blas from Lo de Marcos. We took off around 9:00 P.V. time, so as soon as we got to La Penita, it was only 8:15! The hour difference in the time zones starts at Lo de Marcos, going south towards Puerta Vallarta. (We are on PV time). So, we were off to an early start! lol!
Just past Las Varas is a small town called Zacualpan that had a really interesting saying on a rock with a large rock painting above it as you entered the small town. It was about lovers, of course! Mexico is so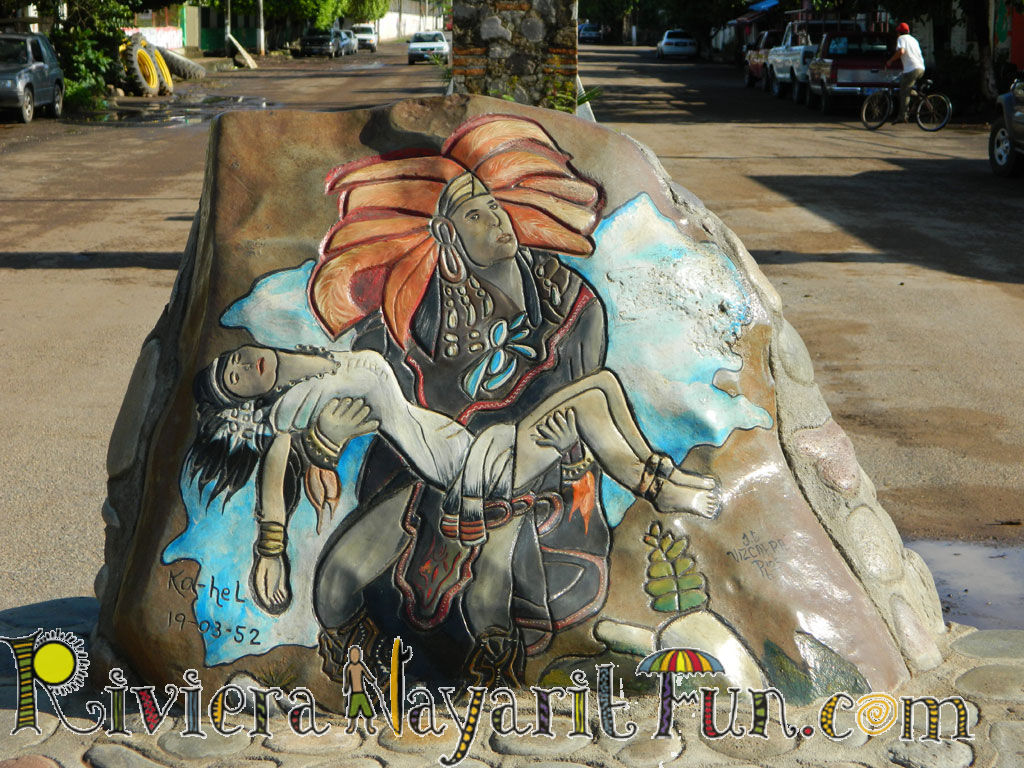 very passionate about love and life! We went into town and down to the town square. Every pueblo has a town square. And in the town square is where you will find life in the town.
I started talking to a  gentleman about which way to San Blas, and he started to tell us (in Spanish) that the road ahead was severely flooded, and it would be two to three hours before we could cross. Then he saw the jeep, and said we could probably make it. I wanted to see the flood and get some pictures, and thought that we could simply turn around if we had to, and I ended up getting this video instead.  I'm not the best at videos yet, as you will surmise, but you will see what the summer rains can do. The flooded pastures were literally turned into a raging river. It was a bit scary at one point where the water really started slamming higher on the truck in front of us. Yikes!
So, Leaving Zacualpan and coming into San Isidro was an adventure for sure! We stopped after that and bought some very delicious banana bread and a fried coconut ball and away we went onward to San Blas. There is nothing better than fried coconut sugar!
Pueblos of the Riviera Nayarit
As we came over the mountain just before the San Blas valley, we were able to see the valley with the orchards and other crops, along with the beautiful coast line below.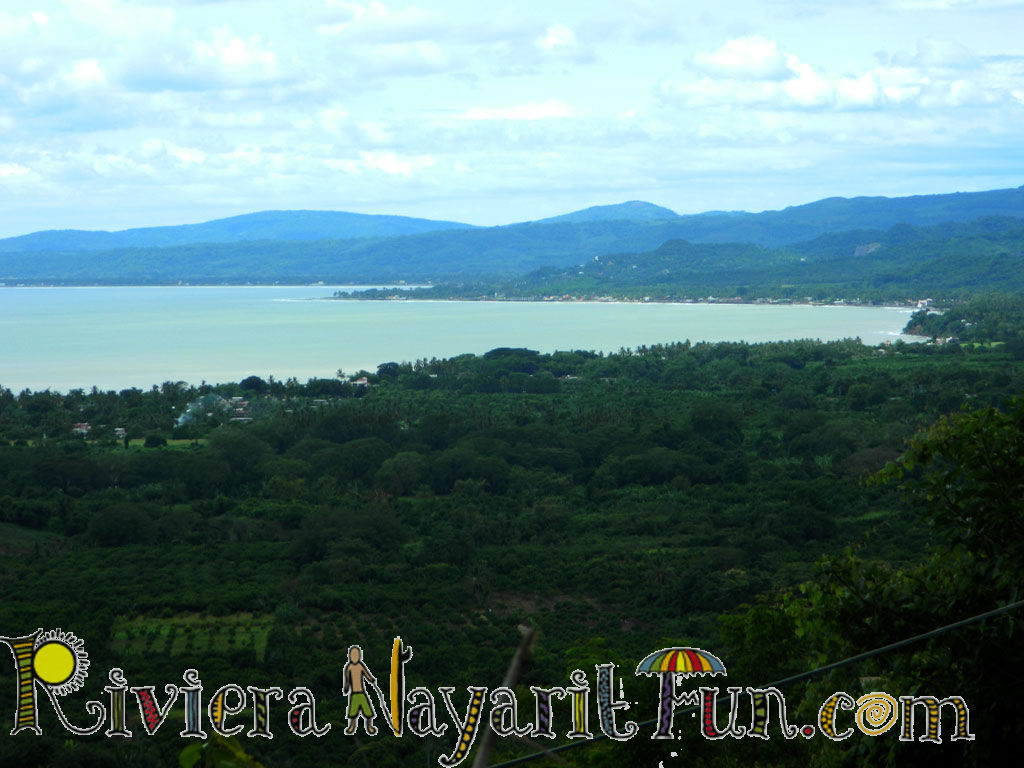 Driving is a fun way to get around Mexico. There are so many small towns (pueblos) to see and interesting culture to absorb. Some of the streets get over grown due to the heavy rain season or flooded. Everything grows so fast here in Mexico.
These small pueblos have some of the same qualities; the small stores and shops with cobblestone streets. Some of the folks are cooking whole chickens and carne for tacos outside on their grills for lunch. It feels very friendly and inviting. Families… lots of family are working together and supporting each other. It is their culture to take care of each other, and to live together. The parents take care of the children, and then the children take care of their parents. There are mostly family run and owned businesses in the smaller communities.
Some small towns are geared more for fixing and repairing; buying your work supplies such as La Penita. Other pueblos are for vacationers, that are filled with restaurants and tour companies, and places to stay like Sayulita, which is huge for weddings and fun music and is also known for its "hippie" energies, while Chacala feels a little more calm and private.  Each of the pueblos has an authentic Mexican flavor of their own, making it easy to find the right pueblo for your vacation or retirement that will be sure to meet your needs.
Tacos and Swimming at the Beach
As we drove into San Blas, the road split. It seemed like a one-way street, and so we went with the flow and veered right. The road ended up doing a tear shape loop and came out on the other side of the split when we left.
San Blas is a pleasant looking pueblo with a large town square. There is a large cathedral church there with shops, carts and restaurants along the perimeters. There are a lot of small art galleries and different clothes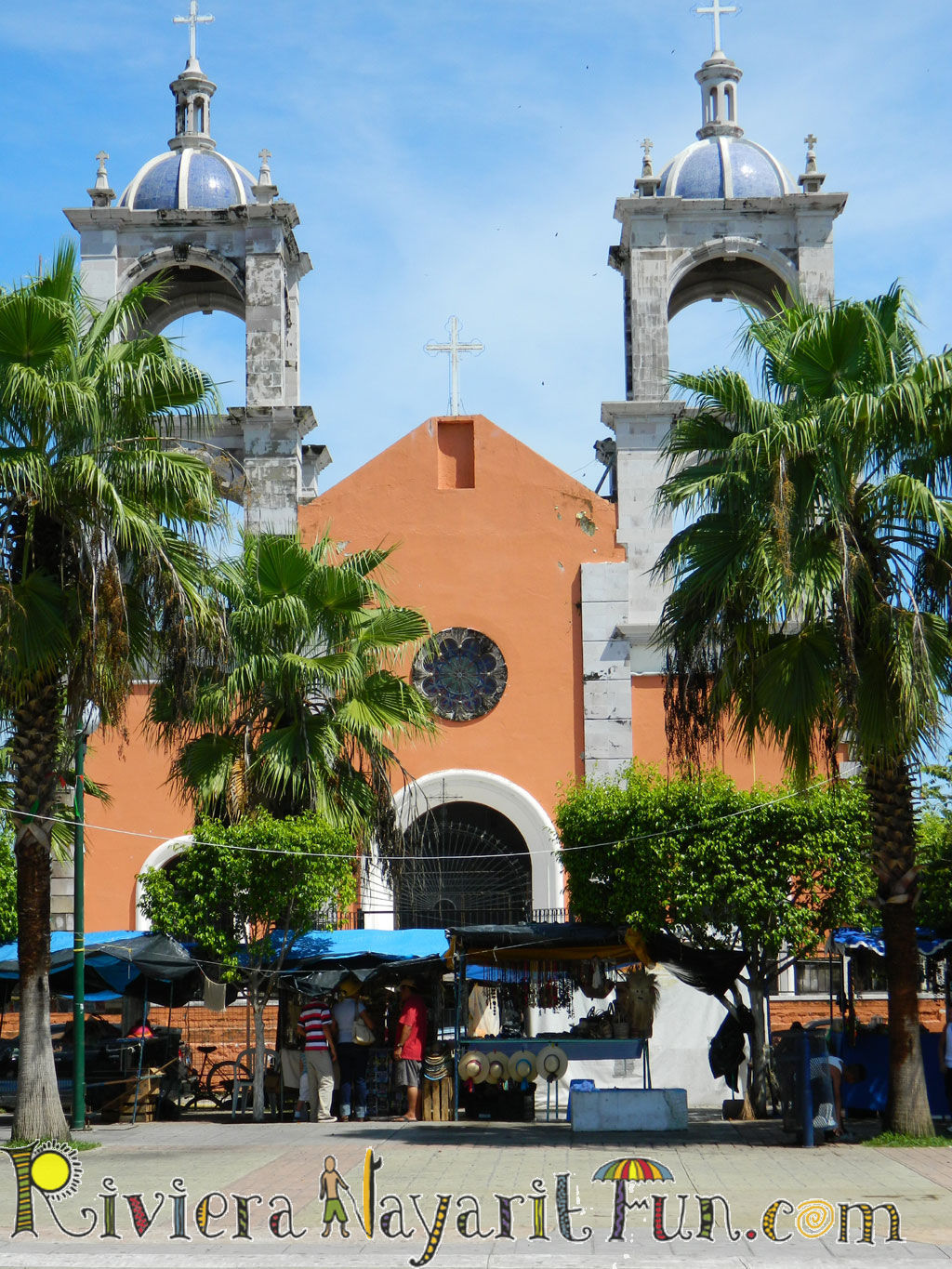 and jewelry shops. Conor found a really cool Mayan vortex type of tee shirt, and I purchased a really cool pair of beaded yellow daisy earrings.  We walked around town for a while. The market was busy and there were several vendors selling their goods like fresh shrimp and fish.
We decided that it was time for lunch, and I found a carne taco vendor cart along side of the town square. The tacos were very tender and yummy!!!  We all were quite happy with filled bellies.
We really wanted to get to the beach, so when we were headed out, we stopped at a restaurant on the beach and had a margarita with some chips and salsa, and watched the surfers surf some good-sized waves.  We decided to continue on our journey and ended up turning off of the road onto a dirt road that had restaurant after restaurant alongside the beach with covered parking under palapas. I drove to the end of the restaurants that were open and we came to this beautiful spot with big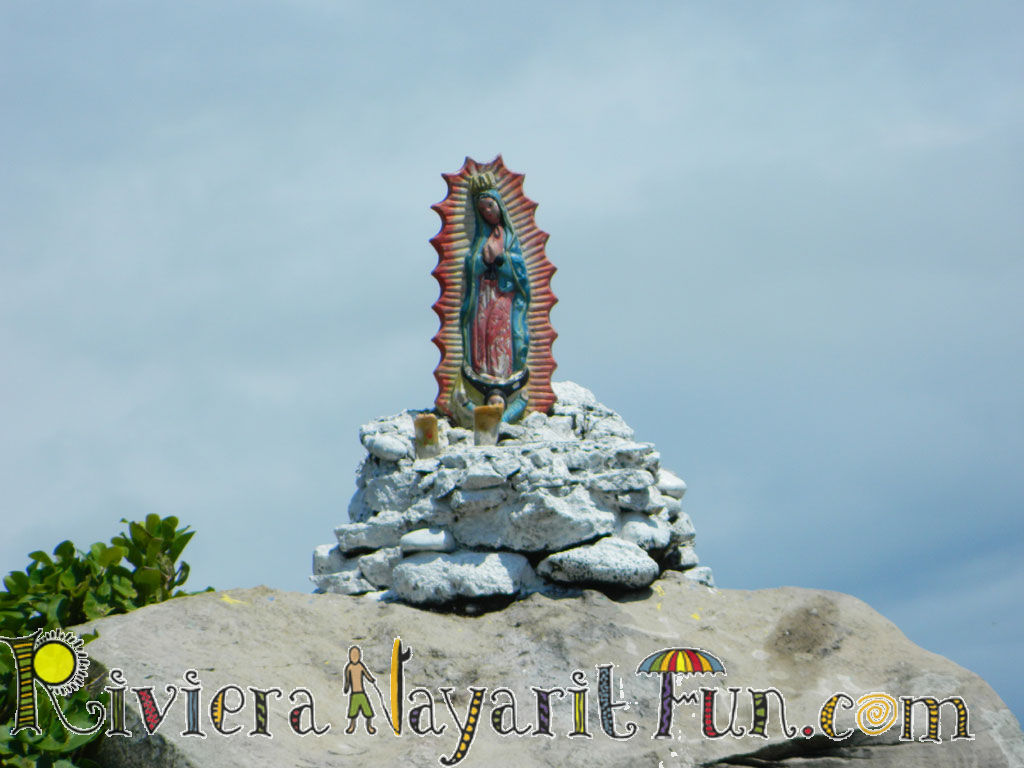 waves to swim in. The beach was flat and the water was warm. We had a blast.
Then, the ice cream man came by and we all got some delicious ice cream afterwards!  There was also a mother Mary sighting in this small cove, and so erected upon the rock was Guadalupe.
We are blessed on so many levels indeed to live and breathe in the Riviera Nayarit, Mexico.