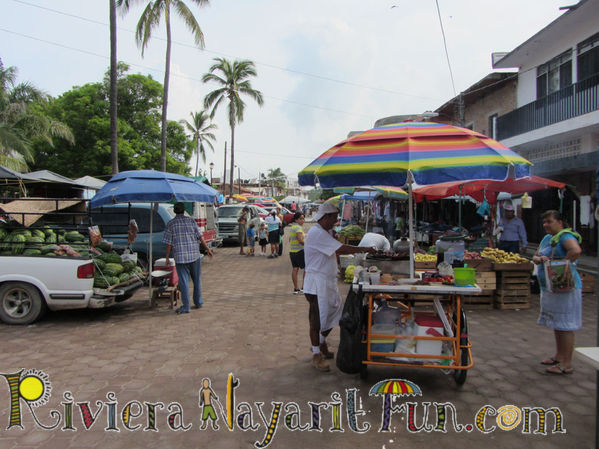 For the first time, we had the pleasure of visiting 'tianguis' in La Penita de Jaltemba, and what a pleasure it was!  Tianguis (pronounced tee-ang-gees) is Mexico's version of a swap meet or flea market but offers more than just practical items, including fun things like bright green river turtles, colorful fish and birds, genuine and costume jewelry, new clothes and shoes, Mexican arts and crafts, and of course, all kinds of fresh foods and snacks.  After all, it wouldn't be Mexico without the tasty treats!
Practical La Penita
La Penita de Jaltemba is a rustic beach town along the Riviera Nayarit, a recently designated tourist region that consists of beautiful undeveloped beaches and charming beach towns, framed by tropical rainforests and the rolling hillsides of the Sierra Madre Occidental mountains.  Just about 30 minutes north of Sayulita and 30 minutes south of Chacala, La Penita (as it is called) rests along peaceful Bahia Jaltemba Bay on the Pacific Ocean and is one of many beautiful beach coves in the region.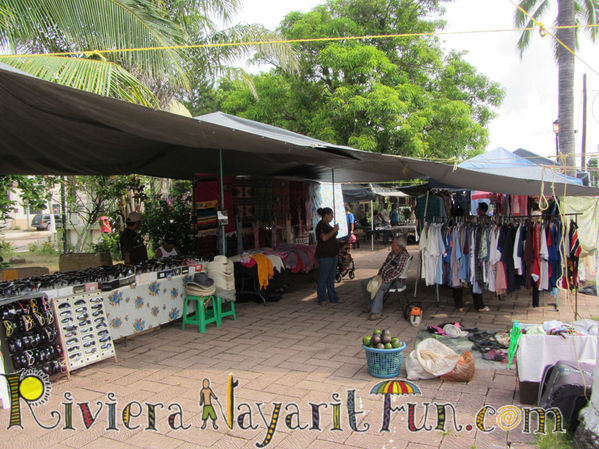 Being an authentic Mexican town that provides practical services for its residents and neighboring communities, it's less of a traditional tourist town with all the bells and whistles but still welcomes and accommodates travelers from all over the world, and the Tianguis in La Penita is well known. As the largest recurring outdoor market in the Riviera Nayarit, it's the most popular open-air market in the region drawing locals and vacationers from the south beyond Nuevo Vallarta and the north beyond San Blas.
Tianguis Market Details
Along with the warm, friendly people of La Penita, the tianguis is an enjoyable few hours of shopping, socializing, snacking, and listening to live music.  Running from 7:00 or 8:00 a.m.-ish to 1:00 or 2:00 p.m.-ish, the entrance of the market starts at the lovely, tree-lined town square (zócalo) extending south and paralleling the beach.  Vendors line both sides of the long cobblestone street with colorful umbrellas and tarps, offering much-welcome shade from the sunshine, while smiling at visitors who admire their wares.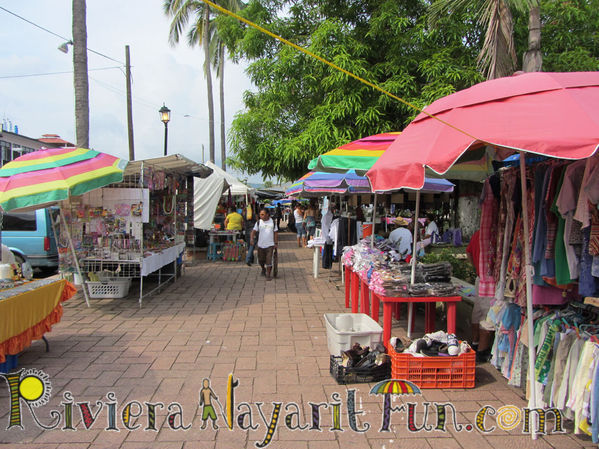 With high season (November through April) right around the corner, the vendors are gearing up to provide all kinds of special traditional items, such as authentic handmade pottery, woven baskets and hammocks, wool rugs and blankets, leather and beaded items, painted woodcrafts, hand-embroidered clothes and purses, Huichol Indian art, organic Nayarit coffee, and even the basics like eyeglasses and sunglasses, vitamins and herbs, pots and pans, glassware, and cleaning supplies.
During the winter months, there are twice as many items available, so La Penita Tianguis is a great place to shop!